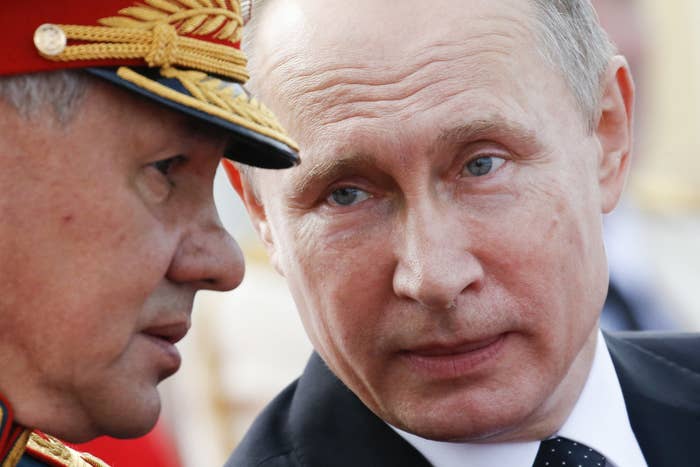 Vladimir Putin's planned purge of 755 US personnel from Russia could have a major destabilizing effect on US diplomacy in the country that would be felt for years.
Or it could amount to an inconvenient but manageable human resources challenge.
The difference, say longtime Russia experts, is how aggressively Moscow executes the orders the Russian president announced on Sunday in response to economic sanctions passed by Congress for Russia's alleged interference in the 2016 presidential election and military interventions in Ukraine and Syria.
"If the Russians apply the personnel ceiling in the most draconian way, it would have a huge impact on American diplomatic activity in Russia across the board," said Jeff Rathke, a senior fellow at the Center for Strategic and International Studies and a former foreign service officer. "Exactly how would depend on how the State Department reacts as well."
On its face, the 755 figue is extremely high, if not unprecedented: A similar purge hasn't been carried out since 1986, when the Soviet Union forced the US to dismiss 261 Russian employees after an escalating diplomatic imbroglio. At the time, those local employees' responsibilities involved navigating Moscow's notoriously unwieldy bureaucracy for things like train and airplane tickets and getting food through customs. This time the purge is almost three times larger, but the impact is less clear.
The confusion over Putin's order is due to the complicated mix of local, diplomatic, and technical staff employed by the State Department abroad. The Russian order caps the number of "total Mission staffing" at 455 employees by Sept. 1, a State Department official told BuzzFeed News.
In 2013, the US Embassy and other missions in Russia employed 1,279 people, a figure that includes 934 local hires and 301 American positions, according to a State Department inspector general report.
Given the large number of Russian nationals, who largely play a supporting administrative role, and remarks by Kremlin spokesman Dmitry Peskov that the Russian measure is extended to "diplomats" and "those without diplomatic status," the number of actual US diplomats who will be sent back is likely to be very small.
"The thing to keep in mind about the huge reduction in personnel at our missions in Moscow is that it includes lots of Russian employees and constructions workers," said John Herbst, an Atlantic Council scholar and former foreign service officer. "Actual diplomats … will be a small percentage of those who wind up leaving the missions."
Still, Peskov said that Moscow is considering "additional reaction" if necessary, so the way Putin's purge is executed could change, especially if Washington and Moscow continue a spiral of tit-for-tat escalation.
What is clear is that there will be a significant reduction in support staff regardless of what happens, forcing the State Department to make tough decisions about what efforts it will pursue in Russia.
"The embassy would still be able to carry out core functions, but it would be a painful prioritization process," said Rathke.
A State Department official declined to discuss staffing plans, but said Putin's decision was "regrettable and uncalled for."
"We are assessing the impact of such a limitation and how we will respond to it," the official said.
One function that is expected to take a hit is consular affairs, a decision that would slow down visa processing for Russian applicants. That would mostly affect would-be tourists, a group Putin has shown before that he's willing to inconvenience; last year, he temporarily restricted travel to Turkey after Ankara shot down a Russian jet.
Another area that could take a hit is the State Department's efforts to enhance the image of the US in Russia. One such program is the Future Leaders Exchange, a student exchange program run by the State Department that allows students from the former Soviet Union to spend a year at an American high school.
Another potential item on the chopping block would be the State Department's public diplomacy operations. "U.S. public diplomacy in Russia, as elsewhere, is designed to get out our policy message," said Herbst. "It faces peculiar problems in Moscow because of the vast media campaign against the U.S. and the specific monitoring that it gets from the FSB [Federal Security Service]."
This group of information officers have had some successes in recent years. When Russian media photoshopped US Ambassador to Russia John Tefft into an event with opposition leaders last year, embassy staff immediately produced a series of parody images with Tefft on the moon and at other historical events in photos that went viral. "The reduction of even a handful of info officers will reduce our ability to put out our point of view," said Herbst.