As Donald Trump prepares to embark on his first foreign trip as president, his staff is getting accustomed to the treacherous minefield that is Middle East diplomacy.
The first staffer to step in it appears to be Dan Scavino, the White House social media director, who announced the president's visit to "Palestine" in a May 6 Facebook post.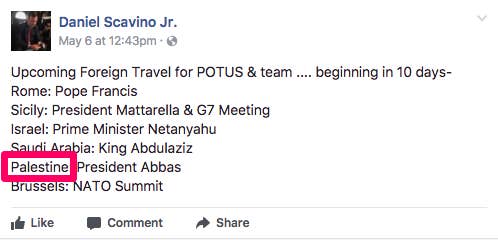 While it has been longstanding US policy to support the creation of a Palestinian state, before that goal is realized, US diplomats have referred to the area as the Palestinian Territories -- a protocol vigorously enforced by pro-Israel advocates.

When asked if this explicit mention to Palestine was intentional, White House spokesperson Michael Short told BuzzFeed it was "unintentional" in an email on Friday.

Later in the day, Scavino edited his original Facebook post -- scrubbing the word "Palestine" and replacing it with "Palestinian Territories."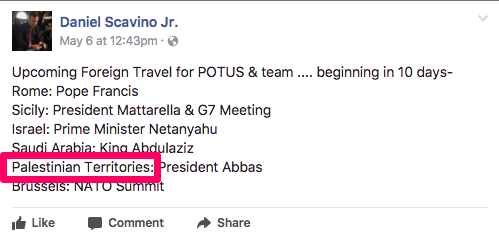 "That's a junior mistake," a longtime Middle East diplomat told BuzzFeed News. "The Israelis will catch him up on that for sure."

Middle East politics is notoriously fraught, and President Barack Obama didn't escape his first trip to Saudi Arabia unscathed. His bowing before then-Saudi King Abdullah — a gesture many considered a break with American tradition of not deferring to royalty — landed him in hot water with media critics and Republican politicians.

Welcome to the club, Trump administration.
Adrian Carrasquillo contributed to this report.