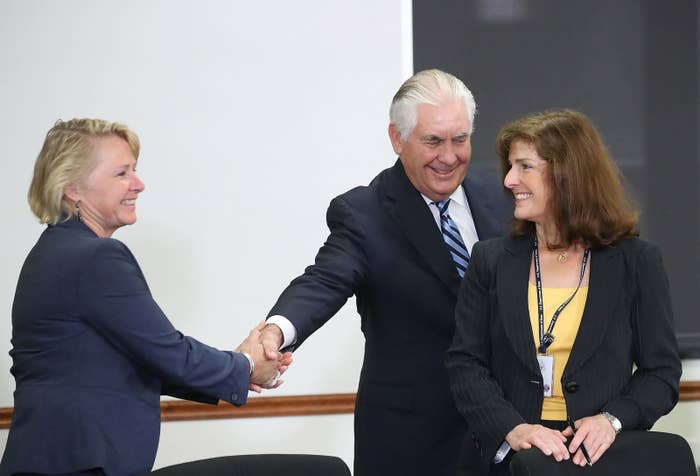 In a major personnel victory for Secretary of State Rex Tillerson, the White House has nominated Susan Thornton to become America's top diplomat for Asia, a move that defies efforts by some of President Trump closest advisers to oust her from the State Department.
Thornton, one of Tillerson's favorite diplomats, is a fluent Mandarin speaker who has clashed openly with the nationalist wing of the Trump administration, which viewed her as insufficiently aggressive when it comes to US relations with China.
Thornton, a career foreign service officer and the acting assistant secretary for East Asian and Pacific Affairs, survived a concerted effort by then-White House chief strategist Stephen Bannon to oust her over the summer.
"I'm changing out people at East Asian Defense; I'm getting hawks in," Bannon told The American Prospect in an explosive interview in August. "I'm getting Susan Thornton [acting head of East Asian and Pacific Affairs] out at State."
The efforts by Bannon and other Asia hawks to block Thornton's nomination angered Tillerson who has traveled extensively with her during his tenure. That anger boiled over in a June meeting at the White House when Tillerson "ripped into" Johnny DeStefano, the head of the presidential personnel office, for failing to take his staffing preferences seriously, US officials said.
"She provides critical institutional memory for Tillerson and helps balance against more hawkish voices in other parts of the administration," said Scott Kennedy, an Asia scholar at the Center for Strategic and International Studies.

With the appointment, Thornton becomes the first career diplomat to be nominated for a geographic bureau, an important development for Foggy Bottom's rank-and-file who have complained that the Trump administration has appeared to take the business of diplomacy for granted.
For Tillerson, the nomination is a rare public demonstration of his internal sway at a time when foreign leaders are questioning his clout following weeks of reports about him falling out of favor with the president.
While Thornton's appointment, which requires Senate confirmation, would place an experienced diplomat in charge of a key strategic region of the world, a White House official tells BuzzFeed News that a political ally of President Trump's is about to enter the Asia Bureau as well.
Alex Wong, the former foreign policy adviser to Republican Sen. Tom Cotton, is poised to join the State Department as a deputy assistant secretary in the East Asia and Pacific Affairs Bureau, two US officials confirmed.