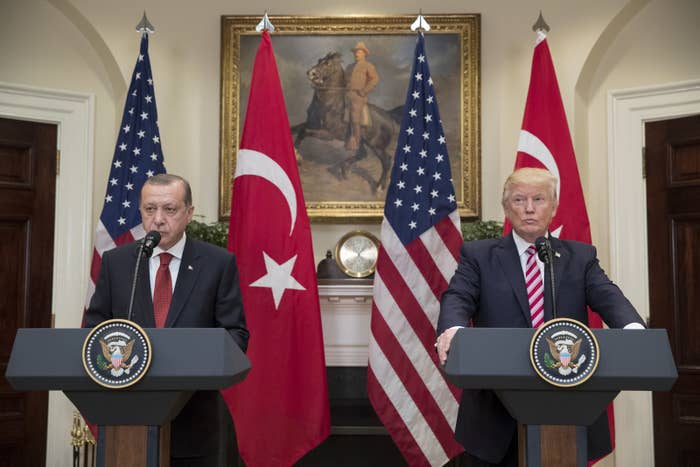 The White House has denied accusations that President Donald Trump told Turkish President Recep Tayyip Erdogan he was "sorry" about an incident in May when Turkish security guards viciously attacked American protesters in Washington.
"It's not true," White House deputy press secretary Lindsay Walters told BuzzFeed News in an email.
In an interview on Tuesday, Erdogan said Trump expressed regret about the incident, according to a translation by PBS NewsHour. "President Trump called me about a week ago about this issue. He said that he was sorry, and he told me that he was going to follow up on this issue when we come to the United States within the framework of an official visit," Erdogan said, according to the voiceover.
Walters did not elaborate, but other White House officials told news outlets that the two leaders "discussed a wide range of issues but there was no apology."
The May incident, in which Erdogan's guards charged a group of protesters near the Turkish mission in Washington, was widely photographed and led to the indictment of 16 Turkish officials and a reprimand from the US State Department.

At an event on Wednesday, Ergodan told a group of reporters that the men who attacked the protestors, which called "activists," were "Turkish patriots." He also claimed that four of his personnel that were charged were not present at the brawl and that two were not even in the US.
"President Trump said he will be following up on this issue," Erdogan said.