US Withdraws Bulk Of Staff In Havana Over Unexplained "Health Attacks"
The State Department also is warning American tourists about travel to Cuba, though there are no reports of tourists being affected.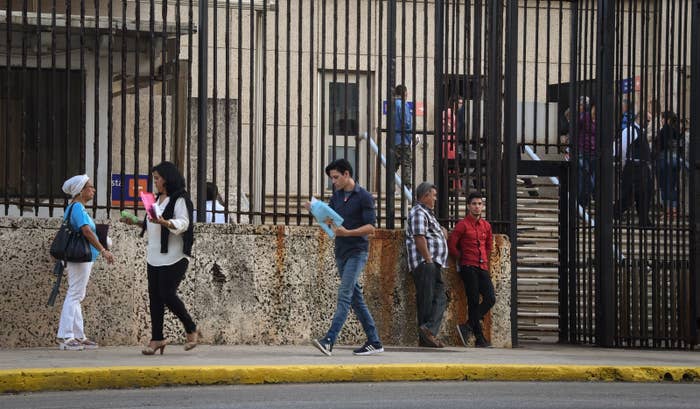 The United States is withdrawing more than half of its staff from Cuba and warning American tourists not to travel to the island because of a string of unexplained "health attacks" against US diplomats, US officials announced on Friday.
The State Department ordered all nonessential staff in Havana to leave with their family members and is stopping the processing of visas in Cuba indefinitely. US officials said the drawdown will stay in place until US investigators can determine the cause and the source of the attacks.
"We don't know the means, the methods or how these attacks are being carried out," a senior State Department official said in a phone call with reporters. "Because our personnel safety is at risk, and we are unable to identify the source of the attacks, we believe US citizens may also be at risk and warn them not to travel to Cuba."
The move comes almost a year after US diplomats began reporting unexplained health problems ranging from hearing loss to mild traumatic brain injury to cognitive disruption to brain swelling. Some anonymous officials have alleged that the injuries were due to a "sonic device," potentially planted by Havana or a third-party government such as Russia. The plausibility of the lurid allegation, taken at face value by many in Congress, has been viewed skeptically by some audio and medical experts.
"Until the government of Cuba can ensure the safety of our diplomats in Cuba, our embassy will be reduced to emergency personnel in order to minimize the number of diplomats at risk of exposure to harm," Secretary of State Rex Tillerson said in a statement on Friday.

The move comes despite a strong statement from the American Foreign Service Association, the union that represents US diplomats, on Thursday arguing against pulling out US staff while the cause of the illnesses remains unknown.
"It's a complicated question regarding what is actually causing the health issues in Cuba, but our members are clear that they have a mission to do," AFSA President Barbara Stephenson told BuzzFeed News. "American diplomats need to remain on the field and in the game."
The State Department is not taking punitive action against the Cuban government and described Havana's cooperation in the investigation as "ongoing and we expect it to continue." Still the move is a blow to Obama-era efforts to increase engagement and contact between the two former Cold War adversaries.
The US will stop sending official delegations to Cuba or conduct bilateral meetings in Cuba for the time being, the senior US official said. The US will continue to keep diplomatic relations with Havana and did not rule out that bilateral meetings could take place in the United States.
The senior State Department official said the most recent health incident occurred in August and the US is "not aware" of any involving American tourists or non-government officials.
Further deepening the mystery is the fact that a Canadian diplomat also experienced health problems associated with the string of American illnesses even though Ottawa has long maintained warm ties with Havana. Brianne Maxwell, a spokesperson for the Canadian government, said "Canada currently has no plans to change its travel advice and advisory for Cuba or remove its staff from Cuba."
In a statement to BuzzFeed News, she also said "we do not have any reason to believe Canadian tourists and other visitors could be affected" and that the Canadian government "continues to work closely with Cuban authorities."
During a speech at the UN General Assembly last month, Cuban Foreign Minister Bruno Rodriguez took the opportunity to emphasize that Havana did not know what was harming US diplomats. He warned Trump not to let the issue be "politicized."
Despite the lack of clarity of what's causing the illnesses, Cuba hawks in Congress have called for the US to punish Havana immediately. "We should declare every Cuban diplomat persona non grata until those responsible for these attacks are brought to justice," said Arkansas Sen. Tom Cotton in a statement following the announcement.