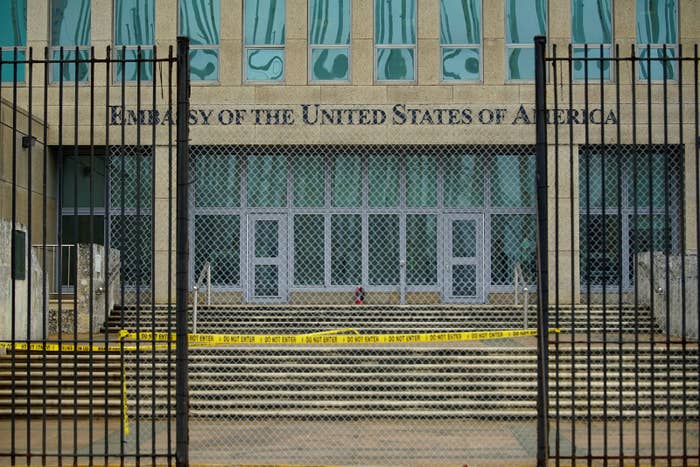 Despite not knowing who or what is causing a string of health incidents to US officials in Havana, the Trump administration is kicking out two-thirds of Cuba's embassy staff in Washington — a symbolic blow to the Obama-era warming of relations between the longtime adversaries that began less than three years ago.
On Tuesday, US officials gave the Cuban embassy the names of 15 officials who now have seven days to leave the country.
"The decision was made due to Cuba's failure to take appropriate steps to protect our diplomats," Secretary of State Rex Tillerson said in a statement. "We continue to maintain diplomatic relations with Cuba."
The order follows Washington's decision last week to slash its own embassy staff in Havana by about 60% — a response to a range of mysterious health incidents beginning last year as US officials began reporting symptoms of headaches, ear-ringing, hearing loss, and concussions.

As US investigators struggle to determine what's causing the illnesses, Cuba hawks in Congress have not waited to draw conclusions and immediately demanded the expulsion of all Cuban diplomats.
"We should declare every Cuban diplomat persona non grata until those responsible for these attacks are brought to justice," said Arkansas Sen. Tom Cotton in a statement last week. Republican Sens. Lindsey Graham and Marco Rubio have also exerted similar pressure on the administration.
Some of the Cuban officials being asked to leave are known Cuban intelligence operatives who are based in both Washington and New York, CBS News reported. The news agency said Secretary of State Rex Tillerson spoke with President Donald Trump about the plan on Monday.
The government of President Raul Castro has denied any involvement in the attacks and is expected to view the unilateral move as uncalled for. During a speech at the UN General Assembly last month, Cuban Foreign Minister Bruno Rodriguez warned Trump not to let the issue be "politicized."
More than 20 US officials have reported unusual health symptoms. On Monday, the Associated Press reported that US intelligence officials in Cuba first experienced the health issues.
Last week, the US also issued a travel warning to all Americans, advising them to stay away from the island — a move that could hurt Cuba's travel industry. US officials said they were not aware of any American tourists being affected by the health incidents, but that because US officials had been "attacked" in their Havana hotels, the US couldn't ensure the safety of other Americans.

Canada, which has a diplomat who also experienced strange health symptoms, did not recall diplomats from Cuba or issue a travel warning.
The American Foreign Service Association, the union that represents US diplomats, has argued that a reduction in US staff is unnecessary.
Advocates of closer engagement between the US and Cuba called the move hasty and counterproductive. "Expelling Cuban diplomats will not solve this mystery," James Williams, the president of Engage Cuba, said. "This decision appears to be purely political, driven by the desire of a handful of individuals in Congress to halt progress between our two countries."