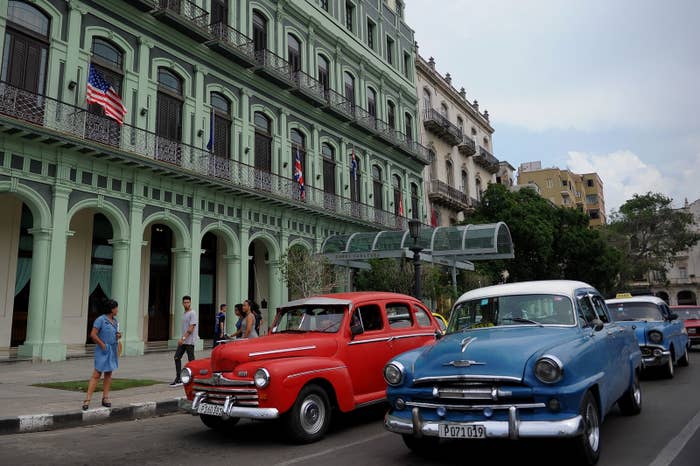 The powerful union that represents the US Foreign Service is coming out strongly against a reported plan to withdraw US staff from Cuba amid a string of unexplained health problems for employees at the embassy.
"We have a mission to do," Barbara Stephenson, the president of the American Foreign Service Association, told BuzzFeed News. "AFSA's view is that American diplomats need to remain on the field and in the game."
On Sunday, Secretary of State Rex Tillerson said the Trump administration is considering closing the US Embassy due to the unexplained illnesses of Americans working in Havana. "It's a very serious issue with respect to the harm that certain individuals have suffered," Tillerson told CBS. "We've brought some of those people home. It's under review."
Two days later, US officials told McClatchy that the Trump administration will "soon begin a major withdrawal of staff" due to the mysterious health problems.
So far 25 Americans associated with the embassy have experienced health issues ranging from hearing loss to mild traumatic brain injury to cognitive disruption to brain swelling.
Some anonymous officials have alleged that the injuries were due to a "sonic device," potentially planted by Havana or a third-party government such as Russia. The plausibility of the lurid allegation, taken at face value by many in Congress, has come under scrutiny by audio and medical experts. The State Department has said the cause of the "health attacks" remains unknown and that the Cuban government is cooperating with US investigators.
A major US drawdown, or the closure of the recently reopened US embassy, would be a blow to Obama-era policies seeking to increase engagement between the Cold War adversaries.
Trump has repeatedly attacked his predecessor's agreement with the Castro regime to bring down barriers between the two countries, calling it a "terrible and misguided deal." While Trump has chipped away at some of the Obama-era policy changes, many components of it remain in place.
Despite the lack of clarity of what's causing the illnesses, Cuba hawks in Congress have called for the US to punish Havana immediately. The US "should expel a Cuban diplomat for every U.S. diplomat evacuated due to acoustic attacks," Sen. Marco Rubio of Florida said.
Stephenson, who has served in many hot spots around the world and holds the title of ambassador, said she did not know the cause of the health problems, but did not believe they justified a large-scale withdrawal. "We're used to operating with serious health risks in many environments, whether it's parasites that rip up our guts in Africa, exposure to Zika virus and dengue fever, or air pollution in China and India," she said.
"It's a complicated question regarding what is actually causing the health issues in Cuba, but our members are clear that they have a mission to do," she added.
AFSA, which has a membership of 16,000 people, stakes out positions on issues affecting the foreign service after taking in feedback from members.