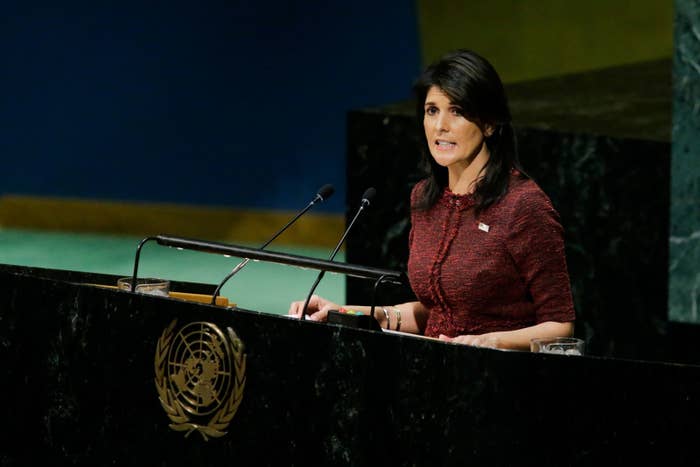 Donald Trump swore in December to withhold "billions" of dollars of US aid from countries that supported a United Nations resolution condemning the administration's recognition of Jerusalem as the capital of Israel.
"Let them vote against us," he said. "We'll save a lot. We don't care."
On Monday the Trump administration made public its proposed 2019 budget, and here's the news: Not a single country lost funding on the basis of voting against the US at the UN.
In fact, the budget specifically carves out money for many of the countries that voted against the US in the UN General Assembly, such as Zimbabwe, Somalia, and Nigeria.
"If you look at our budget it is focused on where we think the most appropriate assistance level should be based on where our security needs are," Hari Sastry, the director of the Office of US Foreign Assistance Resources, told reporters at the State Department.
When pressed about whether any assistance was cut due to the vote at the UN, Sastry said: "There's nothing specific just tied to that because that is only one factor."
Trump's apparent lack of interest in following through on his own threat could cause foreign powers to doubt his sincerity when issuing ultimatums in the future, and the same goes for his ambassador to the UN, Nikki Haley.
In the run-up to the December vote, Haley warned that she would be "taking names" of the nearly 200 member states voting on the resolution addressing Trump's move to upend US policy.
"As you consider your vote, I want you to know that the president and US take this vote personally," she said. "The president will be watching this vote carefully and has requested I report back on those countries who voted against us."
Only nine countries voted with the US, while 128 voted against it. And yet, the budget proposal specifically requests hundreds of millions of dollars for countries that voted against the US, including Nigeria, to support democratic governance and agriculture sector productivity; Somalia, to support "critical state-building processes" and "reduce corruption"; and Zimbabwe, for "promoting good governance" and "respect for human rights."
Still, advocates of foreign aid aren't breathing a sigh of relief.
The proposal allocates $41.17 billion for the International Affairs Budget, a bucket that includes the State Department and the US Agency for International Development. Advocates say that request amounts to a 30% cut to foreign assistance.
"That's where our heads at. Not an overt mention of the UN vote," said Christy Delafield, a spokesperson for Mercy Corps, a global humanitarian aid agency.
In any event, the main battle for funding will reside in the halls of Congress which will merely view the Trump budget as a political messaging document rather than the outlines of an action plan.
Trump acknowledged Congress's authority over the purse in his State of the Union speech, when he asked lawmakers to pass legislation limiting US aid to America's "friends."
But just like last year, Congress is already showing a desire to forge a budget that bears little resemblance to his request.
"A strong, bipartisan coalition in Congress has already acted once to stop deep cuts to the State Department and Agency for International Development that would have undermined our national security. This year, we will act again," Republican Rep. Ed Royce, the chair of the House Foreign Affairs Committee, said in a statement.
Rep. Eliot Engel, the top Democrat on the committee, promised that the proposal was "dead on arrival."