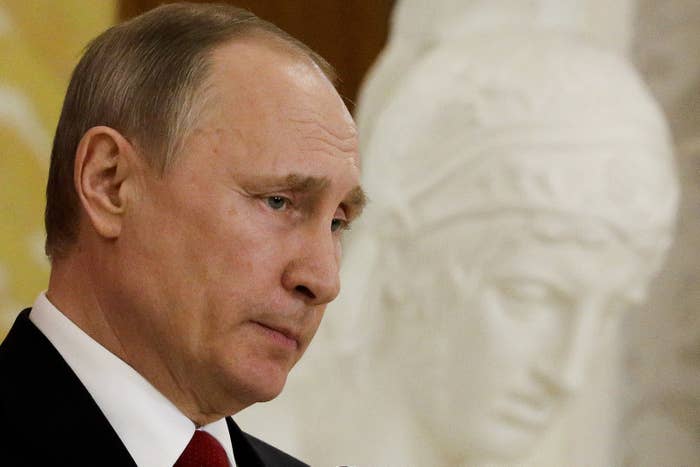 WASHINGTON — The one constant in President Donald Trump's vision for a stronger US foreign policy has been to forge better relations with Russia. "It would be great if we could get along with Russia," he declared soon after taking office.
But with his order on Thursday to fire almost 60 Tomahawk cruise missiles at Syria, Moscow's client state, the president showed a willingness to challenge Russian President Vladimir Putin in his own backyard and forgo a warming of relations in the near term.
On Friday, Moscow condemned the missile strike and announced the suspension of a key hotline designed to prevent mid-air collisions between US and Russian jets flying over Syria. Kremlin spokesman Dmitry Peskov said the strike caused "significant damage to Russian-American relations, which are already in a deplorable state." (The Kremlin also deployed Prime Minister Dmitry Medvedev to blast the US assault, but given Medvedev's diminished stature domestically, it didn't indicate a strong response.)
The standoff creates an early test for Secretary of State Rex Tillerson's handling of US-Russia relations as he heads to Moscow on Wednesday for meetings with Russian Foreign Minister Sergey Lavrov. In remarks on Thursday night, Tillerson said Russia had "failed" in its responsibility to secure and destroy Syria's chemical weapons as part of an agreement it made at the United Nations in 2013. "Either Russia has been complicit or Russia has been simply incompetent in its ability to deliver," he told reporters.
State Department officials speaking to BuzzFeed News said disagreements over Syria would likely dominate Tillerson's discussions in Russia, and US officials were working to ensure that the hotline between Washington and Moscow was up and running.
"The suspension of the deconfliction channel was unfortunate, and we're working to see if we can get it back in place because it serves a useful purpose," said a State Department official, who spoke on condition of anonymity to discuss internal planning. "If it's not back in place by the time he's in Moscow I'm sure that this will be part of that conversation."
The status of the hotline was unclear on Friday afternoon. Pentagon officials said the line remained open, but Russia's Defense Ministry said it informed the Pentagon it would shut down the channel at 2100 GMT, according to the Interfax news agency.
But beyond the hotline is the open question of whether even a limited reset in US-Russia relations is possible, much less a rumored "grand bargain" that would address a range of outstanding issues including Syria and Ukraine. For some analysts, Thursday's assault has closed the door on any such opportunity and returned the two countries to their traditional adversarial posture.
"Putin had scaled back his expectations in terms of a possible grand bargain with Trump weeks ago, before the strikes, but he hoped for a deal of sorts on a smaller scale," said Anna Borshchevskaya, a Russia analyst at the Washington Institute for Near East Policy.
"Certainly judging by Tillerson's remarks about Russia and Russia's reaction to the strikes — calling them an act of war and demanding a UN Security Council meeting — a rapprochement in the near future seems unlikely," she added.
Prior to the strike, Trump's appointment of several sharp critics of Russia to key administration positions lowered the Kremlin's expectations of a reset. And hopes were further diminished after the White House rejected Moscow's proposal for an early meeting between Trump and Putin in May when the US president is in Europe for a NATO summit.
On the US side, some senior Trump officials soured on the idea of a rapprochement in late March in light of the high-profile investigations by the FBI and congressional committees into ties between Trump aides and Russian operatives who meddled in the 2016 presidential elections. The Wall Street Journal reported details of a White House meeting in March in which senior administration officials expressed skepticism that any grand bargain could take place while Russia continued to intervene in Ukraine, make overtures to Iran, and back Syrian President Bashar al-Assad.
But some analysts cautioned that a more cooperative US-Russia relationship is still feasible and that Trump's decision to order a limited strike has the potential to send a constructive message to the Kremlin.
"The Russians won't simply roll over because we wag our finger at them; but they will respect strength and seriousness," said Matt Rojansky, a Russia scholar at the Wilson Center. "Washington needs to demonstrate that the latest strike is part of a serious commitment to managing the crisis in Syria."
He suggested that US efforts to root out ISIS, support the Syrian rebels and push for a long term political settlement of the conflict could eventually win support in Moscow if the US demonstrates it has skin in the game. "I think effective negotiation with Russia from a position of strength is still possible," he added.
Nancy Youssef contributed reporting from Washington.