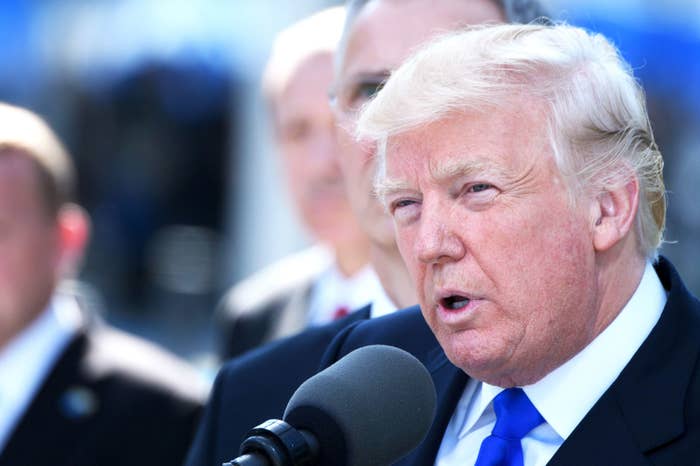 After more than four months in office, President Donald Trump chose not to give members of the NATO alliance what they so desperately sought from him: an explicit endorsement of the military alliance's collective defense guarantee.
Known as Article 5, the clause is considered the most important element of NATO's charter, defining an attack on one nation as an attack against all.
In remarks at NATO's new headquarters in Brussels, Trump instead reprimanded the leaders of the 28-member organization for failing to meet NATO's goal of spending at least 2% of GDP on defense.
"NATO members must finally contribute their fair share and meet their financial obligations," Trump said, standing beside top US allies including German Chancellor Angela Merkel, British Prime Minister Theresa May, and French President Emmanuel Macron. "But 23 of the 28 member nations are still not paying what they should be paying."
European leaders looked noticeably tight-lipped as Trump spoke beside a newly installed piece of the World Trade Center, which served as reminder of the only time Article 5 was invoked in the alliance's history, in response to the 9/11 attacks.
"If all NATO members had spent just 2% of their GDP on defense last year, we would have had another $119 billion for our collective defense and for the financing of additional NATO reserves," Trump said.

Trump repeated his claim that European countries owe massive amounts of money from years of underpayments, a claim leaders on the other side of the Atlantic categorically reject.
Trump's general criticism about burden-sharing is acknowledged and supported by many current and former US officials, but the president's threats to leave allies stranded if they don't pay up is viewed by some as unwarranted brinksmanship.
That's why many allies were waiting so eagerly for him to explicitly endorse Article 5 — something Secretary of Defense James Mattis and Vice President Mike Pence both did on their trips to Europe.
Prior to the president's address, NATO allies and major US news outlets such as the New York Times were told to expect an explicit Article 5 commitment from Trump. On Tuesday, senior Lithuanian defense official Saulius Gasiunas told BuzzFeed News that Trump's Article 5 declaration "will finalize the issue and put an end to uncertainties and ambiguities," he added.
But that didn't happen during Thursday's remarks.
"This will come as a huge shock to NATO members," tweeted Thomas Wright, a fellow at the Brookings Institution.

Besides addressing NATO's free-rider problem, Trump's speech — written by senior White House aide Stephen Miller — focused heavily on the threat posed by terrorism, a key talking point he has used in the past to suggest that the Cold War-era alliance is outdated and "obsolete."
"Terrorism must be stopped in its tracks, or the horror you saw in Manchester and so many other places will continue forever," he said. "The recent attack on Manchester and the United Kingdom demonstrates the depths of the evil we face with terrorism."
White House press secretary Sean Spicer, speaking to reporters after the speech, said he was "perplexed" by questions about Article 5. "I've seen some of the questions I've gotten from you guys, but there's 100% commitment to Article 5," he said. "If you are standing at a ceremony talking about the invocation of Article 5 after 9/11 and talking about that, that is a pretty clear indication of the support that exists for it."
NATO Secretary General Jens Stoltenberg also defended Trump's speech, saying his support for NATO was tantamount to supporting Article 5.
Still, European officials speaking on condition of anonymity told BuzzFeed News they expected an explicit, unmistakable endorsement.
Elsewhere in the speech, Trump highlight the issue of immigration, which he directly linked to terrorism. "You have thousands and thousands of people pouring into our various countries and spreading throughout. And in many cases, we have no idea who they are," he said. "We must be tough."

That remark sparked jeers from some on Twitter, who quickly pointed out that the Manchester attacker was born in the UK.
Merkel, whose speech directly preceded Trump's, was distinctly more optimistic, and seemed to implicitly criticize the president's Mexican border wall proposal. Recalling her personal experiences of growing up in East Germany, Merkel said: "It is not isolation and the building of walls that make us successful, but open societies that share the same values."
Following Trump's remarks, Belgian Prime Minister Charles Michel was quick to point out that European allies came to America's defense after Article 5 was invoked after the 9/11 attacks.
Although a number of European countries are increasing their defense spending, and are committed to reaching the NATO goal of spending 2% of their GDP on defense, only five NATO members currently meet that target.
Trump's critics have pointed out that his wavering on Article 5 injects a sense of vulnerability and instability into the alliance, but supporters have also said it puts pressure on member countries to get more serious about equitable burden-sharing to an extent that Barack Obama and other previous US presidents had tried but largely failed to exert.
At Thursday's meeting, NATO countries are expected to agree to submit detailed annual reports on their progress on increasing defense spending — a new concession to Trump.
Following the speech, Trump joined Stoltenberg and other NATO leaders for a working dinner where the topic of counterterrorism and burden sharing dominated the conversation, Stoltenberg said.
An EU source told BuzzFeed News that Europe's governments were keen to get the message across to Trump that defense isn't only about military spending: Continued investment in aid, international development, peacekeeping, and civilian operations are all critical aspects of security, including in the fight against terrorism.
Although Trump clearly rankled some Europeans with his remarks, the president will still walk away from the meeting with some achievements. Stoltenberg announced later on Thursday that NATO would become a formal member of the anti-ISIS coalition, a move supported by Trump that Germany and France showed some resistance to initially. Even though all NATO members are currently part of the coalition, some US allies worried about the long-term effect of NATO becoming part of the Middle East-centered anti-ISIS effort.
Stoltenberg also announced the creation of a new intelligence fusion cell for fighting terrorism and addressing the threat of foreign fighters. "And we will also appoint a special coordinator for NATO's efforts fighting terrorism," Stoltenberg said.
He did not make a major announcement on NATO troop levels in Afghanistan, a fact that reflects the disagreement within the Trump administration on the right path forward for America's longest war. He did say, however, that the alliance is considering an increase in noncombat troops in the country.