There's Been Nothing But Good Vibes This Trip Between Trump And Xi
The president abandoned his usual anti-China rhetoric during a trip to Beijing, in a bid for cooperation on the North Korean nuclear issue.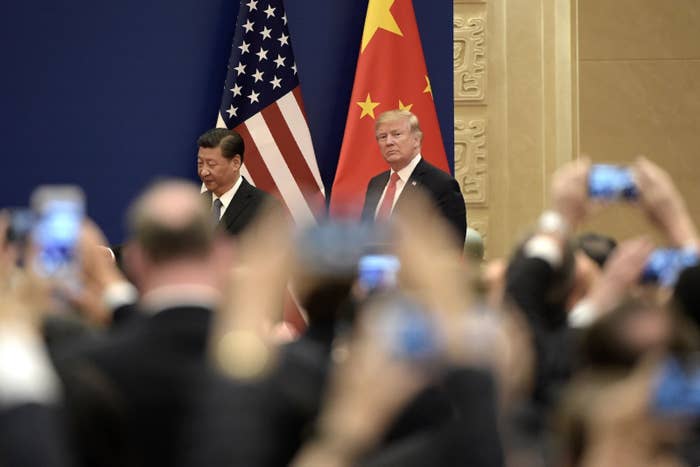 BEIJING — Donald Trump left his China-bashing rhetoric at home on Thursday in an effort to enlist Beijing's help in cracking down against North Korea's nuclear program. Gone was the man who once excoriated Beijing for "raping our country" and who routinely vowed to slap a 45% tariff on Chinese imports while labeling the country a currency manipulator.

Standing beside his counterpart in Beijing's cavernous Great Hall of the People, Trump praised Xi for his hospitality and applauded him for consolidating power within the country's Communist Party. "I want to congratulate you on the recent and very successful 19th Party Congress," he said.
Trump elevated Beijing as an indispensable partner in bringing pressure on North Korea to relinquish its nuclear weapons program. While Trump reiterated his view that the US–China trade relationship has greatly disadvantaged the US, he emphasized that the fault is his US predecessors'.
"I don't blame China," he said. "I blame past administrations."
"My feeling toward you is an incredibly warm one," he said.
The remarks came in the middle of Trump's marathon 12-day trip through Asia focused on addressing Pyongyang's nuclear threat while advancing America's economic position in the Asia-Pacific.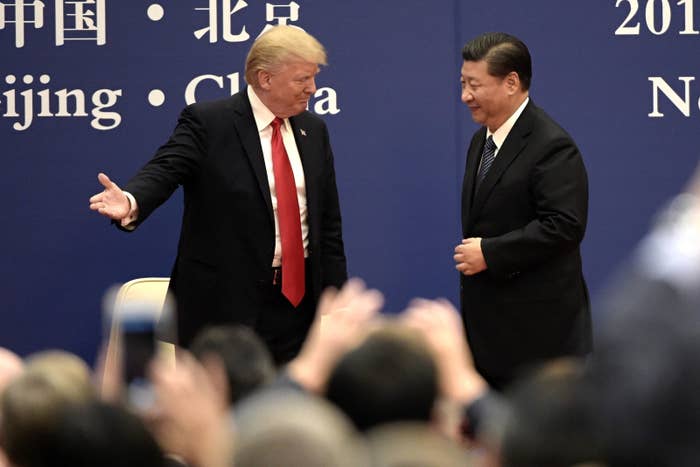 On Wednesday, Trump delivered a speech before South Korea's parliament in Seoul, calling North Korean leader Kim Jong Un a "tyrant" whose "dark fantasy" is to rule over an "enslaved Korean people."
A senior State Department official told reporters that while Trump's trip to Seoul focused on calling out North Korea's illegal actions, the president's stop in Beijing was about underscoring China's role in resolving the crisis.
"Without them really participating lock, stock, and barrel in this, it's not going to work," the official said, speaking on condition of anonymity.
To be effective, Trump must use a more conciliatory tone while he's in China, said Jia Qingguo, an international affairs scholar at Peking University in Beijing.
"He isn't going to say the same things that he says for the domestic audience in the US," Jia said. "When he visits this time, he wants to accomplish some realistic goals, He won't openly criticize because it won't help him accomplish anything."
Specifically, the US is pressing China to step up the enforcement of existing UN Security Council sanctions against North Korea at the local level, where US officials believe Beijing hasn't exerted as much control.
"We don't trust local officials to read the fine print of these [UN] resolutions," the State Department official said.
Both Chinese and US officials said that Beijing has taken some noticeable steps on North Korea following the Kim regime's recent spate of attempts to upgrade its program — including a set of increasingly sophisticated ballistic missile launches and a nuclear test. China, for example, approved a new round of sanctions at the UN in September, said it would close off Pyongyang's coal imports, and agreed to cut banking links and lessen exports of diesel fuel.
"We have noticed in some cases they've been forced to go beyond the UN Security Council resolutions," the official said.
"They're going to businesses and saying, 'No kidding if you're trading with North Korea, you're going to be in deep kimchi,'" the official added, using slang popularized by Korean war veterans who apparently viewed the staple of salted and fermented vegetables unfavorably.
But China has stopped short from playing its more punishing card, cutting off crude oil, a step many believe it will never take for fear of destabilizing the regime. "All responsible nations must join together to stop arming and financing and even trading with the murderous North Korean regime," Trump said. China remains North Korea's biggest trading partner and most important diplomatic ally.
During the leg in Beijing, Commerce Secretary Wilbur Ross and his Chinese counterpart announced $9 billion in deals involving almost 20 companies, though details of the agreements remained elusive, and many were expected to come in the form of nonbinding memorandums of understanding rather than contracts.
They are expected to include agreements with energy and industrial businesses, such as DowDupont, General Electric, Bell Helicopter, and Honeywell International.
Ross's eye-popping $9 billion figure comes as Forbes magazine said the former Wall Street investor "lied to us" about his net worth by billions of dollars in order to place on the elite "Forbes 400" list of wealthiest people in the US. On Tuesday, the magazine said it discovered the discrepancy when it reviewed the financial disclosure forms that Ross completed to become commerce secretary.
The lack of substantive announcements on trade cooperation or other "deliverables" stood out, and suggested a lack of close coordination between the world's two largest economies in advance of the meeting. Trump said he had discussed the "chronic imbalance" in trade between the US and China — a campaign-era talking point — but he also said he raised problems from market access for US companies to technology transfer issues.
Some Chinese officials had complained that preparations for the trip were hamstrung by the White House's failure to coordinate the competing interests of the departments of State, Commerce, and the Treasury and the Office of the US Trade Representative, a senior Asian diplomat told BuzzFeed News.
"There was a sense of desperation and confusion among diplomats in the Chinese Embassy in Washington," the official said. "It was very chaotic."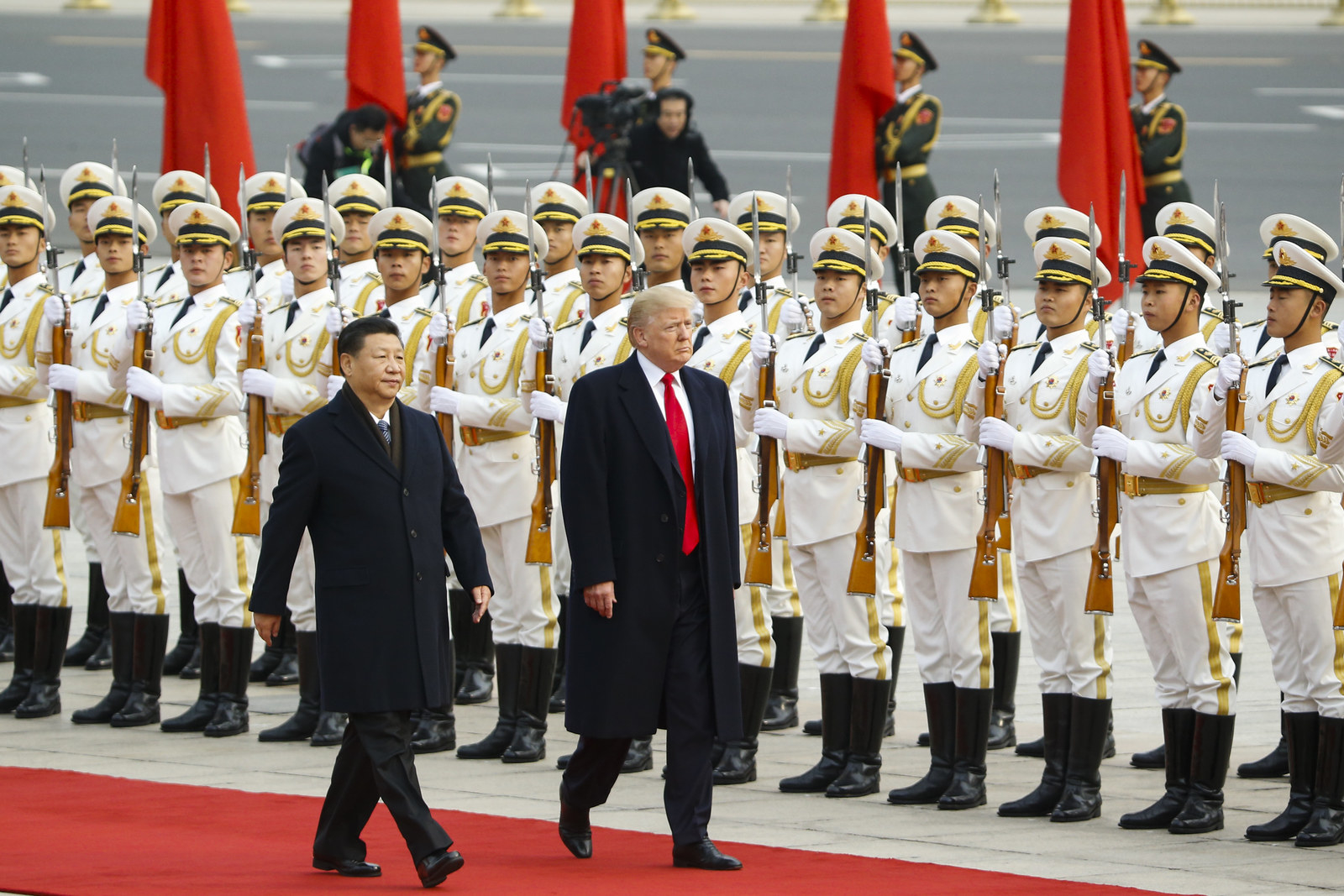 The job of steering the interagency process during the trip belonged to Matt Pottinger, the National Security Council's senior director for Asia. Other key players in the trip's planning included Ross, Trade Representative Robert Lighthizer and Secretary of State Rex Tillerson.
The Trump administration has yet to nominate an assistant secretary of state for East Asia and Pacific affairs.

Scott Snyder, an Asia scholar at the Council on Foreign Relations, said "the lack of coordination reveals the centrality of the White House and the limited bandwidth of the administration to handle more than a few key priorities of the president."
"Good evidence for this is the much shorter communiques coming out of leadership visits under Trump versus Obama," he said.
Elizabeth Economy, another China scholar, noted that Pottinger did participate in a series of dialogues between the two countries in the run-up to the state visit, and said the Chinese Embassy's exasperation could've been intentional.
"It may be that what the US side wants—a level playing field for trade and investment alongside China turning off the spigot on its oil pipeline to North Korea —are not asks that China is prepared to answer positively," she said.
One of the Trump administration's most outspoken China hawks, Peter Navarro, who serves as an adviser to the president on trade issues, did not attend the trip, and one diplomat said he played a minuscule role in the planning of the visit.
Navarro's absence has been interpreted both as a sign of his diminished status in a more disciplined White House run by Chief of Staff John Kelly and a result of Trump's strategy to shelve major trade action against Beijing in exchange for cooperation on North Korea's nuclear program.
"Navarro was intentionally left off the trip as Trump wanted to send a signal that he would not like anybody or anything uncomfortable brought up and potentially poison this trip," said Arthur Dong, a professor at Georgetown's McDonough School of Business.
Others said Trump made a blunt calculation that the security threat posed by North Korea superseded concerns about trade imbalances with China.
"When this administration came into office a big part of 'America First' was going to be a tough approach to China--maybe even a straight up containment strategy," said Harry Kazianis, an Asia expert at the Center for the National Interest. "That went out the window when North Korea started showing the progress of their missile and nuclear programs."
"So, for the short to medium term, Team Trump will take a softer line on Beijing's rise," he added. "But if China were to stop enforcing sanctions or get caught selling North Korea weapons technology even indirectly all bets are off."
Still, Xi and Trump do appear to have a genuinely warm relationship, and the Chinese leader appeared eager to lavish Trump with the red carpet treatment. On Wednesday, Trump was welcomed to the Forbidden City, where the two men's wives were treated to Chinese opera and tea.
"Trump was given a regal welcome to Beijing. Xi closed down the Imperial City so Trump and Melania could have a private tour of the palace," Dong said, "an honor very few people get to receive."