In under a minute, a modest reporter from Romania managed to do what the leaders of 27 countries and President Donald Trump's own staff couldn't: get him to commit to NATO's collective defense principle.
On Friday, Trump explicitly endorsed Article 5 of NATO's founding treaty, which requires allies to come to each other's defense -- something he did not do during his widely-anticipated speech at NATO headquarters last month. That omission triggered a wave of anxiety from European leaders concerned about the president's commitment for the military alliance.
"Yes, absolutely I'd be committed to Article 5," Trump said after fielding a question from Ramona Avramescu, a Romanian correspondent with TVR News, during a joint press conference with the president of Romania.
"Certainly we are there to protect and that's one of the reasons that I want people to make sure we have a very, very strong force, by paying the kind of money necessary to have that force," Trump added.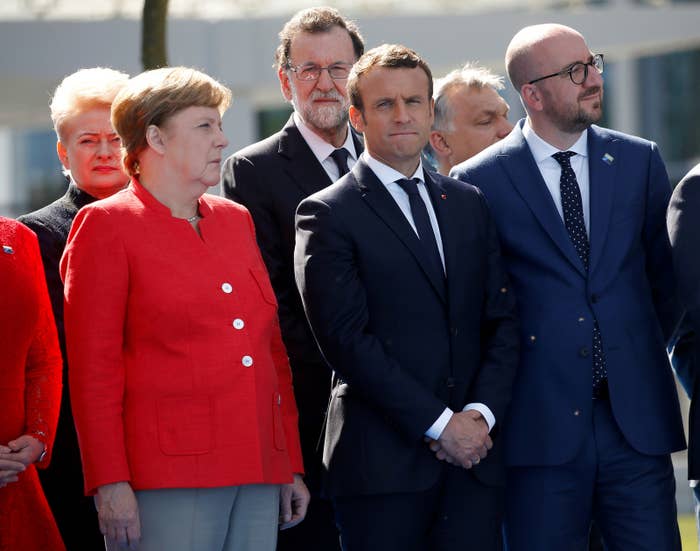 For months, organizers of NATO's leaders meeting in Brussels tried to orchestrate an event that would extract that very phrase from the president in order to ease transatlantic concerns. But instead, the president used the speech to rail against the evils of terrorism and criticize European countries for failing to spend at least 2% of their GDP on defense.
The final version of Trump's May 23 speech featured a line describing Washington's commitment to Article 5 as "unwavering," Politico reported on Tuesday, a line Trump did not ultimately deliver. The sentence had been inserted at the insistence of his top advisers — including Secretary of State Rex Tillerson and Secretary of Defense Jim Mattis — who reportedly were not briefed before it was removed. White House staffers like Press Secretary Sean Spicer have defended Trump's speech in the weeks since, insisting the commitment was clear, even if the exact words weren't said.
His refusal to clearly endorse Article 5 left allies and adversaries guessing: Was this a negotiating tactic in order to pressure NATO allies to increase their defense spending -- a problem acknowledged by successive US presidents in both parties? Or did the president who once called NATO "obsolete" have sincere misgivings about the alliance's all for one, one for all provision?
It turns out, neither.
"Well, I'm committing the United States, and have committed, but I'm committing the United States to Article 5," Trump said on Friday.
Whether the remarks will now satisfy anxious US allies remains unclear.
"I'd put it in the 'better late than never' category," said Jeff Rathke, a retired career foreign service officer at the Center for Strategic and International Studies. "I think NATO allies will see it as an attempt by Trump to correct the omission from the Brussels mini-Summit. It is helpful in that respect, but I don't think it will erase the fundamental doubts that the President has raised about the constancy and predictability of U.S. foreign policy."
Others aren't so sure.
"I'd be amazed if anyone on this side of the Atlantic believes this changes anything when it comes to Trump," said Nicholas Bouchet, a scholar at the German Marshall Fund contacted during a work trip in Berlin. "By now it's now beyond clear that he will say anything from one day to the next, so nobody can seriously expect this settles the matter when it comes to the president himself. But I guess European NATO allies can pretend it is a change in the hope that this helps us move forward in a less chaotic way compared to the last few months."
Either way, Trump made clear that despite his support for Article 5, he would continue to pressure European governments to spend more on defense to improve the alliance's collective security. "We hope our other NATO allies will follow Romania's lead on meeting their financial obligations and paying their fair share for the cost of defense," he said.
So for now, the score for extracting an Article 5 commitment from Trump is: Romanian journalist 1, NATO Alliance 0.