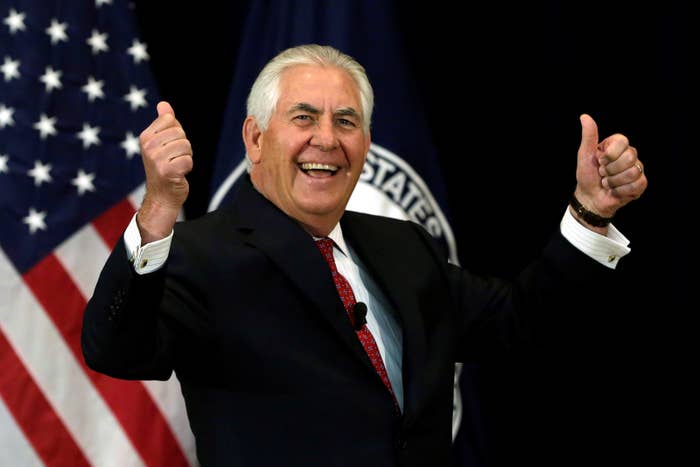 Since before he took office, President Donald Trump's vision of an "America First" foreign policy has been a mystery to US diplomats tasked with explaining US actions to the rest of the world.
But on Wednesday, Secretary of State Rex Tillerson tried to put that confusion to rest by channeling the president's nationalist message into a concise speech on the role of America in the world.
In a packed auditorium at the State Department, Tillerson faced a demoralized workforce, many of them confused about the direction he's leading the building in, worried about proposed layoffs, and angry about his reported comments that the US spends too much money on taking care of the families of US diplomats posted overseas.
While Tillerson made some assurances that budgetary downsizing would not "leave anybody out," the core of his message was that the State Department needs to dramatically narrow the focus of its mission: improving US security and economic growth above all other considerations. "We just kind of lost track of how we were doing," he said, referring to the last two decades in US foreign policy.
The remarks were notable in that Tillerson did not shy away from the more controversial ideas Trump has proposed in stray remarks and tweets, particularly when it comes to promoting freedom, human rights, and democracy.
"Those are our values," said Tillerson. "Those are not our policies."
That distinction, Tillerson suggested, is important because if the US is haranguing strategic partners for human rights abuses or election fraud, that could jeopardize security cooperation.
"If you condition our national security efforts on someone adopting our values, we probably can't achieve our national security goals or our national security interests," he said.
The US has long fostered security ties with governments that don't necessarily share its values, such as Saudi Arabia, Egypt, or Turkey. But in recent days, the White House has demonstrated a unique interest in smoothing over relations with autocratic leaders in very public ways.
Last weekend, the White House described a "very friendly conversation" with Philippines President Rodrigo Duterte, a strongman blamed for a rash of extrajudicial killings of drug dealers in his home country, in which Trump invited him to the White House.
Human rights activists questioned whether the Filipino leader leader should even be let in the country. "We are watching in real time as the American human rights bully pulpit disintegrates into ash," Sen. Chris Murphy, who has made foreign policy one of the cornerstones of his Senate career, said in a tweet.
Last month, Trump was the first world leader to place a congratulatory phone call to Turkish President Recep Tayyip Erdogan, even as the results were contested on the measure, which critics say could severely diminish Turkey's democratic institutions. The language of the White House statement noting the congratulatory nature of the call was not the doing of the State Department, a US official told BuzzFeed News, and angered many diplomats.
Trump has also lavished praise on Chinese President Xi Jinping since their meeting in Mar-a-Lago last month. Trump called the president a "very good man" and a "gentleman," despite mounting concerns that he has curtailed political dissent and civil liberties in the country.
Trump's exercise of realpolitik isn't universally abhorred inside the State Department. In regional bureaus that deal with less-than-savory leaders, diplomats often push back against their colleagues who focus on human rights, sex-trafficking, or other areas of concern for the sake of maintaining diplomatic ties. But the Trump administration's open defiance of the careful diplomatic language typically used when dealing with autocrats has rattled people in the department.
In his remarks, Tillerson urged State Department officials to rethink how the US engages with the world in what appeared to be an effort to prepare them for similar foreign leader phone calls and remarks.
"History is moving around us … how do we adapt to that?" Tillerson said.
While he vowed that US values would never be left on the "sidelines," he said that maintaining too strong a line on rights and liberties "really creates obstacles to our ability to advance our national security interests, our economic interests."