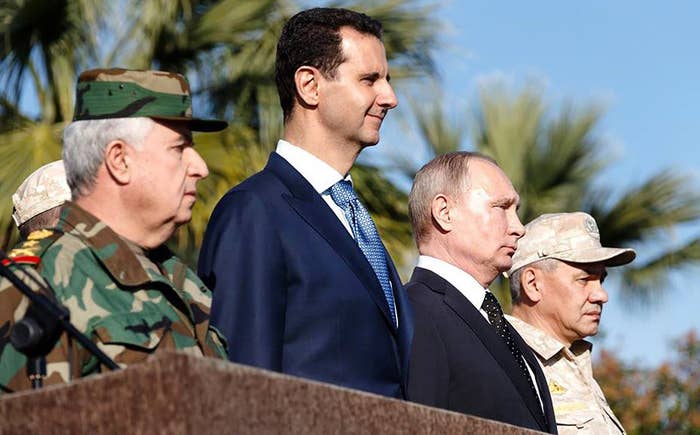 Secretary of State Rex Tillerson unveiled an ambitious US strategy for ousting Syrian President Bashar al-Assad on Wednesday that relies on an indefinite US military presence in the country, an insurrection within the Assad regime, and a groundswell of support from the beleaguered Syrian people.
The speech represents the most comprehensive case Tillerson has ever made for a lasting US military presence in the war-torn country and marks a departure from language drafted between the US and Russian officials in Vietnam in November.
The remarks also are a significant departure from President Donald Trump's campaign rhetoric, which maintained that the only objective the US should have in Syria is fighting ISIS, and are likely to revive debates in Congress between staunch advocates of regime change and those who fear an open-ended commitment to a US presence in Syria.

"What we should do is focus on ISIS. We should not be focusing on Syria," Trump said in October 2016. "You're going to end up in World War III over Syria if we listen to Hillary Clinton."
A central pillar to Tillerson's plan, delivered in a speech at Stanford University, is a UN-supervised election that Tillerson predicted would result in new leadership.
"The United States believes that free and transparent elections … will result in the permanent departure of Assad and his family from power," said Tillerson.
"Assad's regime is corrupt, and his methods of governance and economic development have increasingly excluded certain ethnic and religious groups," said Tillerson. "Such oppression cannot persist forever."
A November joint statement between Trump and Vladimir Putin called for "UN-monitored" elections. But Tillerson's speech calls for "UN-supervised" elections, a process that is more invasive and includes additional requirements such as a voting populace that isn't intimidated or fearful of arrest and has access to media.
One person familiar with the decision told BuzzFeed News the stronger language could create the conditions for dismantling Assad's rule. The decision to approve a lasting US military presence in Syria was approved by Trump at a National Security Council meeting on Dec. 21.
The US military currently has about 2,000 troops in Syria working with a local force made up primarily of Syrian Kurds. It was unclear how large a contingent of US military might be required for a longterm commitment. Officials at the Pentagon declined to discuss the subject.
Tillerson said the military presence would be in addition to an unspecified number of US diplomats working on so-called stabilization programs in a country where as many as 6 million people are displaced and where many of the cities have been devastated by more than six years of war.
Tillerson said a political resolution to Syria's civil war was necessary to curb the influence of Iran, Assad's key backer, and Sunni Muslim extremist elements such as ISIS.
"We understand that some Americans are skeptical of continued involvement in Syria and question the benefits of maintaining a presence in such a troubled country," Tillerson said. "However, it is vital for the United States to remain engaged in Syria."
Tillerson also linked America's troop presence to the need to curb Assad's hold on power. "A total withdrawal of American personnel at this time would restore Assad and continue his brutal treatment of his own people," he said.
Notably, Tillerson's plan for eventual regime change relies on several assumptions that are far from certain.
For instance, Tillerson says that "our expectation is that the desire for a return to normal life … will help rally the Syrian people and individuals within the regime to compel Assad to step down."
But it's also possible that a desire for normalcy could tempt some Syrians into resigning themselves to the rule of an entrenched autocrat, rather than shedding more blood in a protracted regime change effort.
Tillerson's speech comes as Turkey has harshly criticized US plans to create an armed force of 30,000 Syrians to maintain security in areas recently freed from ISIS. According to published reports, the force would consist largely of Syrian Kurds affiliated with the People's Defense Units, or YPG, a group Turkey has long said has ties to insurgents inside Turkey who've been fighting for decades for autonomy for Kurdish areas of southeastern Turkey.
On Wednesday, Pentagon officials and spokespeople for Operation Inherent Resolve, the anti-ISIS coalition, would not comment on why the US military was setting up such a force and whether it would require additional US troops. Turkish President Recep Tayyip Erdoğan has vowed to "strangle it before it's even born."
Vera Bergengruen reported from Washington.