Infighting Is Plaguing The Anti-ISIS Coalition
Donald Trump tried to bring US allies together in his trip to the Middle East. Now the Saudis, Egyptians, Qataris, Emiratis, Turks and Germans can't stop fighting.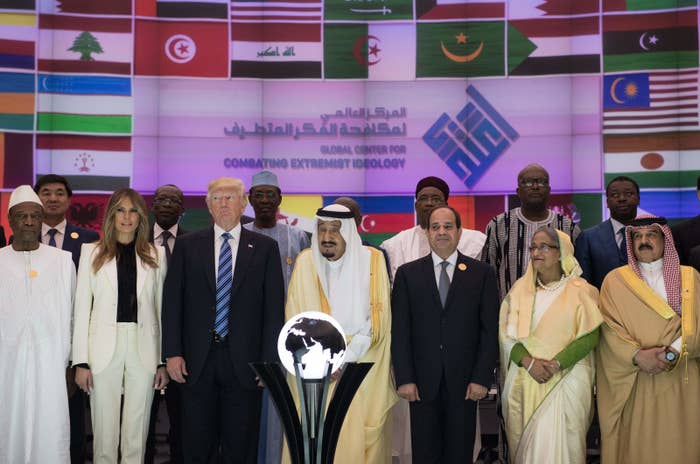 Just two weeks after President Donald Trump traveled to Saudi Arabia to forge a grand alliance of nations against Islamic extremism, US allies appear more divided than ever after a series of long-simmering diplomatic rifts and disputes boiled over into plain view on Monday.

Five Arab countries, including Egypt and Saudi Arabia, severed all ties with Qatar, which hosts the region's main US military base that stages strikes against ISIS. On the same day, Germany, following a diplomatic row with Turkey, announced it was withdrawing troops from the country's Incirlik Air Base, another military hub for countering the militant group.
Publicly, US officials stressed that the diplomatic crackup won't affect Washington's efforts against the extremist group, but behind the scenes US officials are working overtime to try to patch the cracks in the US's scattered anti-ISIS coalition.
"The Trump team has to show that it has what it takes to herd cats and keep all these diverse nations on board with the coalition and on task," Nick Heras, a Syria expert at the Center for a New American Security, told BuzzFeed News. "Without secure forward operating bases to operate from, particularly for coalition aircraft, the counter-ISIS campaign would not be advancing steadily along."
The rift between Qatar and its neighbors stems from the tiny energy rich nation's support for Islamist groups fiercely opposed by other Arab states and its comparatively softer treatment of Iran, the chief adversary of Saudi Arabia. (More bizarrely, Qatar's alleged payment of $1 billion for the release of a royal hunting party reportedly infuriated the Gulf states as well.) To send a message to Doha, Qatar's diplomats were given 48 hours to leave Bahrain and its citizens were given two weeks to leave Saudi Arabia, the UAE and Bahrain.
Turkey's dispute with Germany stems from steadily declining relations between the two NATO allies, which began last June when Berlin recognized the Ottoman-era killing of Armenians as a genocide, a fact Ankara continues to reject. Tensions spiked again after Turkey refused to allow German lawmakers to enter Incirlik where Germany keeps about six reconnaissance planes, 250 soldiers, and a refueling plane for its efforts against ISIS. If those troops leave, Germany will have to find an alternative base in Jordan or Kuwait.
The United States steadfastly resists taking sides in the disputes among its partners, but has been compelled to smooth things over for the sake of the anti-ISIS coalition.
"Both the deteriorating relations between Turkey and Germany and the internecine fighting among our allies in the Gulf make the fight against [ISIS] increasingly difficult," Joshua Landis, a Syria expert at Oklahoma University, said.
Earlier on Monday, Secretary of State Rex Tillerson pleaded with Arab allies to de-escalate tensions. "It is important that the Gulf Cooperation Council countries remain unified and that parties sit down together and address their differences," he said. "And if there's any role that we can play in terms of helping them address those, we think it is important that the GCC remain unified."
A State Department official declined to offer readouts of conversations happening between the US and its clashing allies, but said the issue was a priority. An individual familiar with US concerns said diplomats were trying to ensure that Saudi Arabia's brinksmanship with Qatar doesn't spin out of control. While US officials largely share Saudi concerns about Qatar's relationship with the Muslim Brotherhood and Iran, they worry that cutting off ties with Qatar will be counterproductive and lead to a bigger crisis.
Officials from US Central Command, which is responsible for the wars in Iraq and Afghanistan, said Monday that neither US nor coalition flights had been interrupted by the diplomatic break. But officials also said they are still assessing the effects, if any.
Secretary of Defense Jim Mattis vowed that the row wouldn't affect the military effort but did acknowledge that it created diplomatic obstacles.
"In regards to the implications for the counter-ISIS fight, I am positive there will be no implications coming out of this dramatic situation at all, and I say that based on the commitment that each of these nations…have made to this fight," Mattis said
"The diplomatic situation," he added, "will probably take some time. I don't know how long, but it will be resolved."
Defense officials said they are more worried about the diplomatic effect of allies splintering with one another. That fissure threatens the broader war on ISIS and relations in the region. If partners cannot agree on the way ahead, that the terror group could exploit that.
As one defense official explained to BuzzFeed News, "that is a real problem."
More broadly, the fissures among Sunni majority countries cuts against efforts by the Trump administration for allies to put aside differences and focus on the threat of terrorism posed by the Islamic State and Iran.
"After the Riyadh summit, you had everyone coming together to address common challenges and the first thing the Saudis and UAE do is pick a fight amongst themselves," said Andrew Bowen, a Gulf expert at the American Enterprise Institute. "A lot of these issues could've been handled more subtly."