Here's what happens when you lose a war to Russia, become unpopular in your own country, get stripped of your citizenship, move to Ukraine, and get stripped of your citizenship there, too: You camp out in the United States.
Mikheil Saakashvili, once the president of Georgia, later the governor of the Odessa region of Ukraine, is hunkering down in New York and plotting his next moves, two individuals close to the ex-president tell BuzzFeed News.
Earlier on Wednesday, Ukraine's migration service announced the revocation of Saakashvili's Ukrainian citizenship, citing unspecified documents it received from Tbilisi, Georgia's capital. At the time, Saakashvili was visiting friends and family in upstate New York and the removal of his citizenship came as a "huge surprise," his representative, Zoe Reyners, said in a phone interview.
Saakashvili, a one-time ally of Ukrainian President Petro Poroshenko and a darling of the George W. Bush administration, was widely credited with cleaning up Georgia's notoriously corrupt police force and cracking down on graft during his reign as president from 2004 to 2013. During the middle of his tenure, though, he got entangled in a devastating five-day war with Russia over the breakaway region of South Ossetia. He later became deeply unpopular after a prison abuse scandal and an array of other allegations related to abuses of power.
Better times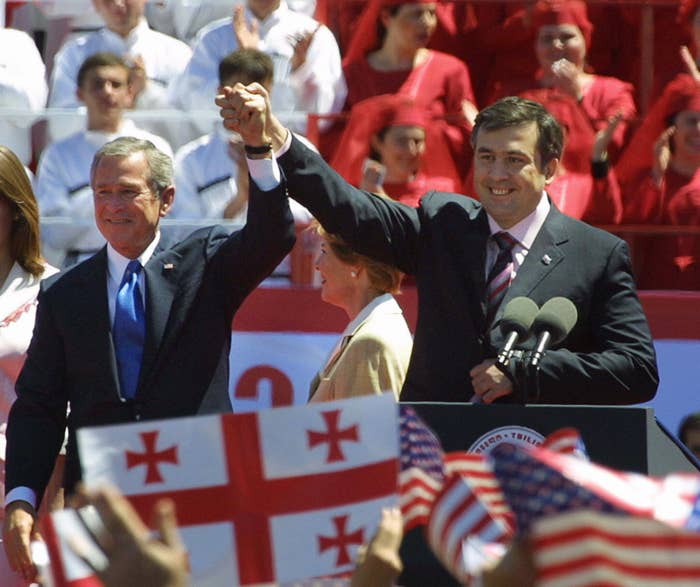 He gained a second political life In 2015 when Poroshenko appointed him governor of Odessa, an especially corrupt region of Ukraine with a Black Sea port.

The kinship between the two politicians, whose countries were both attacked by the government of Russian President Vladimir Putin, didn't last long. Saakashvili, a brash politician with an aggressive governing style, resigned as governor last year and launched a political party that opposed Poroshenko and accused him of failing to crack down on corruption.
Reyners said his plan is to fight the removal of his citizenship and return to Ukraine. "He's not seeking asylum in the US right now. His wish is to go back to Ukraine, regain his citizenship and continue his political work," she said.
It's unclear, however, if that will be possible. On Wednesday, Serhiy Leshchenko, a Ukrainian lawmaker from Poroshenko's faction in parliament, said if Saakashvili returns to Ukraine he will face extradition to Georgia to answer to alleged crimes from his tenure as president.
The ruling government in Georgia has been seeking Saakashvili's extradition since 2015, a request Poroshenko had refused.
"Saakashvili cannot return to Ukraine even physically, as he will be detained at Boryspil [Airport] upon arrival and will be extradited to Georgia," Leshchenko said on his Facebook page.
The ex-Georgian president is a former resident of Brooklyn's hipster enclave Williamsburg. If he decides to stay, it's unclear if he'll return there, but you can probably rule out Queens. "Queens is like wannabe New York," Saakashvili told the New York Times in 2014.

This post was updated after receiving additional details from Saakashvili's representative.