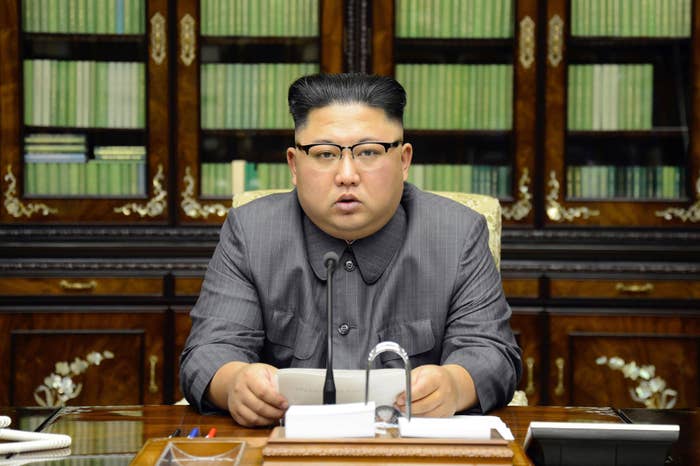 WASHINGTON — The United States' open channels with North Korea are for humanitarian purposes, such as negotiating the return of detained Americans, not for opening a broader dialogue under current conditions, a US official told BuzzFeed News on Monday.
R.C. Hammond, a senior State Department official, said such a dialogue would be out of the question as long as North Korea continues its pattern of "test launches, overflights, [and] threats of detonations over the Pacific."
The rare explanation of America's terms for talking to Pyongyang follows Donald Trump's extraordinary criticism on Twitter that his top diplomat, Secretary of State Rex Tillerson, was "wasting his time trying to negotiate with Little Rocket Man," the president's pet name for North Korean leader Kim Jong Un.

For decades, successive US administrations have directly communicated with North Korea despite the absence of a US embassy in Pyongyang or formal diplomatic relations between the two nuclear powers. But the prevailing wisdom that North Korea's bad behavior should not be rewarded with diplomatic engagement has kept discussions about opening talks relatively secret.
That changed on Saturday when Secretary of State Rex Tillerson revealed what is commonly known among many North Korea experts: "We can talk to them, we do talk to them," Tillerson told reporters in Beijing. "We are probing."
For some longtime Asia scholars, the disclosure was unremarkable.
"Tillerson was likely referring to the NY channel and Track 1.5 meetings, not a secret channel," said Bonnie Glaser, an Asia scholar at the Center for Strategic and International Studies, referring to communications with North Korea's UN mission in New York and meetings between former US officials and North Koreans. "Media read too much into his statements."
But Tillerson's announcement apparently caught the White House off guard and infuriated Trump "for contradicting the president's public position that now is not the time for talks," the New York Times reported.
For weeks, Trump has threatened to "totally destroy" the Hermit Kingdom, among other bombastic threats, and Pyongyang has responded in kind, calling the president "mentally deranged."
Amid the escalating rhetorical backdrop, North Korea's nuclear weapons program has continued to advance with its first successful launch of intercontinental ballistic missiles capable of delivering a warhead to the US mainland and its sixth test of a nuclear bomb.
Outside critics have said Trump's tweets undermined Tillerson's efforts to reach a diplomatic resolution with the North Koreans, and some have even called him to resign in protest. The State Department, meanwhile, has said the president's tweets are complementary to the secretary's efforts.
"The President's tweet represents the skepticism he has held for months towards DPRK," said Hammond. "If they change this behavior we will consider a dialogue — in the meantime, the channels that exist are used for humanitarian communications such as releasing three Americans being held against their will."
On Sunday, State Department spokeswoman Heather Nauert tweeted that North Korea "will not obtain a nuclear capability," a claim that sparked guffaws as critics pointed to Pyongyang's well-established nuclear arsenal. A State Department official later clarified to BuzzFeed that "Heather was referring to the capability to tip a missile with a nuclear warhead," a more sophisticated and complex technological feat.
How Pyongyang might react to the confusing signals coming out of Washington is unclear. Jae H. Ku, a top Korea scholar at Johns Hopkins University, said he believes Pyongyang "sees the tweets as Americans do, an administration that is often divided and incoherent."
"The danger lies when Pyongyang will interpret these tweets and other statements as a reflection of America's division and lack of resolve and, therefore, continue to be more aggressive in its testing of ballistic missiles and nuclear weapons," he added.
Others have said North Koreans "probably agree" with Trump's assessment of the prospects for diplomacy.
"While pundits talk about various formulas for negotiating with Pyongyang, the North Koreans could not be clearer in their encounters with scholars and third country diplomats that they are completely uninterested in negotiating away their nuclear programs," said Mike Green, an Asia scholar at CSIS.
In the absence of North Korea's change of heart, Green has advocated building up sanctions against Pyongyang, a strategy Trump doubled down on last month in an executive order aimed at excluding North Korea from the international banking system and crippling its shipping industry.
Sanctions have yet to prove decisive in changing North Korea's behavior, but in the absence of more attractive options, they've become America's tool of choice. Whether Trump is fed up with the old approach, or is simply bluffing about a military option, is anyone's guess.