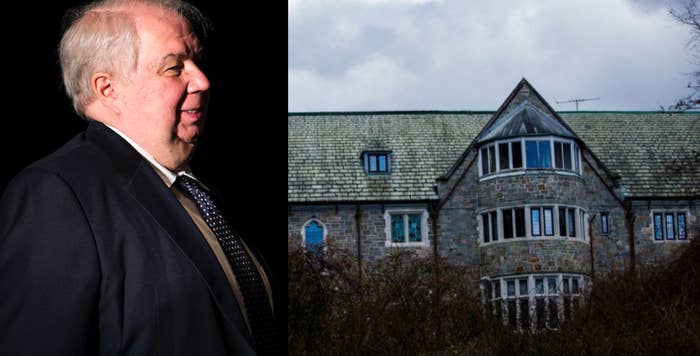 The Russian ambassador to the US says Moscow is ramping up pressure on the Trump administration to return two diplomatic compounds that were seized by the Obama administration in response to Russia's meddling in the 2016 election.
"We insist that [the property] needs to be returned," Sergey Kislyak told BuzzFeed News and another reporter at a party in Washington held by the government of Azerbaijan. "It's a violation of the Vienna Convention. It belongs to Russia … It was seized unlawfully."
The Kremlin's push comes ahead of a June 23 visit to St. Petersburg by Tom Shannon, a senior State Department official, who is seeking to address what US officials are calling "irritants" in the US-Russia relationship. It also comes as testimony by former FBI Director James Comey on Thursday brought fresh scrutiny to Trump's relationship with Moscow.
The compounds in New York and Maryland were seized in December when then-President Barack Obama said they were being "used by Russian personnel for intelligence-related purposes" and expelled 35 Russian officials he called "intelligence operatives." The Trump administration is now reportedly considering returning the property to Russia, a prospect that is angering a bipartisan group of US lawmakers who say it would send the wrong message about the gravity of interfering in the US election.
Russia had been using the compounds since the days of the Soviet Union as a place for recreation for its diplomats. But for decades, US officials have suspected that it's also been used for espionage based on information from aerial surveillance.
A senior State Department official told BuzzFeed News that Shannon would travel to St. Petersburg later this month to try to resolve the "irritants" in the US-Russia relationship with Deputy Foreign Minister Sergei Ryabkov. Separately, State Department spokeswoman Heather Nauert confirmed that the dispute over the compounds was one of the "irritants" on the agenda between the two countries.
In an escalation of the dispute, the Russian Foreign Ministry said on Thursday that if the US doesn't restore Russian access to the property, the Kremlin would "reply in kind regarding US property in Russia." One option the Trump administration is reportedly considering is letting Russian officials back on the properties, but withholding the buildings' previous diplomatic immunity status. Such a move would allow US authorities to search the compounds like any other building in the US.
Kislyak said the dispute over the compound is "something that we raise each and every day" with the United States.

On Wednesday, a bipartisan group of lawmakers wrote a letter to Trump urging him not to return the properties.
"Returning the compounds to Russian control is unjustifiable," the senators, including Republican Lindsey Graham and Democrats Amy Klobouchar and Chris Van Hollen, said.
"It would both make it easier for the Kremlin to continue its intelligence operations in our own backyard and make it clear that they can avoid consequences for their actions. We strongly advise against it," they wrote.
Trump has repeatedly expressed hope that the US and Russia could get along, but has grown skeptical about that possibility given the media scrutiny of his associations with Russia. In his written testimony on Thursday, Comey described a March 30 phone call with Trump in which the president stressed that the Russia "cloud" was "interfering with his ability to make deals for the country."
"He hoped I could find a way to get out that he wasn't being investigated," Comey said. "I told him I would see what we could do, and that we would do our investigative work well and as quickly as we could."
In recent days, Trump's son-in-law Jared Kushner has reportedly become a person of interest in the special counsel's investigation into Russia's meddling in the election. The Washington Post reported that Kushner wanted a secret communications channel with the Kremlin wired through the Russian Embassy before the inauguration. The White House has denied the story.
On Thursday, Comey said such a channel could've benefited the Russians. "The primary risk is obvious," he said. "You spare the Russians the cost and effort of having to break into our communication by using theirs and so make it a whole lot easier for them to capture all of your conversations and to use those to the benefit of Russia against the United States."
When BuzzFeed News asked Kislyak why Kushner wanted to establish the backchannel with Russia, Kislyak declined to comment.
"We have a policy. We do not comment on our daily contacts in America or anywhere else because we need to respect our interlocutors," he said.
In recent months, the Russian ambassador has been thrust into the center of the controversy surrounding Trump's former campaign aides and contacts they had with Russian officials. Trump's former National Security Adviser Michael Flynn was fired after misleading Vice President Mike Pence about his discussions with Kislyak related to US sanctions against Russia. Attorney General Jeff Sessions also came under fire for failing to disclose meetings with Kislyak to Congress.
Kislyak's stay in Washington is coming to an end, and his replacement is expected to be Deputy Foreign Minister Anatoly Antonov. But that won't necessarily end his diplomatic career. The United Nations is expected to unveil an office of counterterrorism and Kislyak is reportedly a top contender for the position.
When asked if he's planning to take the job, Kislyak dodged, saying " I'm working now on the United States and focusing on my work here."
Still, he winkingly admitted that he would not mind taking a new posting in New York City where the UN is headquartered.
" [New York City] was my first post. So for each and every diplomat, the first post is usually your first love," he said. "I like it a lot. It's similar to Moscow. The tempo, the culture. People do not walk there, they run."