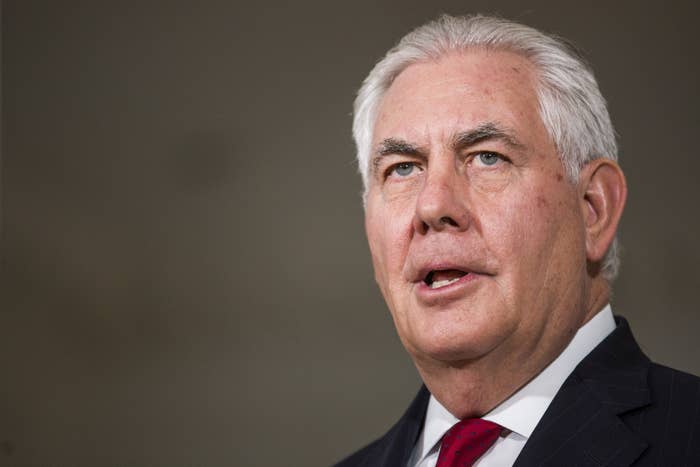 VANCOUVER — Faced with the growing list of African governments condemning President Trump's alleged reference to "shithole countries," Secretary of State Rex Tillerson said Thursday that US relations with African nations are only improving.

"At this stage, nothing has changed with respect to our relationship with African nations and we continue to see them wanting to strengthen our relationship," Tillerson said in response to a question from BuzzFeed News.
In recent days, the nations of Nigeria, Botswana, Senegal, South Africa, Haiti, and Ghana summoned US diplomats to explain the remarks — which Trump denies making — and the 55-nation African Union demanded an apology.
Botswana issued a rare official response, asking the US ambassador there "to clarify" comments it condemned as "irresponsible, reprehensible, and racist."
And senior State Department officials have said more US diplomats are expected to be summoned this week.
But Tillerson, speaking at a press conference in Vancouver, said shared concerns over terrorism and the large amount of US aid flowing to the continent ensured a longstanding positive relationship.
"The US continues to be one of the most generous nations on the entire planet in terms of aid assistance, mutual defense assistance, and economic development," Tillerson said. "We have a very positive relationship with African nations, we share a number of security issues, we share a number of economic development issues, and I think those leaders know that the United States wants that relationship to continue to be strong."
Trump reportedly said immigrants from Africa and Haiti come from "shithole countries" during a private meeting with lawmakers on Thursday. Democratic Sen. Dick Durbin, who attended the meeting, attributed the remarks to the president.
But some Republicans in attendance said they did not recall the term coming up, and others reportedly claim Trump said "shithouse."

Tillerson, when asked what he was doing to manage the public relations fiasco, mentioned a conference he hosted in November on investment, security, and governance involving African nations.
"We had a very successful hosting of a conference of African nations and the African Union at the State Department here just late last year where we explored both economic issues but explored shared security issues," he said.
"As you know, African nations, one of their greatest concerns is counterterrorism," he added.