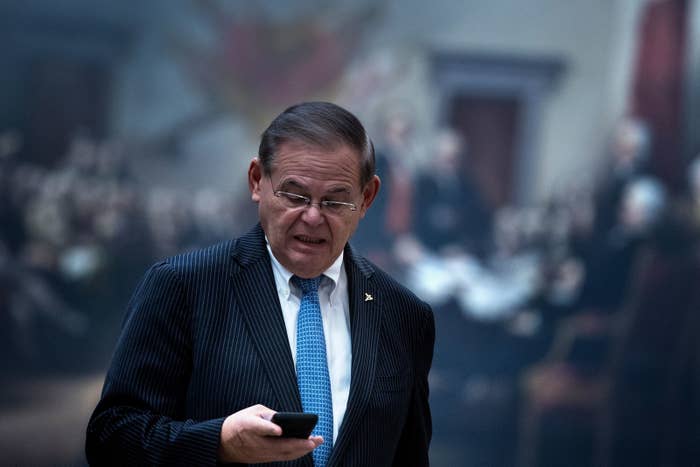 Senate Minority Leader Chuck Schumer has given his blessing for Sen. Bob Menendez, one of Congress's most conservative Democrats on foreign policy issues, to return to his previous job as the top Democrat on the Senate Foreign Relations Committee, Hill aides tell BuzzFeed News.

Menendez, who relinquished the position in 2015 after being indicted on federal corruption charges, is expected to reclaim the title of ranking member this week, aides said, following the Justice Department's decision last week to drop corruption charges against him.
Menendez's return as the Democrats' top voice on foreign policy is expected to anger progressive activists who for years expressed dissatisfaction with Menendez's hawkish views.
"Senator Menendez has failed to show he has the dedication to a diplomacy-first foreign policy that's urgently needed now in the Democratic Party and Senate as a whole," Jo Comerford, campaign director at MoveOn.org, a leading progressive advocacy group, told BuzzFeed News.
Menendez vocally opposed the signature achievements of President Barack Obama's second term, including the Iran nuclear deal, which he voted against, and Washington's rapprochement with Cuba.
After President Donald Trump took office, Menendez stood alone among committee Democrats to vote in favor of the president's controversial pick for ambassador to Israel, David Friedman — one of many positions that progressives said should disqualify him from the prestigious committee position.
"Democrats need leadership on the Foreign Relations Committee that understands that the stakes surrounding such unbridled hawkishness are even more grave today," Comeford said.

As the top Democrat, Menendez will gain control of a staff of foreign policy experts and a powerful perch to oversee the foreign policy of the Trump administration.
In recent years, Menendez took more money from pro-Israel donors than any other Democrat in the Senate, and members of the pro-Israel lobbying group AIPAC personally financed his legal defense fund as he fought corruption charges stemming from his 20-year friendship with a Florida ophthalmologist.

Neither Menendez nor Schumer responded to requests for comment.
Menendez is expected to retake the position from Maryland Sen. Ben Cardin who on Monday filed for reelection for what would be his third term. Cardin holds less hawkish positions on Cuba and Iran than Menendez, though he also opposed Obama's nuclear deal with Tehran. Cardin's office did not respond to a request for comment.
Last week, the Justice Department dropped its case against Menendez after Judge William Walls dealt a lethal blow to the prosecution's case by acquitting Menendez on several, but not all, of the corruption counts. Prosecutors had planned to retry Menendez after initial efforts resulted in a hung jury in November.
Menendez was charged in 2015 for doing political favors for a wealthy Florida eye doctor in exchange for luxurious vacations, private jet flights and hundreds of thousands of dollars in campaign donations. In the end, the government struggled to produce a key witness or a sufficiently obvious quid pro quo.
Despite the Justice Department's decision to drop the Menendez case, some liberal groups said they were uncomfortable with Menendez's return as ranking member, which could turn into his chairmanship of the committee if the Democrats retake the Senate.

"There's a big difference between allowing someone with an ethical cloud over them to continue to serve in Congress and allowing them to serve in a key leadership position where they're wielding the power of life and death," said Robert Naiman, policy director at Just Foreign Policy, a progressive foreign policy group. "The person who wields this power must be above reproach."

Menendez has long vowed to retake his powers on the committee, telling reporters in December that Schumer promised him his old job back once his name was cleared. "I have a commitment from the leadership, including the leadership that exists today, that upon a clearly successful conclusion, that I would return," Menendez said.
Lissandra Villa contributed to this report.