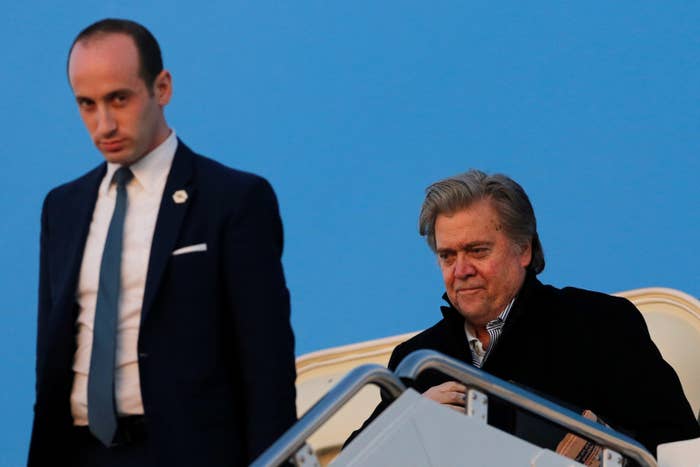 President Donald Trump has tapped Stephen Miller, a senior adviser at the White House and an outspoken NATO critic, to draft his speech before the military alliance in Brussels next week, people familiar with the plans tell BuzzFeed News.
The prospect of a speech penned by the 31-year-old anti-globalist adds a new layer of anxiety for NATO allies uncertain about which version of Donald Trump will show up in Belgium's capital: The one that believes NATO is "no longer obsolete" or the one that thinks the 28-member military alliance is a relic of the past.
"We're just hoping the remarks don't turn out to be 'America First' on steroids," a European official whose country will attend the gathering told BuzzFeed News. "But who knows with Miller."
The former aide to former Alabama Senator Jeff Sessions is best known for his nativist views on immigration and trade, and his role in penning Trump's foreboding "American carnage" inaugural address.
But Miller has also echoed Trump's complaints that the US contributes a disproportionate amount to the NATO alliance and has little to show for it.
"The reality is that NATO is an organization made many decades ago that is incongruent with our current foreign policy challenges," Miller told Fox News last year.
He also raised concerns that plans for Ukraine and Georgia to join NATO could drag the US into a costly war with Russia. "There's a war guarantee in NATO," he said. "If Russia incurs on Ukraine's borders, would you send American troops to fight and die in Ukraine? I suspect the answer to that question is no."
Miller's role in drafting the president's speech isn't the only indication that Trump is gearing up for a showdown on his first foreign trip as president. On Wednesday, Trump suggested he would take a tougher line on US allies who don't contribute to their own security -- a common refrain of his pre-election rhetoric that had softened in recent weeks.
"I will strengthen old friendships and seek new partners, but partners who also help us, not partners who take, and take, and take," Trump told an audience at the Coast Guard Academy in Connecticut. "Partners who help pay for whatever we are doing and all of the good that we doing for them. Which is something that a lot of people have not gotten used to, and they just can't get used to it."
For NATO organizers, the contents of Trump's remarks are one of the key unknowns of a gathering where little is left to chance. For months, defense officials from across the 28-member alliance have been hammering out the most minute details surrounding the press release that will come out after the May 25 meeting. Leaders attending the summit have been instructed to keep their presentations brief -- a recommendation aimed at accommodating Trump's short attention span.
Barring any last-minute changes, European officials told BuzzFeed they are comfortable that the messaging surrounding the NATO meeting will strike a tone of unity.
But all bets are off when it comes to Trump's remarks.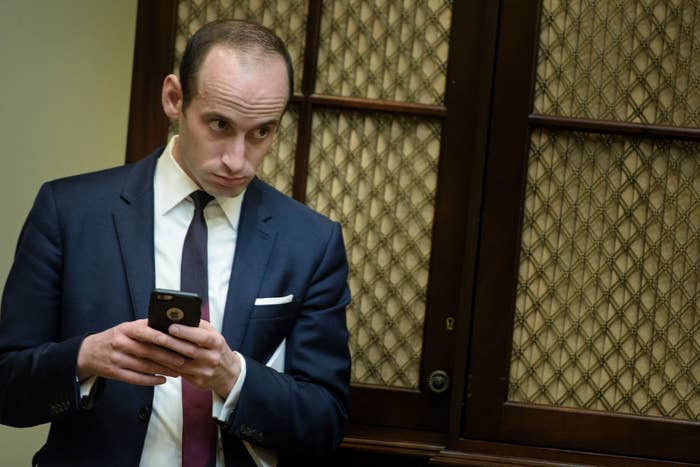 "The entire idea of a Trump speech on NATO written by Miller is the kind of nightmare scenario that should keep NATO leaders awake well into their 70s," said Jeremy Shapiro, research director at the European Council on Foreign Relations.
Trump will deliver his remarks in front of a piece of the Berlin Wall and World Trade Center at the new NATO headquarters next Thursday. Organizers have gone to painstaking efforts to make sure the president receives a warm welcome.
"There is a big effort here to keep protests away from him and to generally keep him happy," said Shapiro. "NATO leaders have bought the line here that Trump is largely contained by his advisors on foreign policy. But they have also certainly noticed that that doesn't prevent him from going rogue in interviews or on Twitter, particularly when he is annoyed or tired."
Miller, along with chief strategist Stephen Bannon, lead the White House's anti-establishment wing, a cohort that has seen its stock rise and fall unpredictably from week-to-week.
In recent days, Trump has leaned on Miller, enlisting him to write not just his NATO address, but his upcoming remarks in both Israel and Saudi Arabia. For those speeches, Miller will receive input from Trump's son-in-law Jared Kushner and National Security Adviser H.R. McMaster, CNN reported.
The White House declined to comment on whether McMaster or Fiona Hill, the White house senior director for Europe and Russia, will play a role in shaping Trump's NATO remarks.
Trump, who is reportedly dreading the length of the 9-day, 5-country trip, is relying increasingly on his most trusted aides as he faces a series of high-profile probes into his campaign's contacts with Russian officials.
"I'd obviously feel much better if Fiona Hill was working on the speech, but the foreign policy adults in the Trump administration don't exactly seem ascendent this month," said Ted Reinert, an expert on transatlantic relations at the German Marshall Fund.
On substance, Trump is expected to renew his criticisms that NATO countries do not spend enough on their own security.
That argument is supported by many current and former US officials, but Trump's threats to leave allies stranded if they don't pay up is viewed by some as unwarranted brinksmanship.
Only five members of the 28-nation club spend at least 2% of their GDP on defense, the amount NATO recommends each nation set aside. In 2015, Washington accounted for more than 72% of NATO members' total defense expenditures -- about $649.9 billion. The other 27 NATO members combined to spend less than 28%, or about $251 billion.
"NATO members do need to spend more and more importantly improve their capabilities," said Reinert. "But if this is a tough speech saying 'pay more or else' from a US president hated by much of the European public and seemingly untrustworthy when it comes to Russia, it won't be productive."
Outside Your Bubble is a BuzzFeed News effort to bring you a diversity of thought and opinion from around the internet. If you don't see your viewpoint represented, contact the curator at bubble@buzzfeed.com. Click here for more on Outside Your Bubble.