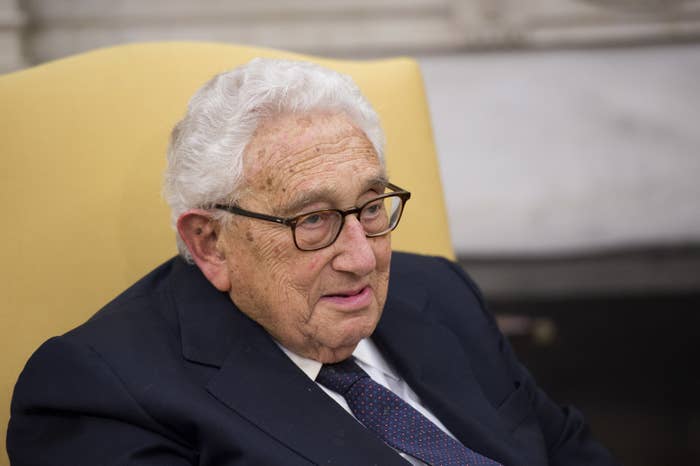 As official Washington grapples with the prospect of living through Watergate 2.0, some of the city's most powerful Republicans gathered on Wednesday night to hear the words of a man who famously came away unscathed from Watergate 1.0: Henry Kissinger.
The former secretary of state to Richard Nixon and honorary chairman of the Center for the National Interest spoke before an enraptured audience at the glamorous Four Seasons Hotel in Georgetown in a speech that touched on the "extraordinary division" of the Vietnam era, and the hyperpolarization of the Donald J. Trump era.
The purpose of the event was to offer a lifetime achievement award to former AIG chair Maurice "Hank" Greenberg. But the recent misadventures of Donald Trump Jr. offered an irresistible conversation topic for a mixed crowd that included White House Budget Director Mick Mulvaney, Republican Sens. Rand Paul and Pat Roberts, anti-tax crusader Grover Norquist, former joint chiefs chairman Adm. Michael Mullen, and a smattering of current and former Pentagon and State Department officials.
The elite group of policy influencers leaned Republican, but there was little agreement on the gravity of the actions of Trump's inner circle.
"It's worse than Watergate," said The Atlantic magazine's editor-at-large Steve Clemons, turning away from his steak and gratin dauphinois. "Watergate never involved advocating for the interests of a foreign country and the implication of potential treason."
Rand Paul, found in the middle of a geopolitical discussion with Mullen, the retired US Navy admiral, rejected any historical parallels to the Nixon era. "I'd say no," he told BuzzFeed News before declining to elaborate.
A few feet away, Norquist called the uproar over Don Jr.'s meeting with a Russian lawyer a distraction that to this day has had no impact on the president's admittedly stalled agenda to repeal and replace Obamacare, rewrite tax laws, and rebuild America's crumbling infrastructure.
"It's true that this Russia thing and this delayed agenda are happening in the same century, but they're not affecting each other," said Norquist, the president of Americans for Tax Reform.
"Who isn't voting for health care because of Russia? The Freedom Caucus? No. The Democrats are the only ones who care about Russia and they've absented themselves from the entire conservative agenda anyway," he added.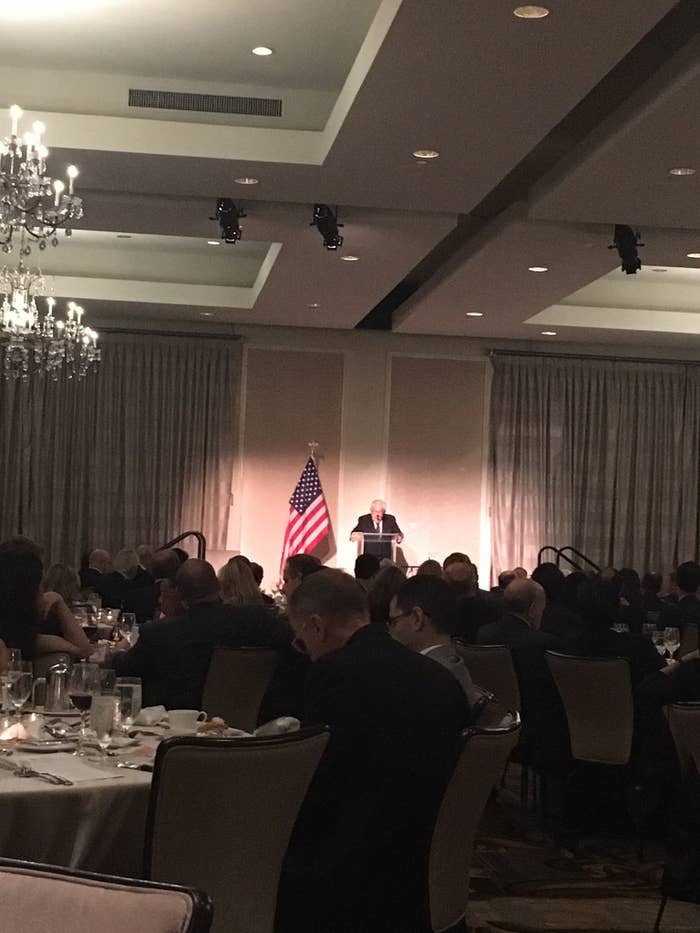 Others sought to avoid the more controversial aspects of the Russia probe and instead look at the practical ramifications. Lt. Gen. Wallace "Chip" Gregson, a senior director at the Center for the National Interest, said everyone could agree that the probe has started to sap the Trump administration's ability to govern.
"There's only so much intellectual capital and waking problem-solving time available to any given staff, even one as large as the US government," he said.
"I think even Henry Kissinger would agree that had the Nixon administration not been encumbered with responding to other issues that there may have been a lot more intellectual capital and good staff work ... to expend in support of other objectives," he said.
Kissinger, for his part, avoided any explicit mention of the investigation in his 12-minute speech, only to say that the country needed men like Greenberg, a World War II vet and think-tank board member, to "give us hope" at a moment "when we are so divided."
He made pointed reference to his background as a Jewish refugee who fled Nazi Germany in 1938, though did not overtly mention the Trump administration's temporary travel ban on people from six Muslim-majority countries.
"I came here as a refugee and so I know what America meant to people who were oppressed," Kissinger said.
In what may have been an act of score-settling, he also criticized elite American academic institutions that incidentally have not always looked favorably on his decision to wage an intense bombing campaign on North Vietnam in 1972 and Cambodia in 1973.
"When I later on at Harvard and elsewhere heard about the totalitarian tendencies in America and the battles that had to be fought against the dictatorial Americans who were trying to deprive us, I thought, you don't know how lucky you are because you've never seen a totalitarian country," he said.
The Center for the National Interest, founded by Nixon in 1994, has never shied away from promoting the type of "strategic realism" that led to Nixon's opening of China, or to Kissinger's disengagement of America from Vietnam.
When asked what Nixon's advice would be for Trump nowadays, Norquist gave a blunt answer that may give the current president some short-term relief: "Don't have a Democratic House and Senate when you're under attack," said Norquist. "That's Nixon's advice."