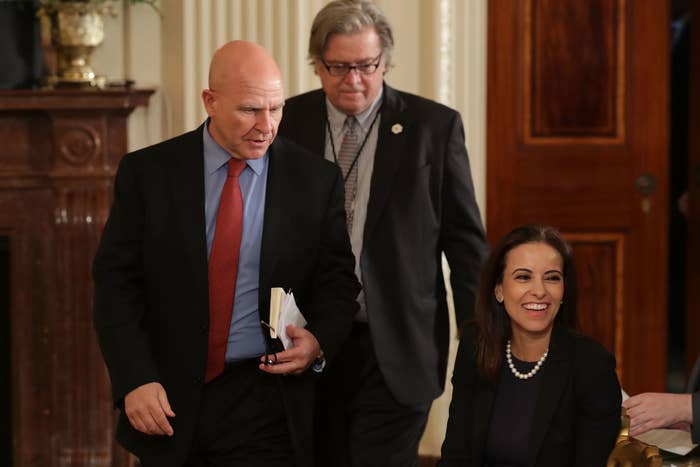 The long-rumored ouster of White House chief strategist Stephen Bannon finally came to pass on Friday, eliminating an influential skeptic of military intervention and trade in a White House stocked with internationalists and foreign policy hawks. The shake-up could tip the balance on a range of foreign policy debates from China to Afghanistan to Venezuela to the broader Middle East, and bring order to a chaotic policymaking process.
Bannon, an unapologetic nationalist who sought to turn President Trump's campaign promises into reality, clashed famously with National Security Adviser H.R. McMaster, who he viewed as a "globalist" seeking to increase America's military footprint in the Middle East and South Asia at the expense of the US middle class.

His departure also removes a key source of tension between the White House and the State Department, which had been at odds over both personnel and policy due to Bannon's interjections.
"Bannon had his own direct channel to the president and was able to influence policy through that channel," said Andrew Bowen, a Gulf scholar at the American Enterprise Institute. "His departure cements McMaster's formal role as the principal national security adviser and will streamline the policy process."
It's impossible to game out exactly how Bannon's bombastic brand of right-wing nationalism will be missed in a White House of shifting alliances. While some Trump insiders said his influence on policy was overstated, few denied his ability to interject in policy debates and, if necessary, litigate his disagreements in the public sphere through leaks to the press (often to the detriment of McMaster). More often than not, Bannon was a voice for military restraint, whether that meant opposing a US military strike in Syria or acknowledging the absence of a military solution in North Korea.
The most immediate policy decision Bannon's ouster could impact is Afghanistan, where the White House is set to announce the outcome of a months-long policy review over whether or not to increase troops.
On Friday, Trump traveled to Camp David in the mountains of Maryland to meet with his national security team, who outlined a range of options for the 16-year-old conflict, including one to send 3,000–5,000 more US troops. That option — favored by McMaster and the top commander in Afghanistan, Gen. John Nicholson — was staunchly opposed by Bannon, who latched onto an idea by former Blackwater founder Erik Prince to send private mercenaries to Afghanistan to replace US soldiers. That plan earned the ire of Defense Secretary James Mattis, resulting in a protracted debate over the right path forward for America's longest war.
"Bannon had been an influential voice calling for a smaller US military footprint in Afghanistan, and his loss could be a blow to that position," said Michael Kugelman, an Afghanistan expert at the Wilson Center.
Daniel Markey, an Afghanistan expert at Johns Hopkins University, agreed that Bannon's exit could "shift the balance," but emphasized that Trump harbors his own skepticisms of a modest troop increase as well.
"It's not just Bannon who doubted the wisdom of a 'do slightly more, but smarter and better' approach," he said. "The politics here and the realities on the ground in Afghanistan simply don't allow any strategy to look like a real winner, and everyone knows it."
Bannon's exit also could have a significant impact on US policy in Asia, where the former Breitbart boss sought to take a much tougher line on China on trade policy than his colleagues in the White House and State Department.
"To me, the economic war with China is everything," Bannon told the American Prospect, a left-wing magazine, in a surprise interview earlier this week. "And we have to be maniacally focused on that. If we continue to lose it, we're five years away, I think, ten years at the most, of hitting an inflection point from which we'll never be able to recover."
Part of Bannon's battle to implement a more aggressive US–China policy meant clearing out his perceived ideological enemies in the Trump administration, including the acting assistant secretary of state for East Asia and Pacific Affairs, Susan Thornton.
"I'm changing out people at East Asian Defense; I'm getting hawks in. I'm getting Susan Thornton out at State," Bannon said.
Two days after saying that, Bannon was out of a job and his threat was countered by Secretary of State Rex Tillerson, who publicly greeted Thornton with a handshake on Thursday after his subordinate issued a statement expressing the secretary's full confidence in the diplomat. "The secretary asked Susan Thornton to lead in a very important role and he continues to rely on her to lead the State Department's diplomacy in Asia," a State Department official said.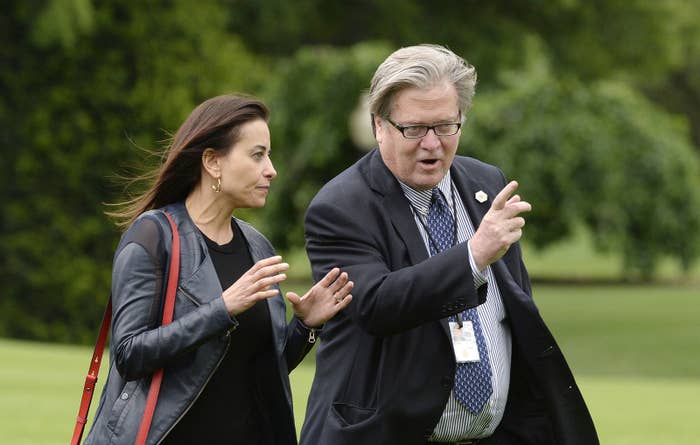 Bannon's ouster could result in Thornton being nominated to serve as assistant secretary permanently. Tillerson has long favored that outcome but after Bannon blocked her in June he resigned himself to considering other options such as Republican Asia hands Michael DeSombre and Olin Wethington.
Thornton supports a more mainstream approach to US–China relations that advocates for increased trade and a reduction of tensions — a view Bannon opposed.
"She believes in extensive diplomacy and long-term approaches and integration in the global system as an approach toward China," said Scott Kennedy, an Asia expert at the Center for Strategic and International Studies.
Still, Bannon leaves behind other China hawks in the Trump administration that could carry his ideological torch, including Peter Navarro, director of the White House National Trade Council, and his deputy Alex Gray. Those officials will be up against an emboldened group of internationalists who are wary of a trade war with China, such as Trump economic adviser Gary Cohn, Deputy National Security Adviser Dina Powell, and McMaster.
Predicting who will come out on top in the Trump White House is a fool's errand. In April, when Bannon was stripped of his permanent seat on the National Security Council, his waning influence seemed all but assured, but he continued to attend NSC meetings and play a significant role in the policy process.
In the Middle East, Bannon's departure could mean different things for different countries. His right-wing nationalist impulses left him skeptical of foreign interventions in Syria, resulting in his opposition to the president's surgical strike on a Syrian airbase in April. McMaster is said to favor a more hawkish US approach to conflicts in Syria and Iraq.
Bannon's reluctance about a larger US military footprint in the Middle East was coupled with a dark view of Islam that at times ruffled feathers inside the Trump administration. When Saudi Arabia and other Gulf countries severed ties with Qatar in June, citing its support for Islamist groups such as the Muslim Brotherhood, Bannon and other White House officials sided with Riyadh. The perceived White House support of Saudi Arabia, punctuated by Trump's tweets, hampered efforts by Tillerson and Mattis to pressure Gulf countries to ease the blockade, which they said jeopardized anti-ISIS efforts. (Qatar hosts one of the most important US military bases in the region.)
"Bannon's departure will further strengthen Secretary Tillerson's initiative to end the Gulf crisis," said Bowen. "Bannon had [more of a] a natural suspicion of Islamist ... movements than others in the administration who prioritized security concerns over issues with the Muslim Brotherhood."