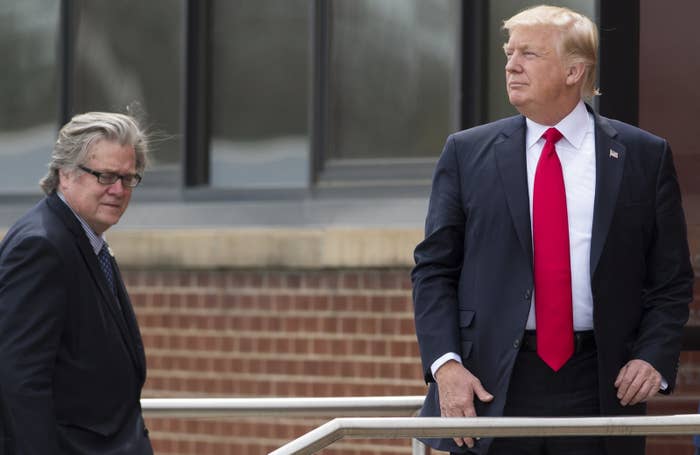 As rival factions inside the White House continue to battle over urgent foreign policy decisions, a key ally of Donald Trump's chief strategist Stephen Bannon is leaving the National Security Council, BuzzFeed News has learned.

Tera Dahl, deputy chief of staff at the NSC and a former columnist for Breitbart, is being reassigned to a position outside of the White House, three people familiar with the decision told BuzzFeed News. The move frees up National Security Adviser H.R. McMaster to install another staffer of his choosing in his drive to reshape the NSC to his liking.
"Tera Dahl has done exemplary work both on the transition and in the first months of the Trump administration getting the National Security Council staffed up and running from the chief of staff's office," White House spokesperson Michael Anton said. "It was always her intent to move into a policy role once this task was completed."
Dahl entered the White House with strong ties to members of the nationalist wing of Trump's White House — including Bannon, whose website she wrote for, and NSC aide Sebastian Gorka, whose wife worked with Dahl at the Council on Global Security, a now-defunct counterterrorism think tank that warned about the dangers of Islam.
Though Dahl's role was largely administrative in nature, the delicate balance of power between the White House's nationalists — led by Bannon and senior adviser Stephen Miller — and so-called globalists — led by McMaster and National Economic Council Director Gary Cohn — has heightened sensitivity surrounding personnel moves.
"This White House has been characterized from the start by deep divergences in the foreign policy approaches of senior officials," said Jeff Rathke, a senior fellow at the Center for Strategic and International Studies, a Washington think tank.
At the moment, the two camps are bitterly fighting over whether to deploy more troops to Afghanistan, pull the US out of NAFTA, tighten immigration rules, and designate the Muslim Brotherhood a terrorist organization — and over an array of other critical policy options under review.
During her time at the White House, Dahl became a key ally of Keith Kellogg, the NSC's chief of staff who maintains a strong personal relationship with the president. White House aides said tensions between Kellogg and McMaster have created an uncomfortable working environment at the NSC, a fact that contributed to Dahl's interest in another job.
Anton hinted that Dahl would move into a "policy role" in the Trump administration, but did not offer specifics. One source said she's likely to be nominated to a position at the US Agency for International Development, the agency responsible for administering billions of dollars of foreign aid around the world.
The move comes as Trump embarks on his second presidential trip to Europe, where McMaster appears to have more influence than he did on Trump's first visit. On Thursday, Trump criticized Russia and explicitly endorsed NATO's collective defense principle during a speech in Warsaw. Trump pointedly did not endorse the NATO principle in a speech, written by Miller, at NATO's Brussels headquarters in May — despite the urging of McMaster, Secretary of Defense James Mattis, and Secretary of State Rex Tillerson that he do so.
"McMaster has been one of the principal advocates for sustaining and strengthening US international relationships such as in NATO, with the EU, and in the WTO," said Rathke. "Officials such as Steve Bannon and his allies like Stephen Miller have sought to deconstruct and reshape US foreign relations along nationalist lines."
McMaster's most high-profile moves have included pushing for an additional 3,000 to 5,000 troops to be deployed to Afghanistan, and warning NSC staff that using the term "radical Islamic terrorism" is counterproductive to messaging efforts in the broader fight against terrorism.
The think tank that Dahl co-founded with Katharine Gorka, by contrast, derided efforts to use image-conscious terms when describing Islam-inspired terrorism. The United States "must stop the misguided narrative that terrorism and extremism have nothing to do with Islam," declared a white paper published by the group in 2014.
Most of Dahl's scholarship has been dedicated to Egypt, including several articles hailing President Abdel Fattah al-Sisi for "leading Egypt towards democracy." Though Sisi has been criticized by Western governments for brutally cracking down on dissent, stifling civil society, and weakening Egypt's democratic institutions, Dahl attributes such criticisms to a "clear campaign in the Western media and in many Western think-tanks and policy organizations to turn the Egyptian military into the enemy and the terrorist organization of the Muslim Brotherhood into the innocent."
Dahl previously served as an assistant to former Republican Rep. Michele Bachmann of Minnesota.
Nancy Youssef contributed to this report.