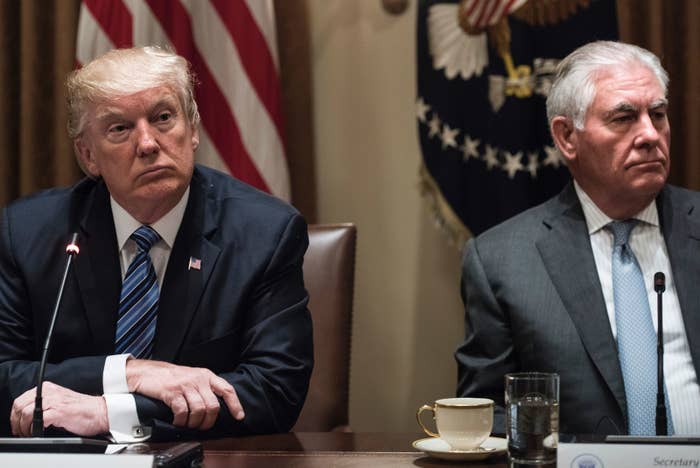 After an intense battle with the White House over his first choice to become the top US diplomat to Asia, Secretary of State Rex Tillerson is considering a new candidate with a deep resumé in business and economics but little diplomatic experience, BuzzFeed News has learned.
Tillerson's consideration of a new candidate underscores the limited options he faces between an adversarial White House and a Congress adamant that he fill a State Department replete with vacancies six months into the presidency.
Olin Wethington, a former Treasury Department official and a nonresident fellow at the Atlantic Council, is now a contender for the nomination of assistant secretary of state for East Asian and Pacific Affairs, four individuals familiar with the matter said.
If nominated and confirmed, Wethington's portfolio would include some of Washington's most sensitive national security issues, including the accelerating nuclear weapons program of North Korea, China's growing naval posture in the South China Sea, and heightened tensions between Beijing and Taiwan over a new US arms sale to the island.
A senior State Department official cautioned that no nominees have completed the vetting process and the State Department has no new appointments to announce. The official also said three other individuals are under consideration for the position.
Tillerson originally wanted the job to go to Susan Thornton, a veteran diplomat who speaks Mandarin Chinese, two US officials told BuzzFeed News. But White House officials opposed her due to concerns that her views were out of step with the president's agenda — a claim State Department officials deny. Tillerson's anger over the White House's objection to Thornton and his other picks boiled over in a June meeting at the White House when he "ripped into" Johnny DeStefano, the head of the presidential personnel office, a US official said. Details of that meeting were first reported by Politico.
The former Exxon Mobil CEO, used to having absolute authority over staffing decisions, told DeStefano that the president had given him autonomy over staffing decisions and that he knew best who to hire in Foggy Bottom. The explosive nature of the exchange prompted Jared Kushner to inform Tillerson's chief of staff, Margaret Peterlin, that Tillerson's outburst was unprofessional and unacceptable.
On Sunday, CNN reported that Tillerson has told some of his close friends that he may quit his position by the end of the year due to his frustrations with White House interference, citing anonymous sources. Tillerson's senior aide RC Hammond denied the story, telling BuzzFeed News the secretary is determined to carry out the president's agenda. "As long as there are rogue regimes pursuing nuclear weapons or terrorists seeking safe haven the secretary will remain on the job," Hammond said.
Ultimately, in shifting to Wethington, Tillerson appears to be acquiescing to the White House, which has shown a preference for appointments with a strong business background over career diplomatic experience. The challenge for Wethington would be taking on a job that is much more diplomatic in nature than his previous positions at Commerce and Treasury.
"Wethington's overall policy orientation is good — he's just going to have a high learning curve on security and political issues," said Scott Kennedy, an Asia expert at the Center for Strategic and International Studies.
There is a risk, Kennedy noted, when an assistant secretary comes in without detailed knowledge and experience on issues of language and diplomacy related to highly sensitive issues such as Taiwan, South China Sea, and North Korea.
Wethington is the founder and chairman of Wethington International, a firm that focuses on investment and business advisory in emerging markets.
He met Tillerson recently and the meeting "went well," said one person familiar with the vetting process.
Another acquaintance of Wethington said "he's been around talking to people about taking the job so it's pretty far along."
The source noted that one factor that may delay an appointment announcement is the process of disentangling Wethington's investments to avoid conflicts of interest. "He worked for some real businesses where he probably accumulated stock," said the person.
When asked about a pending nomination, Wethington told BuzzFeed News, "I have no comment."
Wethington's supporters said his deep familiarity with the region from his work at Treasury and the private sector will be a major asset. "It's good to have someone who really knows Northeast Asia and Southeast Asia," said Doug Paal, an Asia scholar at the Carnegie Endowment for International Peace. "He's got a real depth of experience on the financial and economic side that's really important to the partners out there."
A State Department official said Thornton's nomination was jeopardized by her status as a career foreign service officer, a cohort some White House officials see as reluctant supporters of the president's "America First" agenda at best. A White House official denied that being career service had anything to do with it and said the Oval Office's resistance was purely due to policy differences. Thornton, who is currently serving as acting assistant secretary of state for East Asia and Pacific Affairs, did support the Trans-Pacific Partnership, the massive trade pact forged under President Barack Obama that Trump withdrew the US from and called "a rape of our country." But a review of Wethington's past scholarship shows he too supported the agreement.
"The Trans-Pacific Partnership represents the kind of forward-looking leadership the United States must be exerting," Wethington wrote in a June 2015 report. "The TPP is strategically important because it incentivizes others to follow our rules."
Kennedy suggested that the White House may be looking for a nominee who's more willing to risk a major escalation with Beijing.
Thornton is "not a panda hugger," Kennedy said, using a term for analysts sympathetic to the Beijing government. "But she believes in extensive diplomacy and long term approaches and integration in the global system as an approach toward China," he said. "So if you wanted to take a harder line approach she could talk to you about the challenges of that — and that probably wouldn't be her approach."
Hammond said the secretary "holds Susan in the highest regard" and credited her with having a very positive impact in the early months of the Trump administration.