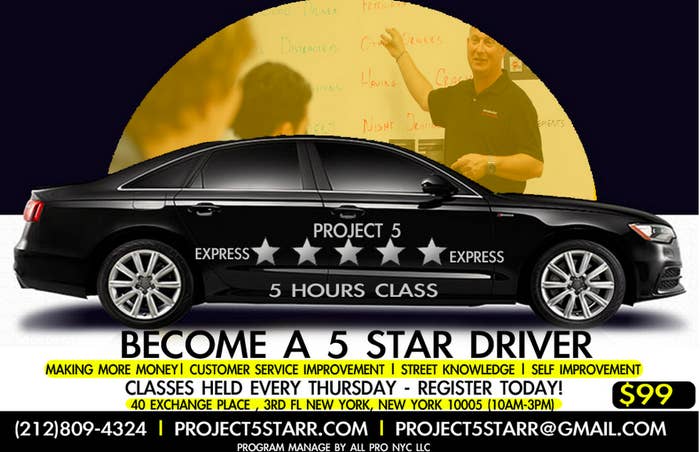 When New York City driver Uddin Momin lost his Uber credentials earlier this year, he had two options for regaining them — a two-day, $99 exam-based class vetted and certified by the city's Taxi and Limousine Commission (TLC), or Project 5 Starr, a five-hour $99 no-exam-required class run by a novice Uber driver. Monin opted for Project 5 Starr, the self-proclaimed "express way" to Uber reactivation. Ninety minutes after completing the class, Uber sent him a text notifying him he was good to go.
For Momin, who has only been making a living as an Uber driver for a few weeks, Project 5 Starr was an obvious solution to deactivation. Quick and easy, it had him back on Uber in a matter of hours.
Momin Uddin was reactivated an hour and a half after Project 5 Starr, which is held from 10 a.m. to 3 p.m. every Thursday, ended.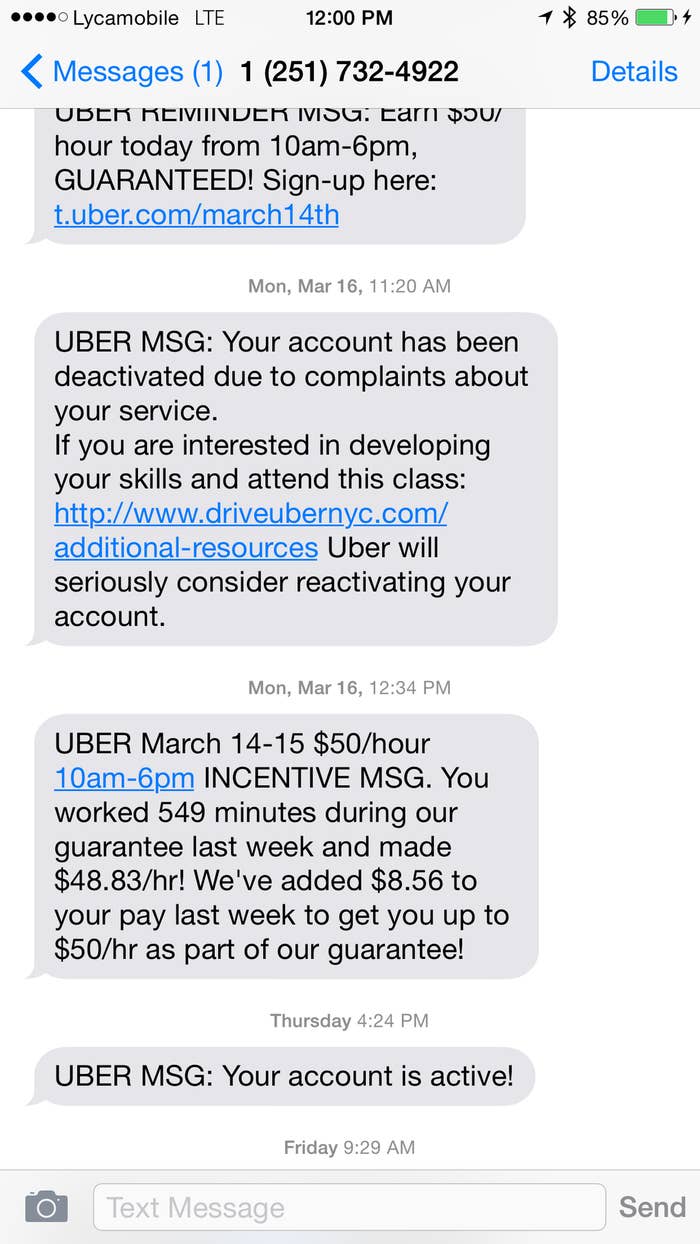 But the program, and others like it, raises a host of issues about Uber. As independent contractors, Uber drivers cannot receive formal training from the company — otherwise they could be considered employees and thus qualify for benefits. While Uber has no formal relationship with Project 5 Starr, BuzzFeed News has learned that the company has contributed to the program's curriculum and had a hand in developing its audience. Not only have Uber representatives attended Project 5 Starr classes and offered suggestions for improving them, the company has funneled thousands of deactivated drivers to it. And it's done so ahead of a soon-to-be-implemented TLC rule that will require all for-hire vehicle drivers in New York to attend a TLC-certified class, though Project 5 Starr lacks that certification.
Odder still: Junior George, the proprietor of the Project 5 Starr Uber training program, had less than a year of Uber driving experience when he first started teaching the class. For the past 17 years, he's been president and CEO of the Total Caribbean Network — a production company and live television network — and the owner of Caribbean music channel TimePlus Beats TV.
A 4.9-star–rated Uber driver, George began teaching Project 5 Starr last summer after pitching the company's New York office on the class. He quickly became a go-to for NYC Uber drivers seeking reactivation."We have seen at least over 2,000 drivers," George told BuzzFeed News at the conclusion of a recent class. "Their success is our success, their failure is our failure."
Project 5 Starr tells drivers they can expect to be reactivated within two hours of completing the class. And a number of deactivated Uber drivers who attended the class told BuzzFeed News the company made good on that promise, getting them quickly reactivated. That's pretty much what the ride-hailing service is looking for, according to comments made last year by Uber NY General Manager Josh Mohrer.
"Even if you're deactivated we then show you a very easy way to get reactivated which is taking a class," Mohrer told BuzzFeed News last October. "We don't offer it, a third party offers it. ... You go for a day, you pay a small fee and we let you back on. Eighty percent of the people that do that improve right away and their ratings are in a good place."
To be clear, NYC Uber drivers who've been deactivated have a second option to get back on the road, a $99 class offered by Master Cabbie. But with its two-day time commitment and exam, it's far less convenient for drivers for whom time is literally money.
"Master Cabbie deals a lot with taxi drivers," George said. "Uber drivers are not in the same bracket as taxi drivers. Master Cabbie doesn't teach a lot of customer service. The core of the problem is not being met. I think that we, being five hours, are the expressway in."
For now, anyway.
As part of the TLC's Vision Zero project, all for-hire vehicle drivers in New York will be required to take a class at a TLC-certified program and pass an associated TLC-proctored exam. Currently, there are four such programs, and Project 5 Starr isn't one of them. Which isn't to say it couldn't be — just that it must fulfill the curriculum requirements established by the TLC first. "[Project 5 Starr] would have to fulfill basic space requirements so that we would be assured they could handle an appropriate number of students, they would have to demonstrate their ability to create appropriate lesson plans based on the TLC's educational curriculum, and they would have to defer to the TLC on its choices of instructors," TLC spokesperson Allan Fromberg told BuzzFeed News.
Which raises yet another question about Project 5 Starr and its relationship with Uber. Much of the program's curriculum appears to be based on information created by the ride-hailing service. Indeed, a class BuzzFeed News attended featured prominently Uber-produced instructional videos that are also available on the company's website. What's more, George says Uber has offered him guidance for improving his program.
"Uber has audit [sic] the the class and came in to go thru the curriculum," George wrote to BuzzFeed News in a follow-up email. "We are constantly updated on new items that partners need to know that will improve their performance and rating."
An example: Following one such update, George began teaching Uber drivers to pay special attention to visually impaired passengers — particularly those with seeing-eye dogs. Last September, the California chapter of the National Federation of the Blind sued Uber alleging some drivers refused to carry blind passengers with service dogs.
"If you are allergic to a dog, you know what you do?," George said in response to a in-class question about taking a dog. "You take them and you die! You suffocate yourself!"
This collaborative approach to Project 5 Starr's curriculum puts Uber in a legal gray area. Independent contractors cannot receive formal training — otherwise they are considered to be party to an employer-employee relationship. That's why Uber doesn't simply offer in-house training and must turn to third parties like George to provide it.
"In this case the requirement for this training and content really seems to bolster the argument that Uber is the employer of the driver," Sarah Leberstein, National Employment Law Project senior staff attorney, said of Project 5 Starr. "Training time should be counted as compensable time ... because the content of the training seems to be so focused on benefiting Uber. [New York State] law said that where the training is really for the benefit of the employer, in that you can't take that training to other places, [the employer] should pay for that time."
By George's own admission, Project 5 Starr's program is Uber-specific. He conceded that were a large number of drivers from other ride-hailing services to register for his classes, he'd need to create an entirely new curriculum to serve them. If that's truly the case, Uber could be dangerously close to crossing the legal gray line that distinguishes an independent 1099 worker from an employee. While there are a range of inquiries to determine employment classification, receiving company-specific training has been a significant marker of an employer-employee relationship.
It's familiar territory for the company. Uber has succeeded in part by forcing lawmakers to follow them into new gray areas rather than by taking any care to observe existing regulations. But earlier this year the company was slapped with a lawsuit in California claiming it misclassified drivers as independent contractors (Uber rival Lyft is facing a similar suit). And that case is going to trial, despite Uber's best efforts to kill it. The reason: evidence presented by the plaintiffs that suggests Uber controlled how drivers performed their jobs — partially via outside training programs.
"We set forth on the record already a number of facts," Shannon Liss-Riordan, the attorney representing Uber drivers in the California case, told BuzzFeed News. "One of them is that there are these training classes [run by 7x7 Executive Transportation] that Uber at times requires or suggests drivers take in which they are trained in Uber's methods and procedures. When drivers undergo training that looks more like an employee relationship, it helps support our argument.
"One of the distinctions between an employee and independent contractor is that an independent contractor job doesn't require prior experience or training because it's a pretty low-skill job."
Emails presented as evidence suggest that Uber's collaboration with 7x7 may have blurred this employee/independent contractor distinction. In one exchange, 7x7 COO Zach Forester told Uber operations manager Sarah Tang that attendance at a Wednesday class was "still light" after Tang sent out an "email blast" to Uber drivers. Tang replied: "We are going to have a spike in deactivations this week and foresee an increase in the number of partners who want to take the 7x7 class opportunity..."
Emails between 7x7 and Uber executives.
In another, 7x7 CEO Mark Forester wrote to Robby Bearman, senior operations and logistics manager at Uber [4.55 and 4.6 refer to Uber's driver rating system]: "In the group that gets waitlisted between 4.55 and 4.6 and then take the class, I am suggesting that everyone be reactivated whether they pass or not. This addresses your concern on impacting driver supply. And since this was a group that had formerly not been waitlisted, there is no negative impact to driver quality by reactivating them, and hopefully they will improve even though they failed the class. I see a win / win /win."
Bearman responded: "So, I'm actually already doing this. I'm not waitlisting anyone above 4.6, but for those who are between 4.6 - 4.65 and take the class, we do not deactivate them if they F or NP."
Another Bearman email to Forester offers guidance on 7x7's curriculum. "To keep things simple, why don't we start with just a Basic Geography class that includes a 15 - 30 minute segment on Professionalism and Safety," Bearman wrote. "As I mentioned when we spoke, Geo is our most pressing need in the training department and most of the candidates I have identified so far need that class. Once we get our flow arranged for working together, I'm sure we can easily expand from there for more specialized cases."
So not only was Uber helping to shape 7x7's curriculum, it was promoting its class to deactivated drivers — and not yet deactivated drivers — to increase class attendance. Also implicit in Bearman's messages: Uber didn't really care whether drivers passed or failed the course, it just wanted them back on the road. As communicated by Bearman, the company's primary concern in its dealings with 7x7 was clearly driver retention.
This appears to be the case with Project 5 Starr as well. After all, the program doesn't conclude with an exam testing drivers on their grasp of its curriculum. It doesn't even grade them with a pass/fail. It just registers their attendance and communicates it to Uber, which reactivates them. Given that, these classes serve as a sort of penance for deactivated drivers — an opportunity to pay a small fee for some Uber-endorsed training and spend a few hours atoning for your Uber sins. Do that and you're back on the road and Uber's driver pool is stronger for it.
But if the legality of Uber's dealings with 7x7 is as questionable as the California suit against the company suggests, isn't the legality of Uber's dealings with Project 5 Starr also suspect? To restate, Uber — which is forbidden from providing company-specific training to independent contractor drivers — is actively funneling drivers to an Uber-specific training class run by a newbie driver who claims the company is helping him optimize it. And it's collaborating with him to quickly reactivate class attendees who are paying for a training program that conflicts with the 1099 employment status.
So why is Uber doing it?
"Mr. George came up with the the concept and content of Project 5 Starr and runs the class as his own independent business," Matt Wing, Uber's northeast communications lead, told BuzzFeed News. "Uber has recommended it as one option, among several, for driver partners to improve their customer service skills because it has been proven to be a helpful tool for them."
But that's hardly an answer to the question posed and the broader labor issues associated with it. For Uber drivers seeking quick and easy reactivation, Project 5 Starr is the obviously best option "among several" — it gets them back on the road in a matter of hours without having to pass an exam. And if it's "proven to be a helpful tool for them," it's to some extent due to the cozy relationship with Uber that its proprietor describes.
That said, Uber's in a difficult position here. It wants savvy, well-trained drivers. But its business model prohibits it from training drivers itself. Said University of Santa Clara law professor Eric Goldman, "Uber is simultaneously trying to treat drivers as contractors but also ensure minimum quality and consistency. I think it's inevitable that Uber will treat their drivers as employees."