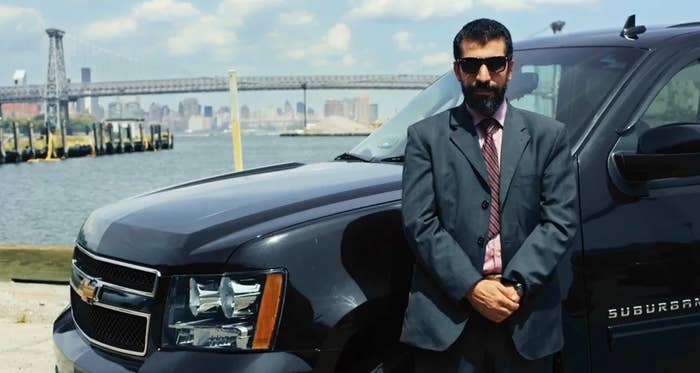 A few weeks ago, Uber New York General Manager Josh Mohrer, who has been known to fight his fair share of public battles in defense of Uber on Twitter, tweeted an offer to reporters: In response to articles that questioned Uber's claims that drivers made an average of $25 an hour (or that the median driver makes upwards of $90,000 a year) Mohrer said he would go on the record with any reporter who took 10 rides and asked those drivers for their payment statements (Uber is currently investigating Mohrer for apparently violating the company's privacy policy during the reporting of this story).
It seemed as good a chance as any to get to the heart of Uber's rapidly growing business, one that has already transformed the transportation industry in just a few years, so I took Josh up on the offer and took 11 rides with 11 randomly chosen Uber X drivers and obtained eight out of 11 of the drivers' pay statements — two drivers who spoke on the record were not comfortable with showing me their pay statements and Uber did not provide pay statements for the last driver.
As is common with ride-sharing services, throughout my 11 rides, the work schedule varied considerably for each driver. Most were part time by their definition (working two to three days out of the week or only a few hours each day), three were students attempting to pay their way through college, one had been with Uber since it arrived in New York, three just started driving for Uber in the week before I rode with them, one was renting his car through Uber's fleet partnerships program, and another was renting his car from his father. The youngest drivers were 21. The oldest were over 40.
The eight drivers netted hourly wages of $15.22, $21.17, $27.54, $32.90, $36.88, $37.12, and $38.25 — not including one-time referral or sign-up bonuses or one-time deductions. They worked between 5.78 and 42.65 hours per week. Overall, their combined hourly wage during this time was $31.61 (BuzzFeed News has uploaded its aggregated driver payment information here).
All of this seems to verify, if not surpass, the data that Uber touted in a September blog post, comparing this past September's average net wages to the two previous Septembers' (before Uber put in place a fare cut that made Uber X cheaper than taxis). According to Uber, drivers netted an average of $25.00 an hour with an average of 1.3 rides per hour.
These net wages, however, don't take into account bridge tolls, car insurance, or other costs of being a driver. Subtracting only minimum insurance, rent (when appropriate), and tolls in the case of one driver who drives to and from New Jersey, the drivers' combined hourly wage weighted by how many hours they worked was approximately $21.95. Though it's not a far cry from what Uber claims their drivers pay on average per hour, it's important to note that this is still before accounting for other weekly driver expenses such as gas, car payments, car maintenance, and wear and tear.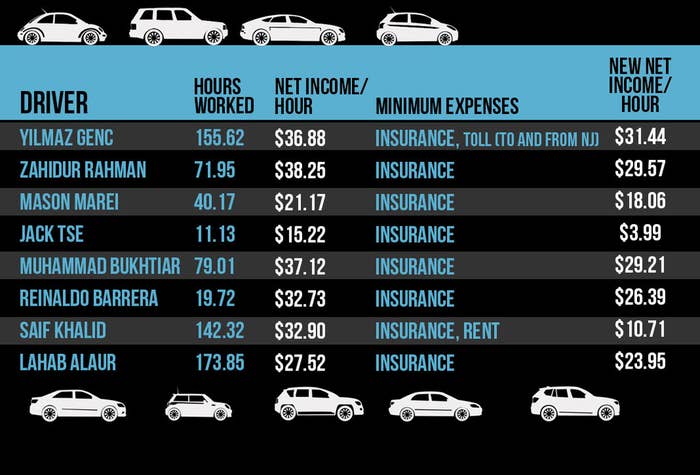 The initial net income only reveals one aspect of the Uber driver pay structure, one that's been complicated by an huge influx of part-time drivers. Many of these drivers identify as part time because they either do not work every day of the week or only work a specific set of hours. Those who only work certain hours typically only go online during the busiest times of day when there is likely to be surge pricing.
For example, Zahidur Rahman, a 21-year-old student and Uber X driver who began working for Uber just a few months before the summer fare cuts, usually only works three nights a week because of classes. On those three nights, based on his pay statements, Rahman typically only works during the evening rush. During his busiest week starting Oct. 28 and ending Nov. 2, of the 38 rides Rahman had 15 were during surge pricing, which was an average of 1.9 times the usual fare. Seven of those rides were double or more than double the standard fare. Rahman worked 18.57 hours that week, grossed $968.61 and took home $687.21 after Uber's 20% commission, sales tax, black car fund, and the $10 data fee for their phone.
Between Oct. 20 and Oct. 27 (Rahman's highest grossing of the five weeks of pay statements I obtained), Rahman had 30 rides, 14 of which were surge-priced rides and six of those surge-priced rides were 2.75 times the fare. That week, Rahman only worked 14.5 hours across three days (the 21, 22, and 23), grossed $1,078.19 and netted $771.17.
Compare that to Lahab Alaur's highest grossing and busiest weeks. Alaur started working with Uber about four months ago. Of the drivers I obtained payment statements from Alaur worked the closest to full time during the five weeks of statements. Twice, Alaur worked more than 40 hours and one week he was just under 40 hours.
Between Oct. 6 and Oct. 11, Alaur worked 42.65 hours, had 54 rides only three of which were surge priced, grossed $1,336.82, and netted $941.17. This was the most hours Alaur worked of the five weeks and he only netted approximately an average of $22.06 an hour. During the highest-grossing week between Oct. 27 and Nov. 3, on the other hand, Alaur worked 40.1 hours, took 71 rides 16 of which were surge rides, grossed $1,870.77 and netted $1,333.73. He netted approximately $34.24 per hour that week.
Put that next to Rahman's highest-grossing week and busiest weeks and you have an interesting comparison:
Rahman (part-time) Highest Grossing Week: 14.5 hours / $53.18 per hour
Alaur (full-time) Highest Grossing Week: 40.1 hours / $34.24 per hour
Rahman (part-time) Busiest Week: 18.57 hours / $37.07 per hour.
Alaur (full-time) Busiest week: 42.65 hours / $22.06 per hour
Put simply: Rahman, like many other part-time drivers I spoke to, works fewer but very specific high-income hours and thus makes much more per hour than a typical full-time driver.
According to Mohrer, Uber NY has seen a large influx of these part-time drivers, since the company began to take advantage of a loophole in TLC regulations that allows drivers to work for more than one black car base (a loophole Lyft had been exploiting).
"Sixty-five percent of the drivers we have with us weren't with us in July," Mohrer told me. "The whole makeup of our supply base has changed a lot and a lot of part timers have come in."
And it seems to be this influx of part-time drivers that complicates Uber's previous claims that their median driver makes $90,000 a year.
"If you want the 90k, it's there for you," Mohrer said of Uber driver potential earnings. "What was true in May, because of the way that our partner base has changed in structure — you have all these guys coming in part time — obviously that has changed. But what hasn't changed is that drivers do have the ability to [make $90,000 a year]. There are a bunch who do."
Mohrer wouldn't give an exact number of how many drivers make $90,000 a year, arguing that he didn't think it was a valuable figure. But in order to make $90,000 a year, a driver would have to make $7,500 a month or approximately $1,731 a week. If a driver typically works 12-hour days, six days a week — a figure that doesn't appear typical at all — he or she would need to net $24.04 an hour. If a driver worked 12-hour days, four or five days a week, the driver would need to net $36.06 or $28.85 an hour respectively. For a driver that typically works 10-hour days — a more realistic figure — and drives four to six days a week, the driver would need to make between an average of $28.85 and $43.27 an hour.
Based on our sample set of drivers who made an average of $30.23 an hour and worked an average of about 24.45 hours per week, the drivers made a weekly average of $739.12, or $3,178.23 a month — assuming they work these exact hours and times. Continuing at that very specific rate, those drivers would make about $38,434.42 a year.
This is all without considering the expenses built into being an Uber driver, of which there are many, most notably insurance and car payments.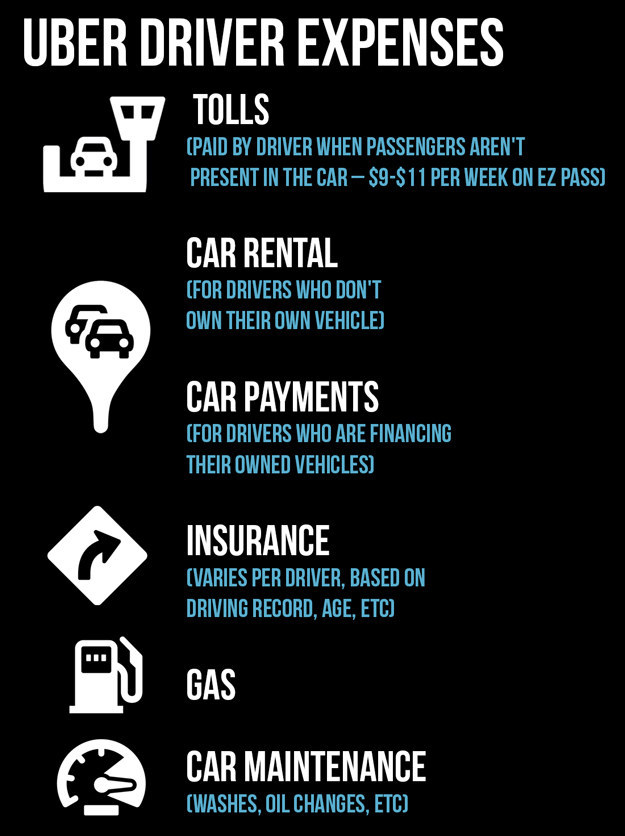 Additionally, according to several of the drivers I spoke to, though passengers are charged for the tolls that they pass through during their trip, if the driver returns to the city, the charge for that toll comes out of their own pockets.
"When we go to like Newark Airport there's only one E-ZPass where we gotta swipe it," Saif Khalid, another student who has been driving for one month, told me. "But when we go back you have to swipe E-ZPass to come back like three times. That one no one pays for."
Khalid, who is under 25, rents his car from his father for $500 a week. So in addition to paying for car washes ("I need to get my car washed that's like $10-15," Khalid said. "If you don't they'll rate us like the shittiest ride ever") gas, tolls, and weekly rent, Khalid has to pay a higher insurance premium because of his age.
Khalid says insurance costs him $6,800 per year, which works out to approximately $567 per month or $131 per week. So already, without accounting for any other expenses, Khalid has to pay a total of $631 per week just for rent and insurance.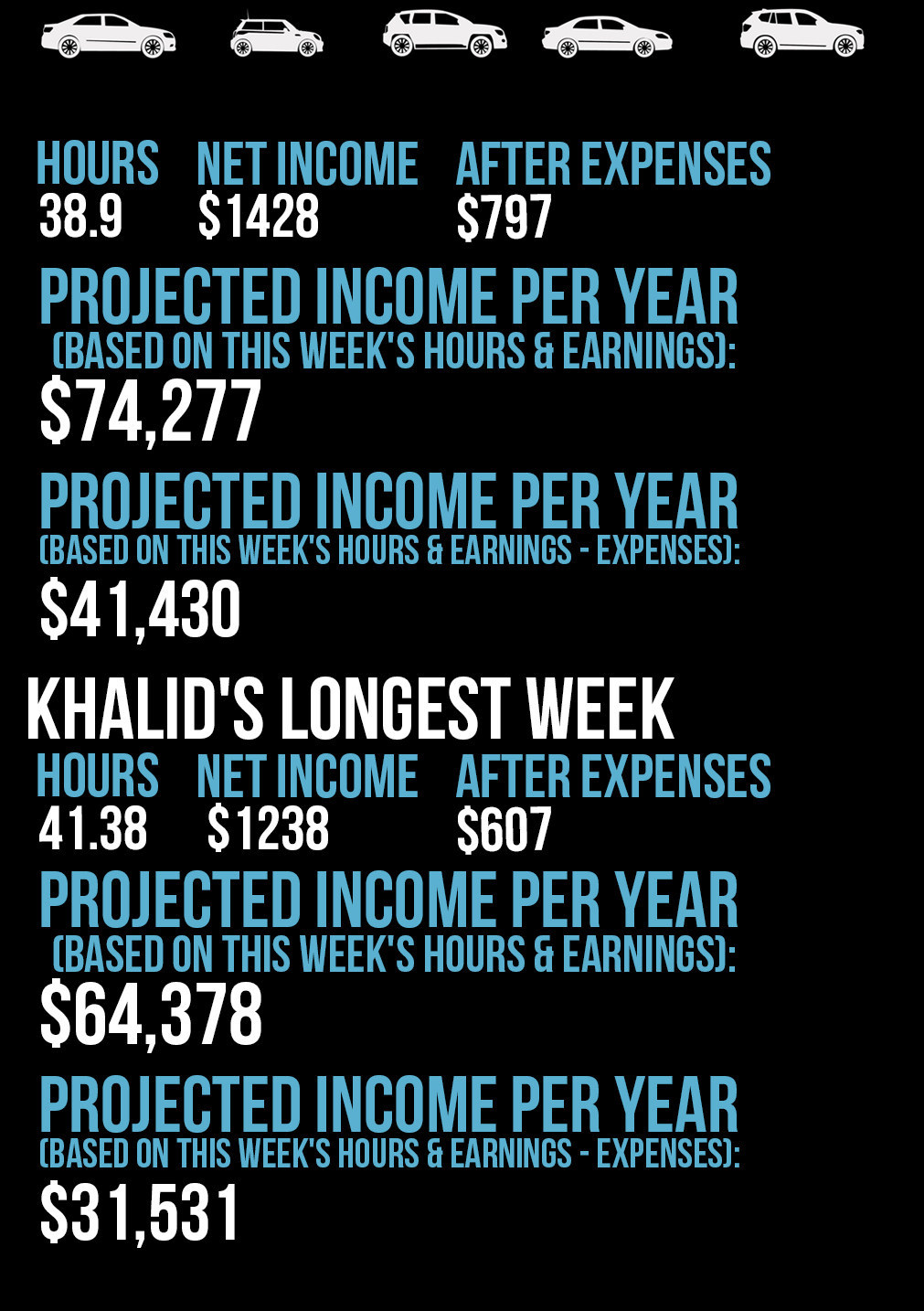 Khalid's highest-grossing week brought him a net income of $1,428.41 after driving for 38.9 hours (almost a full work week). That week, after accounting for rent and insurance (both expenses built into being an Uber driver) Khalid took home $786.74. That's roughly 55% of his net income and 38% of his gross fares of $2,050.38 that then needed to be divided among his additional expenses of gas, tolls, and maintenance — additional expenses that are by virtue built into being an Uber driver. This was his highest-grossing week thus far, which puts him on pace to earn roughly $74,277.32 per year, but when accounting for his largest expenses as an Uber driver would put him at $40,910.48.
The week prior to that, Khalid worked more hours — 41.38 to be exact — and brought home $1,238.03, his second-highest income in the five weeks of pay statements I obtained. This type of week puts Khalid on pace to earn $ 64,377.56 per year. Accounting for insurance and rent, Khalid took home approximately 47% of his net income. If you were to divide the cost of rent and insurance by hours worked, Khalid is paying an additional cost of about $15.51 an hour.
"When you look at expenses, you don't make anything for Uber," he told me. "I work four days a week [usually], the busy days which are Thursday, Friday, Saturday, Sunday. If I work about 10 hours, I'm rarely going to make anything after expenses; I'll only make $100 to $150. I only work four days so I work hard because I have to pay rent. I work 14 to 17 hours a day just for those days because I cover myself up for the week, gas, and other expenses."
But Khalid's estimation of hours worked per week is a bit off. He worked between 8.02 and 41.38 hours. Two of those weeks he worked more than 35 hours, another week he worked 17.65 hours and one week he worked the late night shift for only 8.02 hours. That week, his lowest income, Khalid only netted $368.21 meaning he couldn't cover his rent, insurance, and expenses and was in debt that week.
So we calculated Khalid's new average of net income per hour over the five weeks I had access to by distributing his two largest expenses of being an Uber driver (rent and insurance) of approximately $641.67 over hours worked per week and subtracted that hourly expense from the net income per hour based on his pay stubs. His original average hourly net income without expenses was $32.90. Accounting for two weeks where he was technically in debt and could not cover both his rent AND insurance because he did not make enough, Khalid's new average including expenses was a net income of $10.36.
Even drivers who own their vehicles and don't have to worry about rental payments still come up against concerns. Take Yilmaz Genc, a student attempting to pay his way through nursing school. Genc worked between 24.67 hours and 36.2 hours a week over five weeks, a fairly consistent and narrow range of hours, and made between $901.98 and $1,296.77. Genc attends Bergen Community College, is from New Jersey, and until one month ago drove for Uber in New Jersey. After spending some time frustrated with the extremely low rate per mile in New Jersey, he got his TLC license to drive in New York.
"In New Jersey the price right now is too low," Genc told me. "Per mile it is $1.10 and in New York it is $2.50... even when you go to pick up [from] long distances. I got a passenger from Newark airport and I went to Brooklyn. It was $38.00. Right now I just started working in New York, I don't open my app in New Jersey. Because otherwise I cannot afford it if I get a customer from New Jersey."
In other words, in addition to the $500 a month Genc pays for insurance and other expenses like gas (which is arguably more since he is coming into the city to work from New Jersey), and maintenance, Genc also has to pay all the tolls coming to or from New Jersey.
"You can make $25 an hour," Genc said. "Maybe I'll make $25, but who is going to pay for my car? I pay tax, car, and my insurance."
For Genc, the tolls to go to and from the city to his classes in Bergen Community College or home in New Jersey run him a minimum of $9 to $11 depending on whether he's traveling during peak hours (which are 6 to 10 a.m. and 4 to 8 p.m. on weekdays and 11 a.m. to 9 p.m. on weekends). Genc, by his own estimation, works four to five days a week, a figure that was verified by the pay statements I obtained, meaning he pays roughly $36 to $55 a week on tolls. When added to his insurance fees, which are approximately $125 a week, that's an extra $161 to $180 in outside expenses per week, not accounting for gas and car maintenance.
Genc's — whose pay statements indicate his net income per hour was $36.88 — new average net income per week when his tolls and insurance are distributed over hours worked comes to $31.44.
Though it varies on a driver-to-driver basis, typically, in order to be an Uber driver, contract employees incur the added expenses of gas, car maintenance, insurance, and tolls (to come back from a trip) which are often overlooked and not factored into Uber's promotional materials. Paired with one-time expenses (such as a $300 down payment on the iPhone Uber gives to all drivers), the net weekly income of some new drivers begins to plummet. Jack Tse, a new Uber driver, saw his first week's net take-home pay reach just $19.41 after 11.13 hours of driving. Tse — who made upwards of $800 at Page A Ride, the last car service he worked, according to the pay stub he showed me — only made enough to cover half the deposit so Uber only charged him $150 for that week. That brings Tse's hourly average for that week only to $3.99 not including any other expenses.
Drivers do, however, also receive one-time bonuses such as referral fees, sign-on bonuses, and other driver incentives (i.e. on Halloween if you drove 20 hours you were guaranteed $250 even if you didn't make that money.)
Uber has publicly touted wage data that aims to prove that the company's ride-sharing opportunity is the most lucrative in the industry and, after examining raw pay stubs, I found that those averages largely hold true. A deeper examination, however — one that accounts for the number of logistical and monetary expenses Uber drivers regularly incur — paints a much bleaker picture of what these drivers are actually making on average.
Using Uber driver data as well as information from interviews, I calculated a new weighted average for the eight drivers. This new average included any bonuses Uber offered to drivers as an incentive to work certain hours or days (meaning drivers earned that money based on what they drove), a minimum of $125 for insurance for each driver unless otherwise indicated, tolls for drivers like Genc who see those costs every day (I hedged toward the lower end of the total cost averages), and weekly rent for those that don't own their cars. Without including other real weekly expenses such as gas, car maintenance (or accounting for depreciation of the car), I found that the average net income per hour for the eight drivers was $21.90, roughly 10 dollars per hour less than the combined hourly wage from the raw Uber data.
Because drivers incur a myriad of different costs and all driver patterns and behaviors vary wildly, it is nearly impossible to estimate with certainty exactly what the average driver makes (because there really is no such thing as an average Uber driver).
The numbers obtained by BuzzFeed News offer only a small slice from a particular time of the year. Since driving hours and patterns are subject to a variety of factors like time of year, even time of day, and weather, a definitive average number cannot be calculated with this sample size. However, if we assume an average weighted driver wage of $21.90 per hour, which factors in just a fraction of driver expenses, and assume drivers work 30 hours a week (again, not necessarily typical, but a middle range of the hours worked by the eight drivers we spoke to), we can assume a rough projected yearly driver salary of $34,164.
Contact BuzzFeed News reporters Johana Bhuiyan with tips or suggestions at: johana.bhuiyan@buzzfeed.com