Waffle Houses To Serve As Way Stations For Peer-To-Peer Cargo Network
Waffle House locations in 25 states will now serve as pit stops or meeting locations for "Roadies" and people looking to use the network to send a package.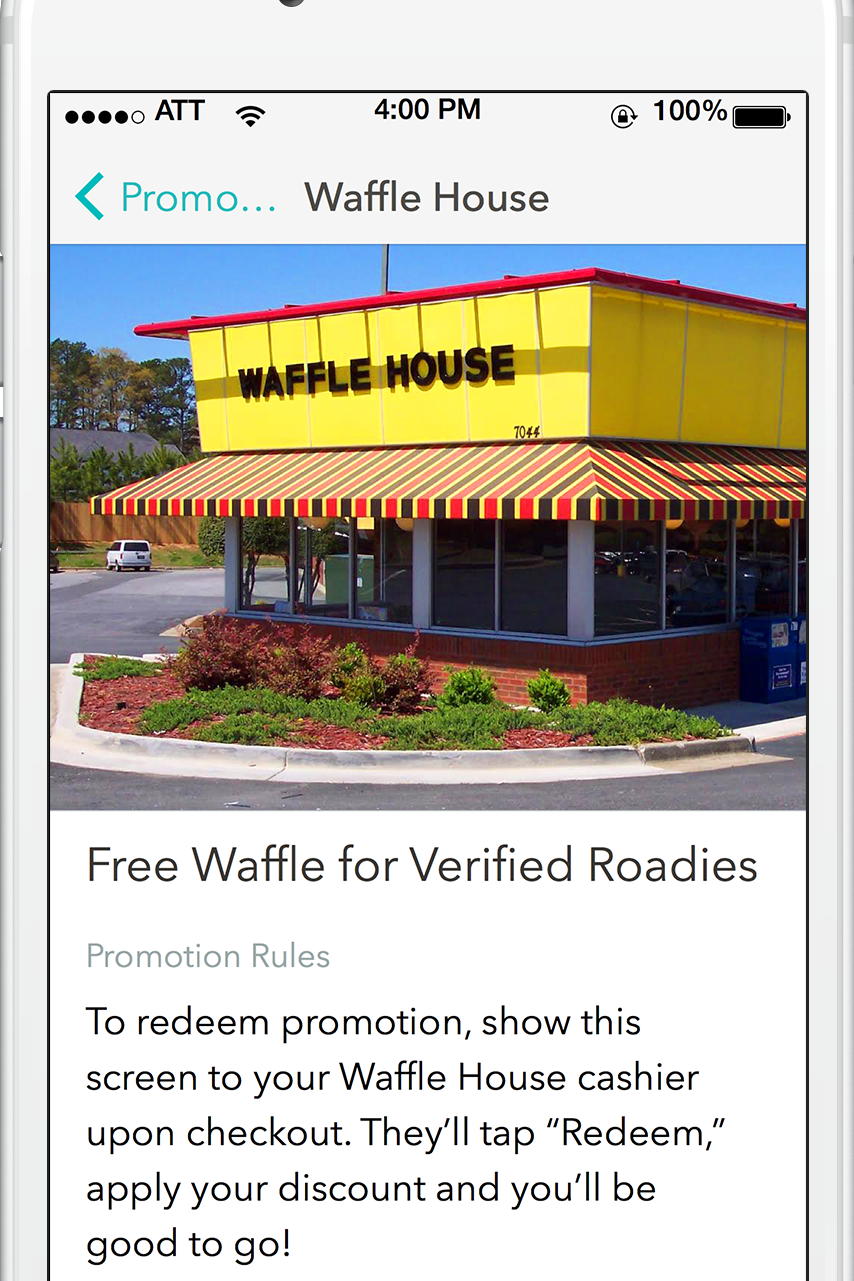 Roadie, the peer-to-peer cargo network that launched late last month, has partnered with Waffle House to provide drivers with free food and beverages along their routes in any of the chain's 1,750 locations in 25 states.
Because people sending packages via Roadie may be uncomfortable with having a stranger show up at their doorstep, they can also designate a nearby Waffle House closest to them as a neutral meeting place for the package exchange. There will be signage promoting the app at all Waffle Houses, and drivers can get a free waffle when they download Roadie and free drinks whenever they're on a gig or delivery.
It's a "true partnership" with no financial exchange, Roadie CEO and founder Marc Gorlin told BuzzFeed News.
"It's not bullshit," Gorlin said. "[Roadie is about] people helping each other out. [And] the hospitality that you get inside a Waffle House is second to none. You couldn't pick a better first partner. We're going to be sending people to Waffle Houses and they're going to provide awesome benefits to Roadies and recipients alike when they're on the gig and help market Roadie."
It's an interesting brick-and-mortar approach to promoting an app — which by virtue lives in the digital world. But the rise of the sharing and on-demand economy also signaled a rise in person-to-person interaction largely because in this new age of technology people aren't just buying hardware anymore but using software to connect with other people. "While our app exists in the digital world all the connections we made exist in the real world," Gorlin explained.
Gorlin created the app with the aim of tapping into the existing supply of drivers already on the road to create an easier way to send packages — particularly those that are either oddly shaped or would be expensive to ship because of their size. It's a natural fit for people who take similar routes every day or drive frequently, and that includes people who already drive for ride-hail companies like Uber or Lyft. Before Gorlin launched Roadie, he said, several Uber and Lyft drivers had already signed up for the service.
The partnership with Waffle House is only the first of a series of partnerships Gorlin is exploring for Roadie and its network.
"Roadie combines the two making it easy for senders and drivers who love waffles to meet at the nearest Waffle House," Walt Ehmer, CEO of Waffle House, wrote in a press release. "And who doesn't love waffles?"
When the app first launched it was only available in eight Southeastern states (Florida, Georgia, the Carolinas, Alabama, Louisiana, Arkansas, and Tennessee) and has since launched in Texas, but Gorlin notes the company plans to expand nationally. So far, it has been downloaded more than 7,000 times, Gorlin said.
With news of the partnership Roadie also announced that David Bonderman, founder of TPG Capital and Uber board member, has joined the likes of UPS Strategic Enterprise Fund, Eric Schmidt's TomorrowVentures, Warren Stephens of Stephens Inc., Guggenheim Partners' Executive Chairman Alan Schwartz, and Square Co-founder Jim McKelvey as an investor in the delivery network.