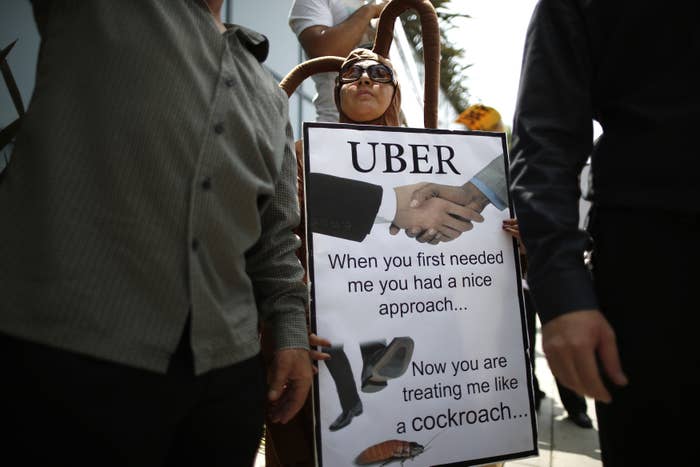 Uber Black drivers in Philadelphia are the latest set of ride-hail workers to file suit against the company for misclassifying them as independent contractors.
Filed Wednesday, the suit argues that Uber Black drivers are not independent contractors but are Uber employees because Uber "dictates their income."
"We are claiming Uber drivers are employees because Uber dictates their income by controlling their expenses and the fares they make by how it markets Uber Black, and whether the Uber app defaults to UberX or Uber Black," Jeremy Abay, the attorney representing Uber Black drivers Ali Razak, Kenan Sabani, and Khaldoun Cherdoud, told BuzzFeed News. "Uber's actions thus far have negatively impacted Uber Black drivers' ability to earn a living. When you exert that kind of control over anyone, they're your employee."
In addition to Uber's commission and regulatory fees, Uber drivers have to front the cost of their own operating expenses even though the company allegedly dictates how much income drivers take home. "You put those people in dire financial situations and then you tell them to go commit a crime and drive for UberX, which is illegal to operate in Philadelphia," Abay said.

The suit alleges that many Uber Black drivers are made to lease luxury vehicles from a "small network of auto dealers and lenders" that meet Uber Black's vehicle requirements.

It works like this: In Philadelphia, traditional limousine and luxury drivers must register vehicles with the Philadelphia Parking Authority as well as obtain a $12,000 certificate of public convenience and commercial liability insurance. Uber circumvents these costs by applying for its own certificates and insurance under a subsidiary company called Gegan. The problem, according to the suit, is that, "drivers have to transfer their vehicle's title to Gegen. This title transfer requirement creates another issue for drivers. Most drivers who purchase a luxury vehicle require financing, and generally all lenders prohibit a title or loan transfer during the contract period."
The legal maneuvering puts Uber Black drivers in a bind, forcing them to lease only from Uber partner companies such as Exeter Financial, which, the suit alleges, charges drivers subprime interest rates of 12% and higher "regardless of their actual credit risk."
"By automatically deducting loan payments from their drivers' weekly earnings, Defendants are acting as a debt collector for the lender," the suit reads.
The suit pertains only to Uber Black drivers in Philadelphia, where UberX is still illegal, creating a unique situation where Uber's tiered services appear to be in direct and unpleasant competition.

"The lawsuit doesn't include UberX drivers because they're illegal in Philadelphia," Abay said. "Uber Black drivers have been damaged by UberX and UberX and Uber Black drivers are in direct conflict of each other."
By continuing to operate its more affordable yet still illegal UberX service in the city and by shifting its marketing focus toward UberX, the ride-hail company, the suit alleges, has thus cut into Uber Black drivers' income.
"UberBLACK drivers are disadvantaged by UberX's anticompetitive rates," the suit reads. "As a direct and proximate result of UberX's illegal operation in Philadelphia, UberBLACK drivers...have been damaged. Uber has purposefully and unlawfully diverted business away from its UberBLACK drivers."
"Nearly 90 percent of drivers say the main reason they use Uber is because they love being their own boss," an Uber spokesperson wrote to BuzzFeed News. "Drivers are independent contractors who use Uber on their own terms; they control their use of the app. As employees, drivers would lose the personal flexibility they value most -- they would have set shifts, earn a fixed hourly wage, and be unable to use other ridesharing apps."
Here's the complaint that was filed on Wednesday.