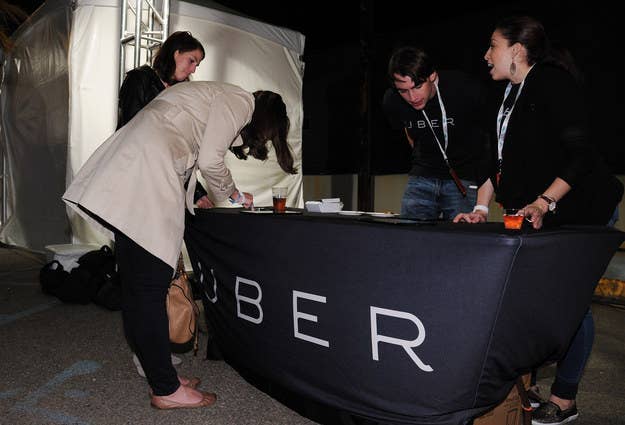 Uber's battle for the right to not officially employ its drivers continues.
On Thursday, the ride-hail company filed a motion to oppose the class certification of a suit brought against it by three drivers who believe they should be classified as employees, not independent contractors. Uber's argument: There is no such thing as a typical driver, and that makes it virtually impossible for these three drivers to represent the 160,000 others across the country.
In January, a trio of California drivers sued Uber for misclassifying them as independent contractors. In March, Judge Edward Chen denied Uber's motion for summary judgment in the case, and ruled that it be heard in front of a jury.
Uber's latest motion in the case includes declarations from 400 drivers explaining why they either don't view themselves as employees or prefer to be classified as independent contractors. And it's intended not just to debunk arguments made by the plaintiffs earlier this year, but to prevent other drivers from joining the suit and ask that the court treat the three drivers' cases individually.
"... Plaintiffs themselves are woefully inadequate and atypical class representatives under Rule 23(a)," Uber's motion reads. "For example, one of the named Plaintiffs admits to having defrauded Uber out of more than $25,000. Moreover, Plaintiffs are taking positions directly contrary to the desires of many of the very people they claim to represent -- who do not want to be employees and view Uber as having liberated them from traditional employment."
The many declarations included in the motion all support that argument. Indeed, some drivers cited in the motion say they would quit if Uber were to classify them as employees.
"I wouldn't even want to be an Uber employee," said L.A. Uber driver Christopher Martinez. "I would quit if they tried to make me an employee, because I value my freedom as an independent contractor too much, I don't want Uber to tell me when or where I have to drive, and I think I would probably make less money as an employee than I can make as an independent contractor."
Shannon Liss-Riordan, attorney for the plaintiffs in the case, said Uber's claim that her clients aren't good class representatives is an argument she's heard before. "Courts routinely certify these claims as class actions, as it would make no sense for the determination of who is an employee and who is an independent contractor to be determined on a case-by-case basis," Liss-Riordan told BuzzFeed News. "This is an argument we always hear from defendants trying to avoid class-wide liability. We have obtained class certification on these claims in numerous cases. We will need class certification in order to obtain damages for drivers efficiently in one proceeding. Otherwise, we will have to file individual claims, which makes little sense. But in the event we have to do that (for instance, if the arbitration clause is ultimately upheld), we are prepared to represent any drivers who want to press these claims. More than 1,000 have already contacted us."
Also included in Uber's motion is testimony from University of California, Berkeley, economist Justin McCrary, Ph.D., who argues that Uber drivers have diverse backgrounds and diverse alternative work options: "Some drivers 'moonlight' as drivers, accepting Uber app ride referrals when convenient for them, and yet work a full-time job as the employee of an employer; indeed, some of these drivers have employment contracts that disallow them from being the employee of any other employer," he said. "Other drivers accept referrals from the Uber app when convenient for them and work one or more freelance jobs, such as a property manager, realtor, or graphic designer. Yet other drivers have no employer and only rarely accept referrals from the Uber app."
However, as the plaintiffs argue in their testimony, Uber drivers' freedom to accept rides as frequently as they want to is limited by a minimum acceptance rate that in some markets is as high as 90% of all ride requests. McCrary further testifies that Uber does not exert uniform control over drivers. But as BuzzFeed News reported, in many markets, like New York and Los Angeles, the company funnels its drivers to training classes that use Uber educational material to teach drivers how to be "five-star drivers."
The motion to oppose class certification will be heard by Judge Chen on Aug. 6.
Here are the documents Uber submitted as part of the motion:
BuzzFeed News