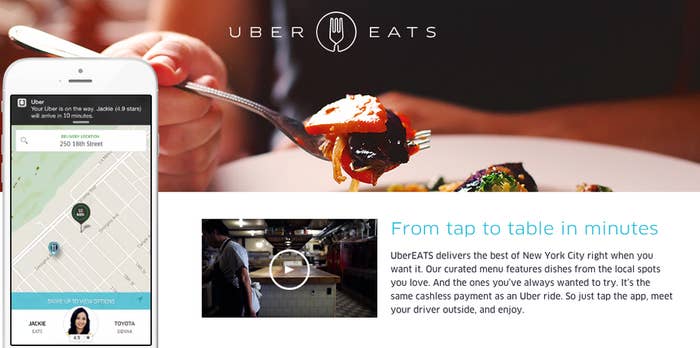 New Yorkers and Chicagoans now have a new way to have their meals delivered.
On Tuesday, ride-hailing outfit Uber expanded its UberEATS service to those cities, offering its users the ability to order food from a curated menu of entrees — straight from the Uber app.
With the expansion of UberEats, Uber is making good on CEO Travis Kalanick's 2013 pledge to expand the company's business beyond its core on-demand transportation service.
"We're in the business, today, of delivering cars in five minutes," Kalanick said at the 2013 LeWeb conference in Paris. "But once you're delivering cars in five minutes, there's a lot of things you can deliver in five minutes. If someone is doing 'Uber for X,' whatever it is, and it matches that lifestyle and logistics thing, you can count on Uber doing it."
Previously available only in Los Angeles and Barcelona, UberEats' sudden expansion to New York City and Chicago is bad news for ride-hailing and soon-to-be on-demand food delivery competitor Gett. Today, the Israeli company announced plans to offer its own on-demand food delivery, as well as health and beauty services, starting in July.
In New York City, UberEats will be available only Monday through Friday 11 a.m. to 2 p.m. and only between 40th and 14th streets. In Chicago, lunch will be available during the same days and times and will be delivered only in the Loop and River North. Each day, users will be given two individually priced lunch options.