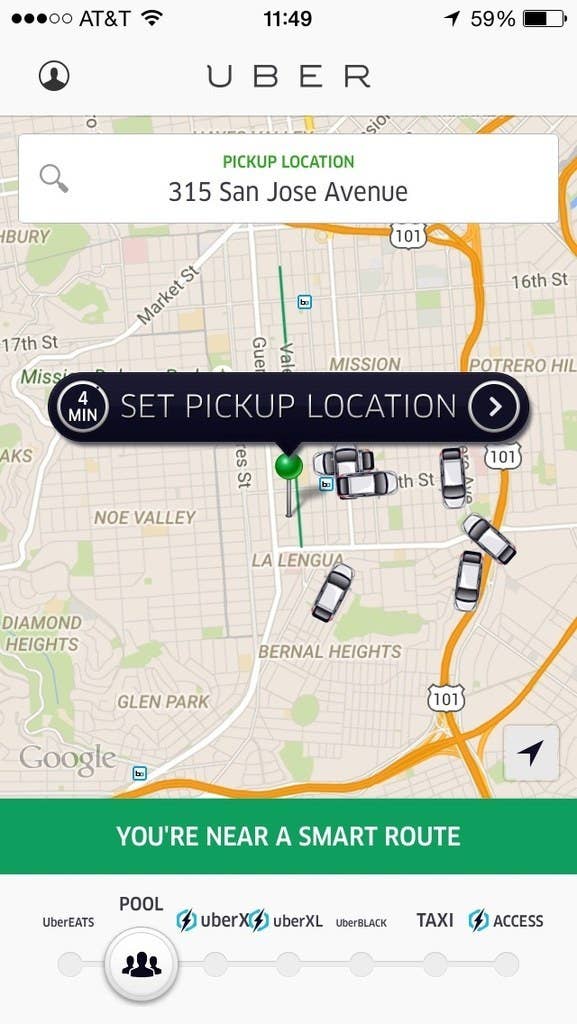 Uber CEO Travis Kalanick often talks about his dream of the perfect Uber trip. "It's the perpetual trip, the trip that never ends," he said at the Digital-Life-Design conference in Europe last October. "The driver picks one passenger up, picks another passenger up, drops off the first passenger, but then picks up passenger number three and drops off passenger number two."
This week in San Francisco, Uber took a first step toward realizing the vision that Kalanick described. The ride-hail company began experimenting with a new ride option called Smart Routes. The idea is drivers will be able to both pick up and drop off passengers along a specific route, which in turn allows them to quickly pick up their next passenger. For now the company is experimenting with only two routes: Fillmore Street between Haight and Bay, and Valencia Street between 15th and 26th.
Uber Smart Routes are similar to traditional bus routes in that they follow a predetermined path between two points, but they differ by allowing passengers to
request rides on demand. The catch, of course, is that customers get themselves to a Smart Route before they can use it. So it's not exactly door-to-door service. For this reason Uber is discounting Smart Route rides by $1 or more.
With this first Smart Route initiative, Uber is clearly laying the groundwork for Kalanick's perpetual rides, which he described at the DLD conference in January as "a private bus-type service, but on demand and hyper-convenient." And profitable. As Kalanick noted at the time, the primary goal of such perpetual rides is to drop the per-person cost of an Uber trip below that of competing transportation options. Specifically, Kalanick wants the cost of transportation to fall far below the cost of owning a car.
"If you can get 10 people trips on this perpetual ride, this UberPool ride, and the driver needs to make 25 euro an hour, you're now looking at a situation where each person-trip costs 2 euro and 50 cents," Kalanick told DLD attendees. "And that's sort of the vision of where Uber wants to go."
One possible downside of Kalanick's cost-cutting approach to transportation is that it might cut into fares collected by Uber drivers. The company, however, argues that Smart Routes will only maximize the efficiency of drivers' time by getting them more passengers per hour.
"This experimental feature, called 'Smart Routes,' aims to simplify pick-ups by encouraging riders to request a ride along specific routes in San Francisco," Uber spokesperson Molly Spaeth told BuzzFeed News. "Smart Routes is part of our ongoing efforts to increase the efficiency of driver-partners' time spent on the road while helping riders save time and money."
Though Uber wouldn't comment directly about whether this new feature was specifically meant to be the foundation of perpetual rides, the company did tell TechCrunch in July that it has been testing several features that would enable the never-ending ride. "We are currently testing methods to make the 'perpetual trip' a reality in San Francisco. We've already seen initial success linking multiple consecutive trips into a single trip for the driver. Creating more efficiency in this way enables us to drive down the price for riders and increase earnings for drivers."