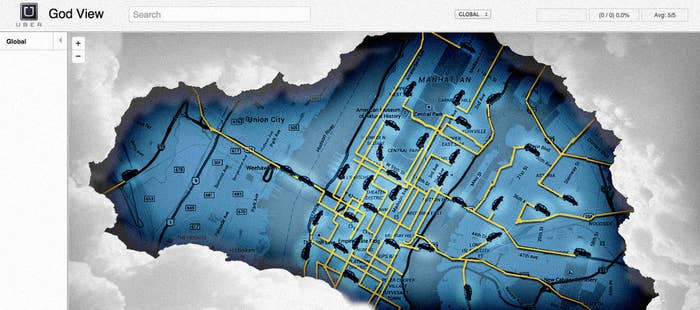 Uber said Tuesday that it is investigating its top New York executive for tracking a BuzzFeed News reporter without her permission in violation of what the transit giant says has long been its privacy policy. The company also published its privacy policy for the first time on Tuesday, though it said the policy had always been in effect.
Uber took both actions in the wake of a BuzzFeed News story that revealed that the reporter's ride had been tracked without her permission and that another Uber executive had suggested the company might smear journalists who wrote critically of Uber. The executive who suggested digging into the private lives of journalists, Emil Michael, said his comments were "wrong" and that he regrets them.
Tracking customers is easy using an internal company tool called "God View," two former Uber employees told BuzzFeed News. They said God View, which shows the location of Uber vehicles and customers who have requested a car, was widely available to corporate employees. Drivers, who operate as contractors, do not have access to God View.
Early this November, one of the reporters of this story, Johana Bhuiyan, arrived to Uber's New York headquarters in Long Island City for an interview with Josh Mohrer, the general manager of Uber New York. Stepping out of her vehicle — an Uber car — she found Mohrer waiting for her. "There you are," he said, holding his iPhone and gesturing at it. "I was tracking you."
Mohrer never asked for permission to track her.
Two months earlier, to make a point about questions Bhuiyan had asked about ride-share competitor Lyft, Mohrer had emailed her logs of some of her Uber trips. He had not asked for permission to access her data.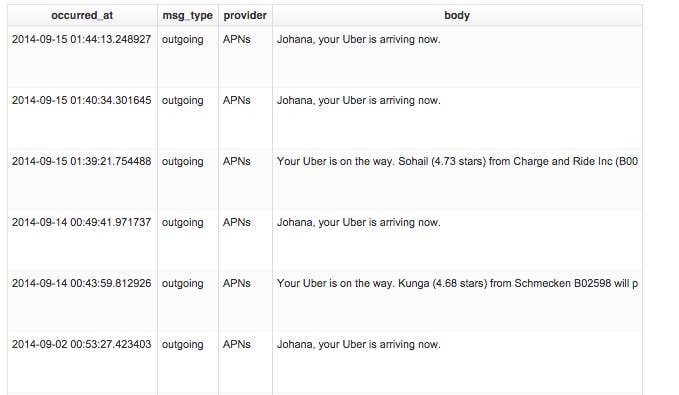 Uber said access to and use of its data is permitted only for legitimate business purposes and that violations result in disciplinary action, including the possibility of termination and legal action. It also said it is investigating Mohrer's actions in tracking Bhuiyan and accessing her logs.
The two former Uber employees, both of whom worked at the company until this spring and requested anonymity, said that God View was easily accessible to staff across the company. One employee said that he never saw unauthorized use of the tool; the other declined to answer that question.
Venture capitalist Peter Sims wrote about being tracked in a blog post this September. Back in 2011, he wrote, he was in an Uber car in Manhattan when he started receiving text messages from someone he barely knew telling him exactly where he was. That person later told him that she was at an Uber launch party in Chicago, where Sims' movements were being tracked via God View on a large public screen.
"After learning this," he wrote, "I expressed my outrage to her that the company would use my information and identity to promote its services without my permission. She told me to calm down, and that it was all a 'cool' event and as if I should be honored to have been one of the chosen."
Uber did not respond to BuzzFeed News questions about this incident.
The company, which had not previously published its privacy policy, unveiled it Tuesday on its blog. "Uber has a strict policy prohibiting all employees at every level from accessing a rider or driver's data," it states. "The only exception to this policy is for a limited set of legitimate business purposes." Such purposes include solving problems for riders and drivers, monitoring accounts for fraudulent activity, and facilitating driver transactions. The company said the policy has always been in place and that employees agree to it when they join Uber.
On Tuesday afternoon, after Uber CEO Travis Kalanick tweeted a condemnation of Uber exec Michael's comments, Mohrer suggested the storm had passed, tweeting a celebratory image from the Uber New York office. He deleted it shortly after posting: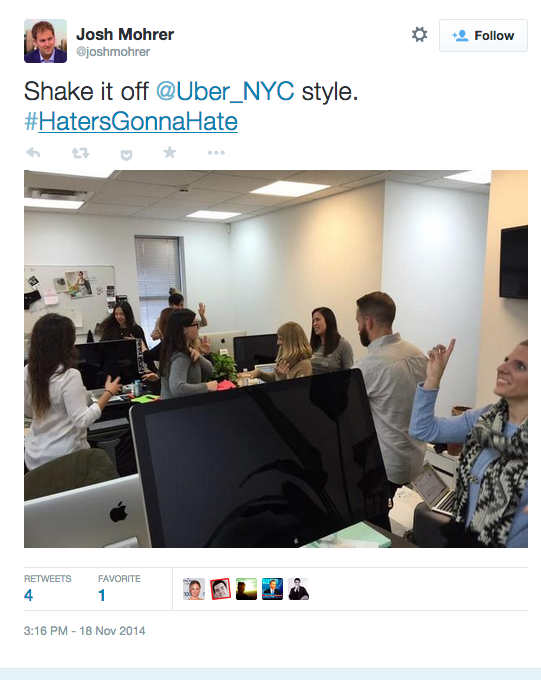 Contact BuzzFeed News reporters Johana Bhuiyan and Charlie Warzel with tips or suggestions at: johana.bhuiyan@buzzfeed.com and charlie.warzel@buzzfeed.com.