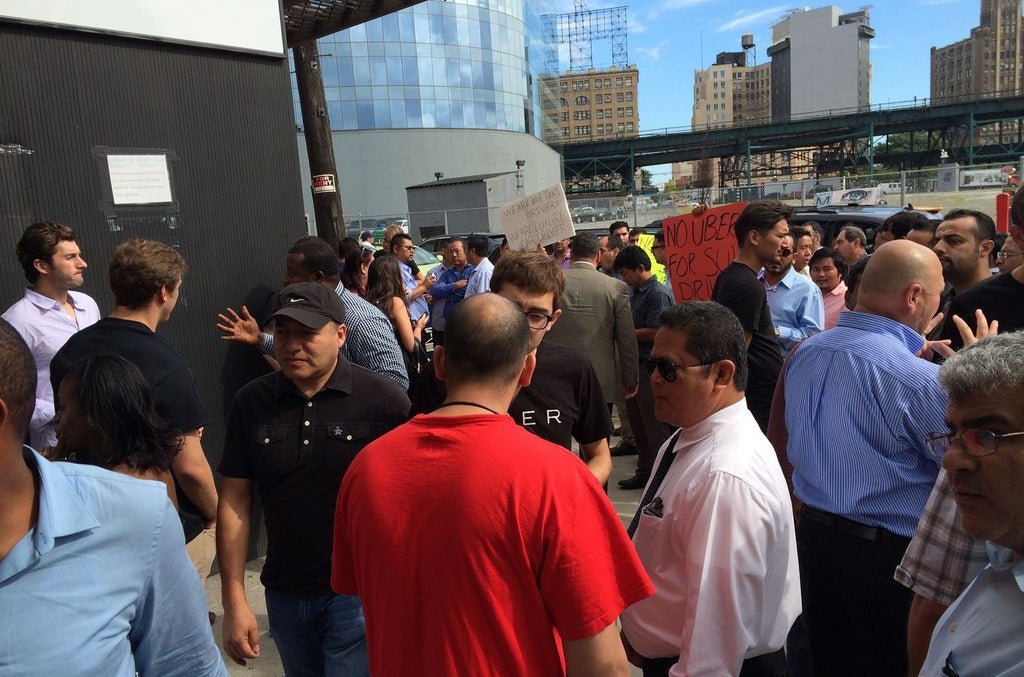 Uber drivers gathered outside of Uber's Long Island City offices on Monday to protest the low fares.
A group of Uber drivers, who say they number about a thousand, are attempting to organize a strike against the booming taxi company over complaints of falling fares and unfair working conditions.
The drivers, who are mostly comprised of SUV and black car drivers, have planned a protest outside of the Long Island City Uber Office on Monday morning after refusing to drive for the service — and in some cases, switching to rival Lyft — Thursday, Friday and Saturday. This is the second protest the group, called Uber Drivers Network NYC, will be staging in a week against the company.
One major grievance is that Uber has extended a summer discount into the fall, cutting deep into drivers wages and forcing them to work extra hours to compensate. Another complaint, according to an organizer and SUV driver who gave his name only as Belal, is that both SUV and black car drivers have been forced to accept requests for UberX — the non-luxury counterpart to Uber's black car service that charges a lower rate — if they are within the area. SUV and black car drivers never received UberX requests until earlier this summer when the company rolled out a program that allowed these premium car drivers to opt into being listed as both a black car and UberX service with the promise of a 35% to 50% increase in hourly income.
According to Belal, he and many other drivers tried this option once or twice and realized they could not make as much as they did in the time they normally would work just being a black car driver exclusively and tried to email and text the company to opt out. But he and other drivers continue to receive UberX requests despite his attempts to return to just being a premium driver.
Now drivers like Belal are not only awarded low rider acceptance rates they are also being temporarily suspended for only choosing to accept SUV or black car requests.
"Uber is basically abusing the driver," Belal told BuzzFeed News. "They give us a 24 hour suspension and threaten that you will lose your chance with Uber. To get a ride for $8.00, I'll have to work the whole day. Gas and insurance for SUV's are expensive. I have to pay $80 to $100 a day in gas."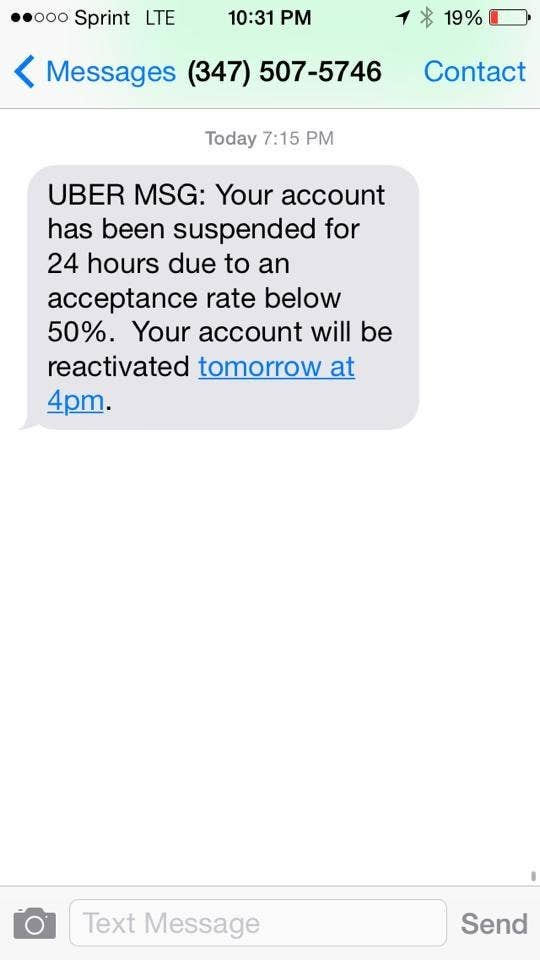 Belal said many of the drivers attempted to work with the company once the option to deny UberX requests was no longer available. But since the company reduced the fare this past July in an attempt to offer a ride cheaper than a yellow cab the demand for UberX rides has been much higher, Belal said.
"They make us work for UberX permanently because we received tons of UberX calls per minute," he said. "This means we never get the chance to accept black car or SUV cars. We can only pick UberX. It's a strategy for them to put us to work only for UberX."
Belal and his fellow organizers — one of whose meet up spot of choice is the Lahore Deli on Crosby St. — attempted to organize other disgruntled Uber drivers on Uber Drivers Network NYC's Facebook page and asked them to go on strike today, Friday and Saturday by not accepting any of the requests — UberX or otherwise — or simply turning their phones off.
Drivers have also been posting information about the strike on Uber's official Facebook page; another organizer, UberX driver Masood Rehman, said the company has quickly been deleting the posts.
With no previous experience in activism or dealing with the media, this group of Uber drivers are struggling to reach both news organizations and other Uber drivers with their message. According to posts on the group's Facebook page, some drivers have resorted to printing out fliers and distributing them to SUVs with TLC licenses.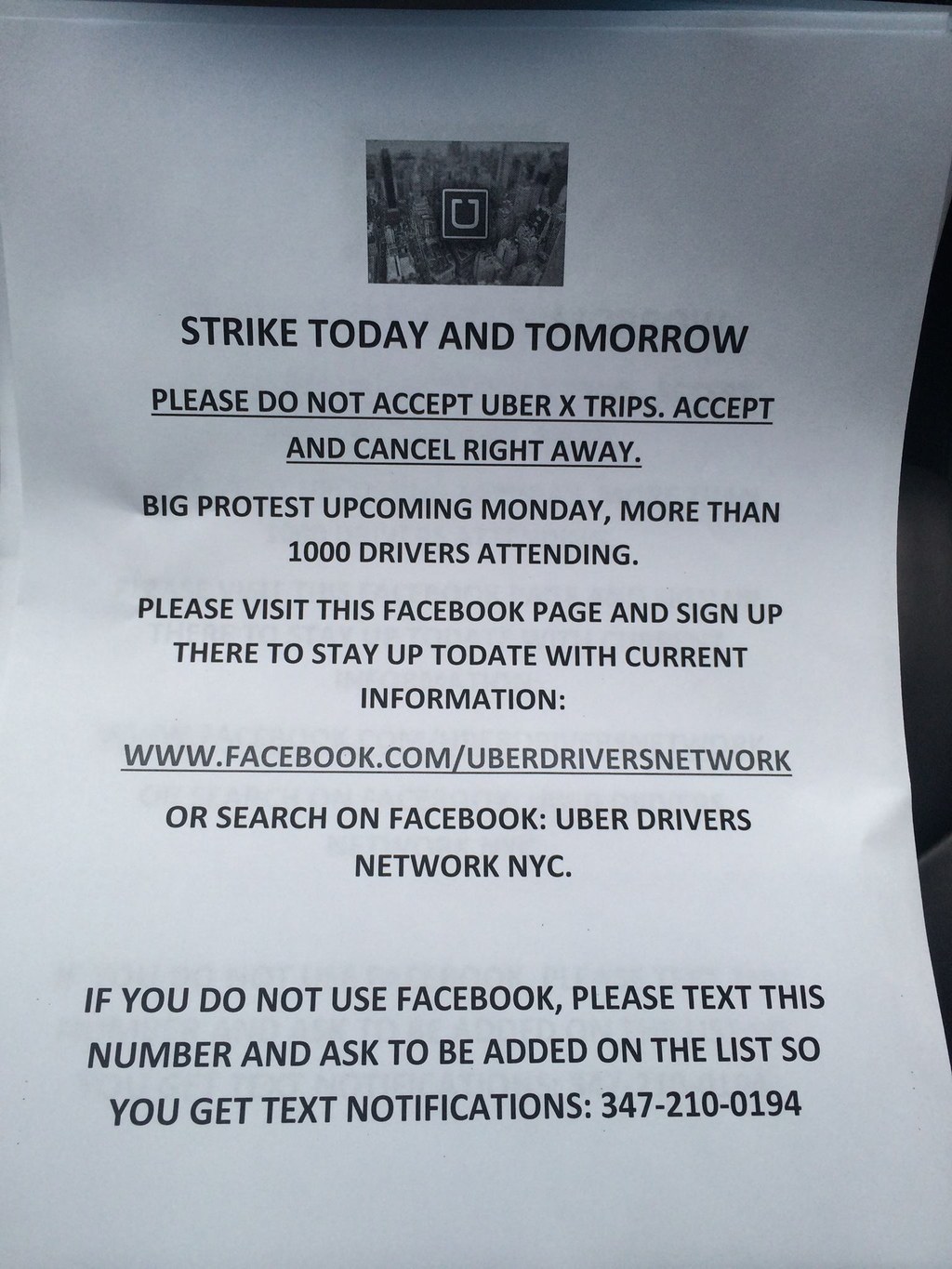 As for their impact on the company, Belal said this past Monday's protest left management unshaken.
"They said to take it or leave it," he told BuzzFeed News.
Belal and many other drivers like him who bought a car specifically to work for Uber have no choice but to continue to be Uber contractors, regardless of how much or little the company does to make the situation better for them.
"We get expensive cars, most of the drivers if they give it back to the bank they'll lessen their credit score," Belal said. "Uber right now is putting us in a dangerous situation. We're not making a living but they're pushing us to give back the cars."
But luxury car drivers are not alone in their frustration. UberX drivers, like Rehman, have joined the fight particularly because the less-than-taxi fares that are presented as a good deal for the riders are forcing them to work more hours with no tips to make the same amount of money an individual could make as a taxi driver.
"The average driver was putting in 2 or 3 hours extra a day to make the same money they were making before reduced prices…When they switched the prices as an X driver, I'm hardly paying my bills, [I'm] working 8 to 10 hours a day, six days a week," said Rehman, who was using his Toyota Camry for Lyft Thursday afternoon. "I have to pay for tolls and gas... [and make] $7 to 800 a week — which is not enough any more.
And much like Belal, Rehman is tied to Uber because of his car.
"I bought this car in April — I financed it only for Uber. This is non-hybrid because I don't like hybrid cars. Now I'm stuck with this because most of the other companies, they don't take non-hybrids."
Belal, who hopes to continue to mobilize Uber drivers, points out that without the drivers Uber is just an app.
"They'll forget that Uber drivers has been doing this business for 20 years," he said. "They have more experience than Uber and all the management of Uber. And Uber is not a company it's an application. The value of Uber, it's our value. We are Uber. We are the ones who are offering the service. Uber is not doing anything, it's an application on the phone. Uber didn't pay for our cars. Uber is only a connection."
Send tips, info to the author of this post at Johana.Bhuiyan@BuzzFeed.com.
A previous version of this article stated Uber drivers were promised a 35% to 50% increase in weekly income instead of hourly income.