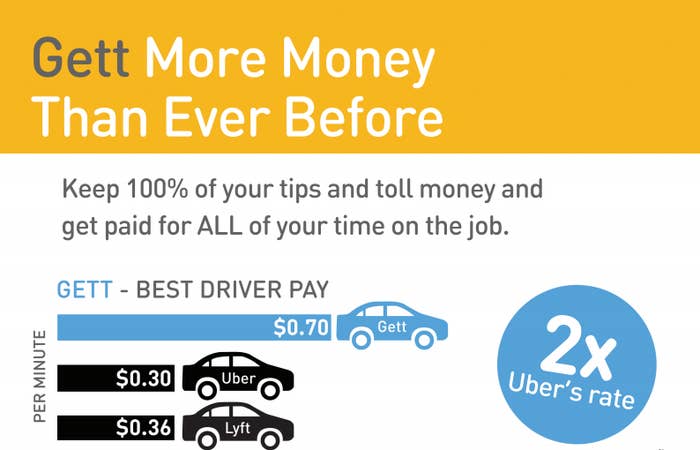 Gett, the app-based car service that launched in New York in 2013, announced today that it will now pay its drivers $ .70 per minute in addition to 100 percent of any tip, which passengers have the option of adding in the app. The company estimates that to be about double what its leading competitor, Uber — which takes a 25 percent cut from each fare — pays its drivers.
"We want to pay the drivers the best pay in the industry," C.E.O. Ron Srebro told BuzzFeed News. "We want to be the best solution for the drivers."
It's a strategic play for Gett to recruit frustrated Uber and Lyft drivers, some of whom have publicly complained and protested recent cuts to fare prices, increasing commissions, and the no-tip policy the companies have instated. Srebro is convinced he can create and sustain a business that offers an affordable service that doesn't come at the cost of drivers' income.
Srebro has also stressed a similar commitment to passengers' needs. In September, Gett rolled out a promotional $10.00 flat rate for any ride, to anywhere in Manhattan (and flat rates with no surge pricing to the outer boroughs), no matter what. The promotion, Srebro said, will continue until the end of the year.
Though the decision to offer its drivers this pay rate had been made over the last several weeks, the announcement comes just one day after news broke that Hailo — the taxi hailing app and another Uber competitor — would be pulling out of North America. Hailo, according to the Financial Times, felt it could not turn a profit in a market where the industry leaders were embroiled in a price-cutting battle.
"We definitely understand Hailo's decision to pull out of the US market, it's a competitive space," Srebro said. "However, Gett is currently experiencing 3000% growth in New York and we have an amazing offering for drivers. We're constantly coming up with innovative ideas for our users and drivers and are working incredibly hard to make Gett the number one app in the on-demand space just as we are in Europe where we are the largest player. Gett (operating as GetTaxi in Europe) is already profitable in 22 out of its 24 cities and we will be the first on-demand app to be fully profitable in early 2015, having just closed our recent funding round of $150 million."
Despite Gett's European track record, the economics of its NYC promotions are fuzzy. How, with its higher-than-average pay rate and cheaper-than-most fares, can Gett turn a profit? According to Srebro, the company doesn't plan to invest in traditional advertising, instead using the money to subsidize both the promotional $10.00 rate and the drivers $.70 per minute pay. But Srebro told BuzzFeed News that the company's success in cities like Tel Aviv, London, and Moscow is what's really funding Gett's expansion into New York, where there are currently 3,000 drivers for the company.
Srebro says that with his proposed pay rate he can guarantee that full-time drivers can make an average of $6000 per month while still offering passengers the same promotional rate until the end of the year.
"We asked what would the drivers be happy with and what would they need to cover their expenses and make a living. That's where the 70 cents a minute came from. It hits that sweet spot where it's fair to the driver and we can afford it. As far as I'm concerned the driver pay is permanent, the $10.00 promotion is not permanent."
As for his thoughts on the steep uphill battle Gett has against its formidable and wildly popular competitor Srebro said, "Uber can choose to do [the same] and they choose not to. We have seen Uber consistently fight dirty and undercut prices. I'm not going to try to explain what they're thinking but with their actions they're speaking very loudly about what they think of their drivers."
BuzzFeed News reached out to Uber NYC general manager Josh Mohrer for comment.
"For uberX the fare is $.4 per minute AND $2.15 per mile," Mohrer wrote in an email. "We charge both at the same time. There's commission and sales tax so driver nets something like $.3 and $1.5 roughly. Gett is being incredibly misleading saying drivers make double. They make double on TIME, but on distance (the bulk of the fare typically) they make infinitely more with Uber since Gett doesn't pay them for distance."
An Uber spokesperson also reached out to BuzzFeed News with this comment:
"Uber driver partners do more trips per hour than with any other platform – we're so sure that we're willing to bet on it by guaranteeing at least $5,000 per month for every driver through the end of the year. Uber IS the best economic opportunity for NYC drivers."