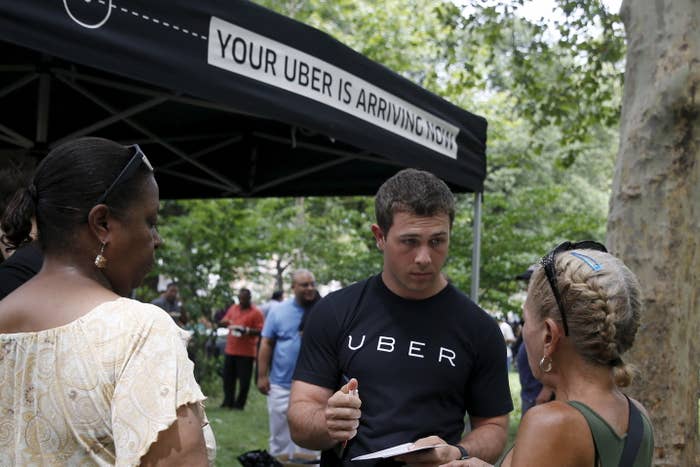 Early Friday morning, just two days after the judge presiding over the Uber class-action suit in California ruled that drivers who agreed to arbitrate any disputes with Uber outside of a court as a condition of driving for the company could still participate in the class-action suit, Uber sent drivers a new agreement. That document includes a revised arbitration clause that could undermine that ruling, and plaintiffs' attorney Shannon Liss-Riordan is moving quickly to rebut it.
Liss-Riordan and her team are filing an emergency motion that will be heard in front of Judge Edward Chen next Thursday; it asks the court to block Uber from enforcing this new driver agreement.
"Uber has tried to fix the problem that Judge Chen ruled made the agreement unenforceable," Liss-Riordan told BuzzFeed News in an email. "He ruled that the [Private Attorney General Act] waiver is illegal as a violation of public policy (which it is, in light of recent California Supreme Court and Ninth Circuit rulings), and he ruled that he could not sever the illegal provision without rewriting the agreement, which courts are not allowed to do. So Uber has tried to be clever by redrafting its agreement in a way that it can contend that the challenged provision is severable."
The Private Attorney General Act or PAGA gives "a private citizen the right to pursue fines that would normally only be available to the State of California. It also allows that private citizen to "seek civil penalties not only for violations that he personally suffered" but also for violations of "other current or former employees."
According to Chen's Wednesday ruling, the Uber driver agreement of 2014 and 2015 illegally waived drivers' rights under PAGA, thus informing Judge Chen's decision that the arbitration clause could not be honored because it contained an illegal provision. But Uber's new agreement has been rewritten to prohibit drivers from pursuing any class or representative action against the company EXCEPT under PAGA. Therefore, the company has removed the illegal provision of the arbitration clause and in effect made it enforceable by a court.
The company is still appealing Chen's ruling but wanted to clear up any "uncertainty" for drivers in the meantime. "We believe strongly that our agreements are valid, but we are making some changes and clarifications to remove uncertainty for drivers and for us as we work through our multiple appeals on this issue," an Uber spokesperson told BuzzFeed News.
However, the company doesn't intend to enforce these new provisions on drivers who are already participating in a class action suit such as Liss-Riordan's.
In the motion Liss-Riordan filed late Friday evening, the attorney contended the company was attempting to get around Chen's earlier ruling and that it was inappropriate.
"By distributing an agreement that attempts to "fix" the issues the Court has now found made its prior arbitration agreements unenforceable, Uber's new agreement appears to be an attempt to limit the class in this action through its unilateral action," the motion reads. "By doing so, Uber is essentially attempting to substitute its own arbitration agreement and opt-out mechanism for the court-approved and supervised notice and opt-out process required by Rule 23. This underhanded behavior is especially egregious given that Uber has already been chastised by this Court for attempting to "unilaterally limit the size and scope of the class ... without being subject to court supervision."
Uber also rewrote the agreement to remove a requirement that arbitration between a driver and the company remain confidential. The language makes it clear that the agreement goes into effect only when a driver accepts it — not when a revision is published.
Uber is one among many companies that employ an arbitration clause to prevent those the company contracts with from pursuing legal action in the case of a dispute, according to Liss-Riordan. "Unfortunately, in recent years, courts have been allowing companies to use arbitration agreements to shield themselves from any serious responsibility for their widespread legal violations," Liss-Riordan wrote to BuzzFeed News. "The Supreme Court has permitted many companies to avoid class action litigation through the use of arbitration agreements...these rulings have made enforcement of the wage laws, and consumer protection law, much more difficult."
Here's the emergency motion Liss-Riordan filed on Friday:

Read more on the class action suit against Uber here: