Business Travelers Use Uber Far More Than They Use Taxis
Expense management company Certify analyzed 8 million travel receipts and found Uber accounted for 55% of all business travel ground transportation, while taxis accounted for 43%.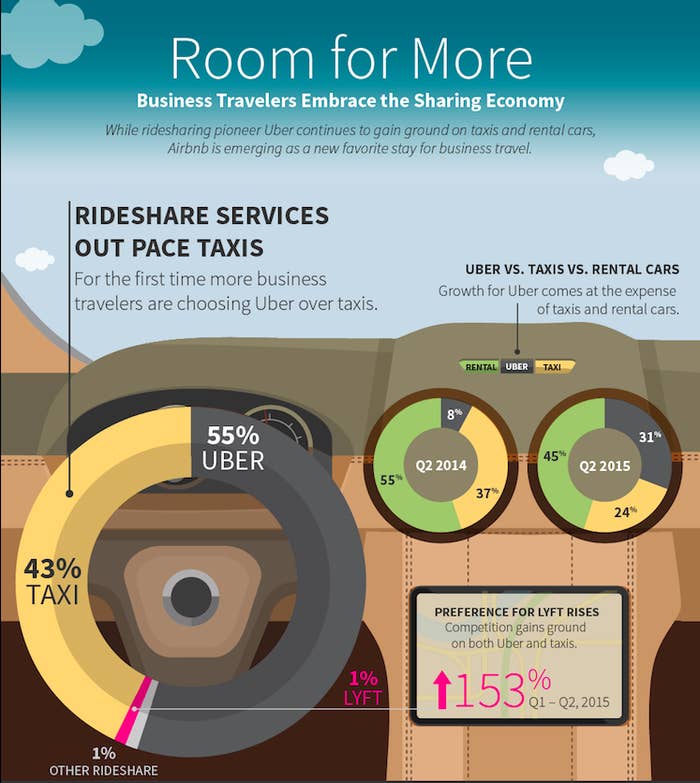 Uber has officially surpassed the taxi as the ground transportation of choice for business travelers, at least according to new data from expense management company Certify.
According to Certify's review of 8 million travel receipts expensed between April and June 2015, Uber made up 55% of all ground transportation expenses. Meanwhile, taxi rides accounted for 43%. That's a significant shift in market power. As BuzzFeed News previously reported, in March taxis accounted for 52% of all ground transportation expenses submitted to Certify, while Uber accounted for 47%.
Uber's growth appears to be coming not just at the expense of the taxi industry, but of the rental car industry as well. According to Certify's research, Uber is also becoming a favored business travel alternative to the rental car. Between the second quarter of 2014 and the second quarter of 2015, Uber's share of ground transportation expenses rose to 31% from 8%. Meanwhile, the car rental industry's declined to 45% from 55%.

And how does Lyft fare in Certify's new data? It accounted for only 1% of travel expenses, though its services were on average cheaper than those of its rivals. Lyft also saw incredible gains in big cities like Chicago and San Francisco and was rated higher than Uber, car rentals, and taxis in terms of quality of service.
Victory in the business travel ground transportation market does not imply ride-hail market supremacy. That said, it is a good indicator of who currently has the upper hand in a crucial sector in which Uber and Lyft both spent a lot of time and money promoting their services like "Lyft for Work" and "Uber for Business."