Uber Wants To Be The Courier Service For Small Local Businesses
Brick-and-mortar businesses that couldn't otherwise front the cost of an in-house delivery service now have the option of outsourcing it to Uber or Postmates, among other players.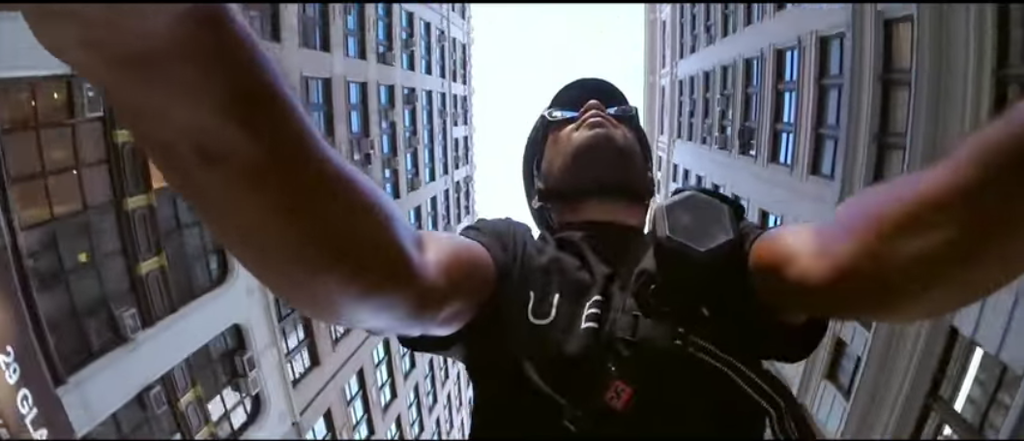 Uber wants to be the on-demand logistics company of your — but more importantly, Travis Kalanick's — dreams. After more than a yearlong pilot of a consumer-facing delivery service in New York, Uber is making a move into on-demand logistics with the launch of a refurbished and business-focused UberRush courier service in New York, San Francisco, and Chicago. Simply put: The company is no longer experimenting with logistics — it's finally attempting to fulfill what many, including Kalanick himself, have prophesied to be Uber's destiny.
While individual customers in New York can use UberRush in the app to deliver something from one place to another, the more lucrative opportunity for Uber — and what the company is hoping will be its next viable revenue stream — is in offering its logistics infrastructure of drivers and bike messengers to brick-and-mortar businesses. To tailor its service to the needs of small businesses, Uber built a separate platform that allows a restaurant or retailer to hail couriers as orders come in.
To test out the service, we ordered a single juice from Indie Fresh, a participating retailer, by filling out an online form. There was no indication that it was affiliated with UberRush; we simply selected the juice we wanted, indicated the shipping, billing address, and payment information, and in less than 30 minutes a bike messenger was at our door with that single juice. Indie Fresh filled the order as it came in, as it would with any other order.
Businesses that use UberRush — such as Blockheads or Indie Fresh in New York — pay an initial flat rate for the first mile and a lower rate for every mile after that (in New York, for example, it's $5.50 for the first mile and $2.50 for every additional mile). It's tough to say whether the economics works in favor of small businesses that don't have a delivery minimum or fee.
The Indie Fresh juice, for instance, was delivered from the store's Hell's Kitchen location to our office in the Flatiron, which according to Google Maps is approximately two miles. That means the cost of delivery was about $8. The juice itself was a total of $10.89 including taxes, and we weren't charged a delivery fee. That means Indie Fresh earned less than $2.89 on that sale, and the rest went to Uber.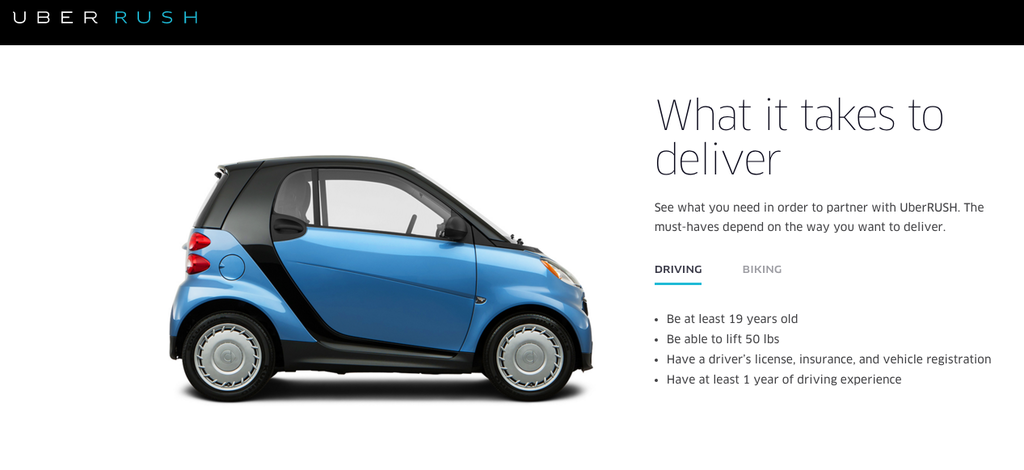 An in-house delivery alternative, however, may not be any better. Typically drivers are paid hourly and are often benefited employees — the costs of which a small business would have to front. Moreover, the scale UberRush (or Postmates, for that matter) offers can't be matched by two or three in-house delivery drivers.
On the driver side, Uber is guaranteeing $18 an hour at launch in San Francisco. (Postmates guarantees its drivers $25 an hour.) The pay model works exactly like UberX — in New York, Uber takes 20% commission; in San Francisco and Chicago, it takes 25%. The background checks and on-boarding experience are exactly like UberX as well. UberRush is also a commercial service, so if you're required to have commercial insurance to drive for UberX in your market you'll also need commercial insurance to deliver for UberRush.
It's an obvious and expected move for Uber — Kalanick has long prophesied the day that Uber would be delivering things as seamlessly as it delivered people. Why? Much like its transportation service, this delivery service makes good business sense — there's substantial potential revenue with low overhead. And, perhaps more important, simply because Uber can.
The company has built a technological infrastructure that is capable of supporting delivery of basically anything that can be delivered on demand — all without actually employing couriers or striking formal partnerships with businesses. As Shom Chowdhury, CEO of Indie Fresh, said in the UberRush promo video, "UberRush is a very smart solution because without partnering with Uber, I partnered with them. Uber actually moves with me."