Members Of Congress To Ride-Hail Companies: Use Fingerprint-Based Background Checks
In an open letter to the CEOs of Uber, Lyft, and Sidecar, eight members of Congress demanded that the companies use the "most rigorous and comprehensive screening methods available."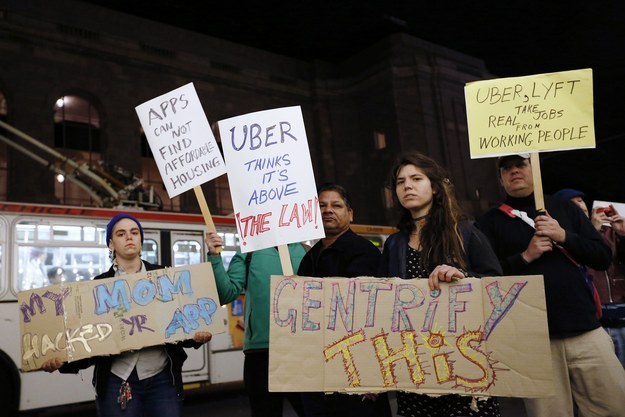 Eight members of Congress wrote an open letter to Travis Kalanick, Logan Green, and Sunil Paul demanding that Uber, Lyft, and Sidecar use the "most rigorous and comprehensive screening methods available," which includes fingerprint screenings.
"We appreciate that your companies currently take steps to screen drivers; however we believe that the current screening methods do not utilize all of the available tools to ensure passenger safety," the letter read. "Your companies should implement fingerprint-based background checks right now. This would match screening standards for taxicab services that are already required by many of the largest state regulators across the United States."
The letter, signed by Reps. Rosa DeLauro of Connecticut, Niki Tsongas of Massachusetts, Minnesota's Keith Ellison, and New York representatives Louise Slaughter and Yvette Clarke among others, cited cases of sexual assault in Boston, San Francisco, Los Angeles, the District of Columbia, and Chicago.
"Following multiple instances of sexual assault by drivers hired to work in your industry, it is clear that there is an urgent need to improve screening standards currently in place," the letter continued.
BuzzFeed News reached out to Lyft, Sidecar, and Uber for comment and did not hear back at the time of publication. We will update as they respond.
Uber spokesperson Natalia Montalvo provided this statement:
"In cities across the country, every driver that partners with Uber must pass an extensive multi-layered screening process which includes federal, multi-state and county criminal background checks spanning the past seven years," Montalvo wrote in an email. "Uber's technology has brought an unprecedented accountability and transparency to the industry with safety features built into the app, including the driver's name, photo, license number and allowing riders to share ETAs with contacts throughout their ride."
Uber's driver applicant screening process takes into account seven years of information and includes criminal background checks from city, county, state, and federal records. The company background checks also includes any reports of DUIs and vehicle offenses.
Update
Sidecar spokesperson Margaret Ryan provided this statement:
"Sidecar's approval process for drivers is not only safe; it's safer and more thorough than fingerprint-based background checks," Ryan wrote in an email. "Our extensive driver background check includes federal, state and county review for sex offenses, DUI, reckless driving, felony drug convictions and other criminal convictions and spans seven years. Sidecar's powerful review system adds an additional safety layer because it monitors our community in real-time and allows us to quickly remove poorly rated drivers from the system."
Lyft spokeswoman Paige Thelan provided this statement:
"Safety improvements are one of the main reasons that consumers are choosing Lyft," Thelain said. "In addition to using independent experts to screen potential drivers, Lyft also provides consumers with in-app photos of drivers and vehicles, real-time ride tracking, digital receipts, two-way rating systems, and an around-the-clock Trust and Safety team. The benefits for passengers are clear. We should seize this moment of change in the transportation industry to reject business as usual and establish the innovations brought by Lyft and other ridesharing services as a new standard of safety for all providers."