Mayor De Blasio To Uber: "I Don't Debate With Private Corporations"
Asked if he'll publicly debate the rationale for his proposed growth cap on for-hire car companies with Uber's leadership, New York City Mayor Bill de Blasio said no way.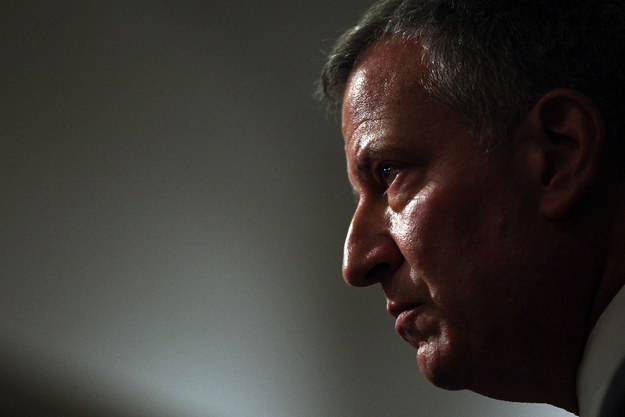 This morning Uber NY General Manager Josh Mohrer sent an open letter to Mayor Bill de Blasio inviting him to a public, live-streamed conversation to discuss his proposal to cap the number of drivers of Ubers and other for-hire cars in New York City.
"When your proposal to cap Uber was introduced, your administration said it was about congestion," the letter reads. "The op-ed you wrote in the New York Daily News this weekend was about everything but congestion. If you have new concerns, we want to discuss them, face-to-face, and invite you to do so in a live-streamed conversation so all New Yorkers can watch."
In the New York Daily News op-ed to which Mohrer referred, de Blasio cited the company's many regulatory battles not just in New York, but in California and London as well.
"While most businesses recognize the role of the city to set basic standards and look out for the broader public interest, Uber — a $40 billion corporation — is out with multi-million dollar ads trying to convince New Yorkers that it doesn't need more oversight," de Blasio wrote. "In Uber's home state of California, a court just recommended that the company be suspended and fined $7.3 million for failing to share data with the state, as required by law, to ensure they are not discriminating against passengers."
"When you consider what's at stake — from ensuring workers can make a decent living, to managing the surge of more than 2,000 new cars on our streets every month, to protecting consumers from overcharges, to making sure we have more accessible vehicles for New Yorkers with disabilities — it's our responsibility to act," he continued.
During a Monday morning press conference, Mayor de Blasio was asked whether he'd accept Mohrer's invitation. His answer? "I don't debate with private corporations."
"Let's be clear – Uber is a multibillion-dollar corporation, and they're acting like one," he said in response to a reporter's question. "They're looking out for their corporate bottom line. They're putting their profits over all other considerations. What we're talking about here is a temporary reduction in their growth."
According to de Blasio, it's not uncommon for a company in the private sector to buck regulation.
"Now, I know there's a lot of people in the private sector who'd like to have no government regulation whatsoever, but that' s always proven to be a huge mistake," de Blasio explained. "We've seen that happen over the years — we've seen the devastating negative impact. But, no, I do not debate with the heads of private companies over their own self-interest."
And, commenting on Mohrer's remarks about congestion, de Blasio said it's just one issue among many. "It starts with congestion," he said. "But I fundamentally believe those other issues are very real as well. And I think we're going to have come to grips with this in terms of some of the changes in our economy. There's been some very good reporting lately on what's happening now as result of technological change – the rights of consumers are now in doubt, the rights of workers are in doubt. There's all sorts of unintended consequences here. And government regulation hasn't caught up with the reality. So I think it's important that we do so."
Uber isn't rescinding it's invitation to an open debate, a company spokesperson told BuzzFeed News. "If the Mayor believes his arguments, there shouldn't be anything wrong with discussing them in front of New Yorkers. It's a standing offer and we hope he changes his mind."
Read more on Uber's battle with Mayor de Blasio
Updated with Uber comment.