Lyft Is Trying To Make Line More Efficient
The first person you're matched with on Lyft Line might not be the person you end up with. It's like a metaphor for life.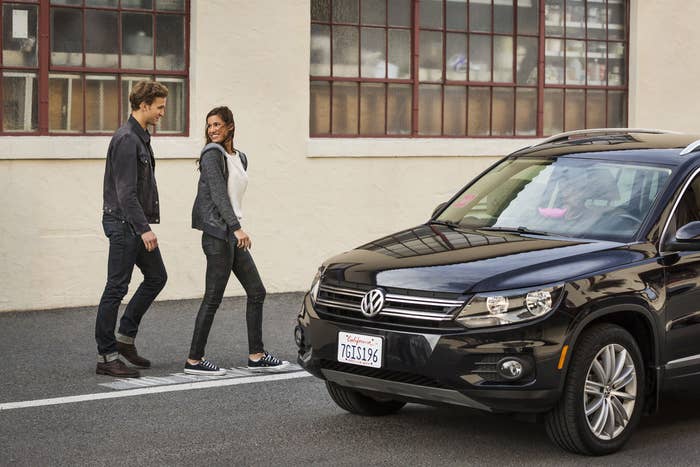 Your Lyft Line ride might be a tad faster — or so Lyft hopes — thanks to a new feature the company quietly rolled out a few weeks ago.
The new feature is called Express Re-route, and it's intended to find passengers a better match than the one they were originally given. If you've requested a Lyft Line — but haven't yet been picked up — and the algorithm working behind the scenes finds another passenger whose route is more in line with yours, your route will be changed in favor of the better option.
According to company spokesperson Katie Dally, the amount of time it takes a driver to get to the passenger after the re-routing will remain roughly the same —"so someone who says, 'Oh, I have five minutes before my Lyft Line arrives, let me get ready' and we suddenly switch you doesn't then look at the app and see it changes to one minute." But, she added, because the routes will be more efficient, riders will spend less time in the car.
Essentially, Lyft is allowing the algorithm that works to match one passenger to another — which usually stops looking as soon as a match is found — to run for longer. This is an engineering challenge for Lyft in that it dramatically increases the number of possible ride permutations, but Dally said the company believes that it'll be a boon for speed and efficiency.
It's yet to be seen whether that premise will pay off, but even a few minutes here or there could make a difference for Lyft, which is locked in a pitched battle with the much-bigger Uber to be the most efficient ride-hail app on the road. Most recently, Uber rolled out a feature called Smart Routes that is intended to optimize the efficiency of a carpool by encouraging riders to choose a pickup point along a given route so it is easier and faster for the driver to pick up and drop off the next passengers. As BuzzFeed News reported at the time, it's part of Uber CEO Travis Kalanick's vision of "perpetual rides" — a paid, shuttle-like service.
Lyft, meanwhile, has started moving toward its goal of "unlocking every seat in every car" by allowing Lyft Line drivers to pick up a third passenger. When asked whether Express Re-route was laying the groundwork for any new features in the future, Dally said "right now it's a stand-alone feature, but we are very invested in Lyft Line and I think there are ways to really make it super efficient and super impactful for people to get around their cities and see ways to continue to provide the most efficient ride."
According to Dally, many Lyft Line riders are often going in the same direction — into city centers in the morning and toward residential neighborhoods at night, for example. Theoretically, if Express Re-route is effective, it will help people match with others commuting to work at the same time in the same vicinity. The high probability of those matches repeating — combined with triple ride — could set an interesting foundation for a service that closely mirrors a shuttle. And, as BuzzFeed News reported, the executive chairman of Ford Motors (which is actively looking for a partner for its Dynamic Shuttle service), William Clay Ford Jr., invested in Lyft's series-E funding in May of this year. Lyft denied any collaboration on the dynamic shuttle experiment as a result of the investment, but given Uber's vision of a "perpetual ride," which is more aptly described as a dynamic shuttle service, it might be something that Lyft is considering down the road.