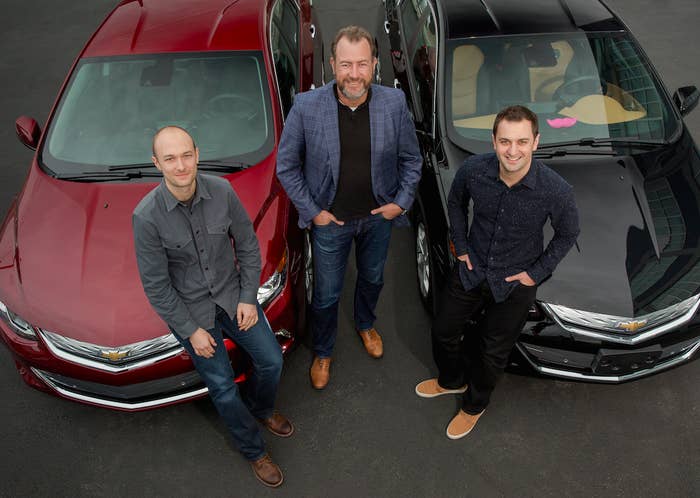 Silicon Valley companies have given the auto industry around the world cause for concern over the last few years as companies like Uber, Tesla, Google, and Apple increasingly encroach on legacy automakers' territory by beginning their foray into driverless technology. Keeping up with the tech behemoths is certainly not an easy task for some of these legacy automakers, but one company in particular is moving quickly to solidify its place in the self-driving arms race the auto and tech industries are currently embroiled in.
General Motors, which announced late last year that it expects to have a fleet of autonomous Chevy Volts on the road by the end of 2016, has invested $500 million in Lyft as part of a $1 billion round of funding at a $5.5 billion post-money valuation. As part of that investment, GM is partnering with Lyft to provide a fleet of on-demand autonomous vehicles that can be hailed exclusively on the Lyft platform.
"[GM president Dan Ammann and I] both believe that autonomous vehicles will be introduced through a service like Lyft rather than through individuals owning autonomous vehicles," Lyft co-founder John Zimmer told BuzzFeed News. "That will be how autonomous vehicles come on line and that's a unique message."
While this is just another chapter in GM's long journey into autonomous technology, which it started experimenting with at Carnegie Mellon in 2000, this marks Lyft's first official step into the driverless car arena. It's an arena ride-hail competitor Uber has already started exploring officially with its own partnership with Carnegie Mellon, which it struck up in September, and later with the University of Arizona. But, at least on its surface, Lyft's strategy for providing an autonomous service is markedly different than Uber's, which has involved pouring money and resources into building out its own Advanced Technologies Centers on each of the campuses. Uber is exploring developing its own autonomous technology and perhaps its own fleet of self-driving vehicles. Lyft is instead lending its ride-hail expertise to GM's already-in-development autonomous vehicle technology and enhancing its own on-demand platform to make it possible to hail a driverless car. And to add the Lyft touch, the company plans on having each of the vehicles in the fleet have different "experiences."
"We'll create the operating system of the future where people will be able to order an experience," Zimmer said. "If you're heading to Tahoe with your family, you'll get to order a specific kind of autonomous experience where you get to enjoy movies on your trip. Or, [if you need a ride] after work you can get a sports Lyft and watch a Clippers game with friends. Now that we have this partnership, we can create these sort of experiences with this network."
While the mere mention of the term "driverless cars" may strike fear into current Lyft and Uber drivers' hearts, drivers will be able to reap some benefits from Lyft's partnership with GM -- at least in the short term. The companies are immediately beginning work on a network of rental hubs around the country through which drivers can rent vehicles on a short-term basis. That's the first step, and the second isn't all that far off. Expect the on-demand driverless Lyft service to be available within the next 10 years or "likely sooner," Zimmer said.
"We have a common view of the future and of the potential of mobility as a service," GM's Ammann said of the partnership. "... Think about the capabilities that we have at General Motors around autonomous vehicles [and] our engineering and financial resources. Bringing that together with what the Lyft team has accomplished over the last few years, we have the capability of bringing to market a network of on-demand autonomous vehicles which we see as being the centerpiece of the future of urban mobility."