Karma Wants To Bring Trust To The Peer-To-Peer Marketplace
Karma, which emerges from private beta today, is using review data from Airbnb, FaceBook, and others to build a universal online reputation system.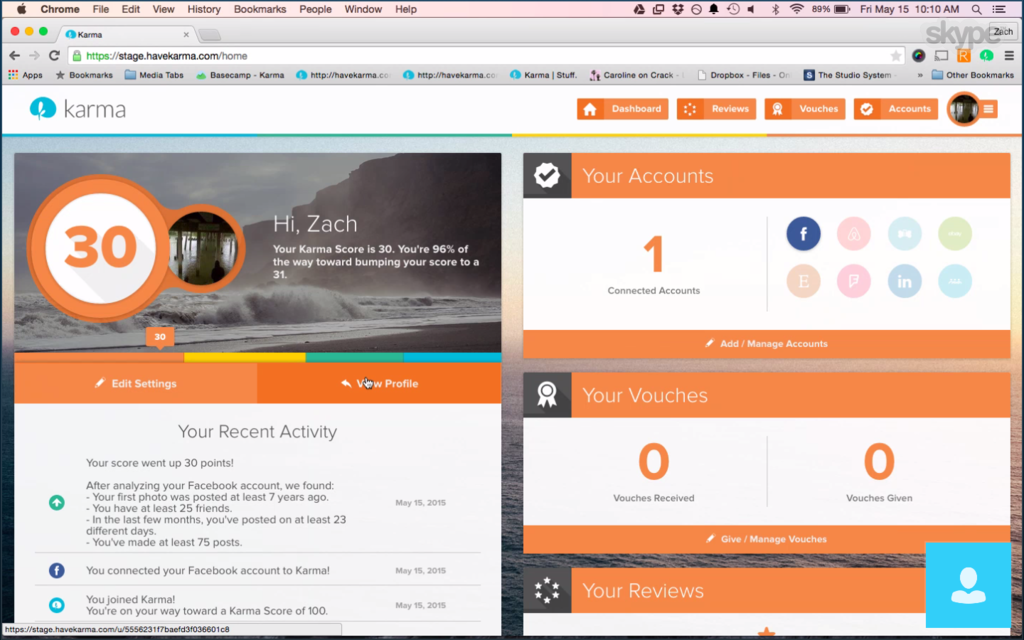 Peer-to-peer marketplaces like Airbnb, eBay, and DogVacay.com work by establishing a bond of trust between strangers. Each has developed its own system to vet and verify users and hold them accountable for their transactions — a means of giving them a reputation. But as many newcomers to such marketplaces can attest, building trust can be difficult when reputation is based on transaction history. Karma, a new online reputation startup, hopes to make that easier by aggregating users' online reputations and scoring them based on the quality and quantity of reviews and transactions.
"A couple of years ago with the explosion of the sharing economy we noticed most of these platforms were built around reputation," co-founder and CEO Zach Schiff-Abrams told BuzzFeed News. "But all of these platforms have their own siloed reputation systems. There's no way to transition your reputation from one platform to another. We wanted to break down those traditional silos."
Karma — which leaves private beta today — gives its users a kind of pervasive online reputation compiled from their activity on various social media and community marketplace accounts. With its users' permission, Karma accesses their profiles on sites like eBay, Airbnb, and Facebook and creates a reputation score based on the quality and quantity of the reviews associated with them, as well as profile activity. Karma users can raise their scores by adding more social media accounts to their Karma profiles or by receiving a "vouch" or testimonial from another user — or giving one themselves.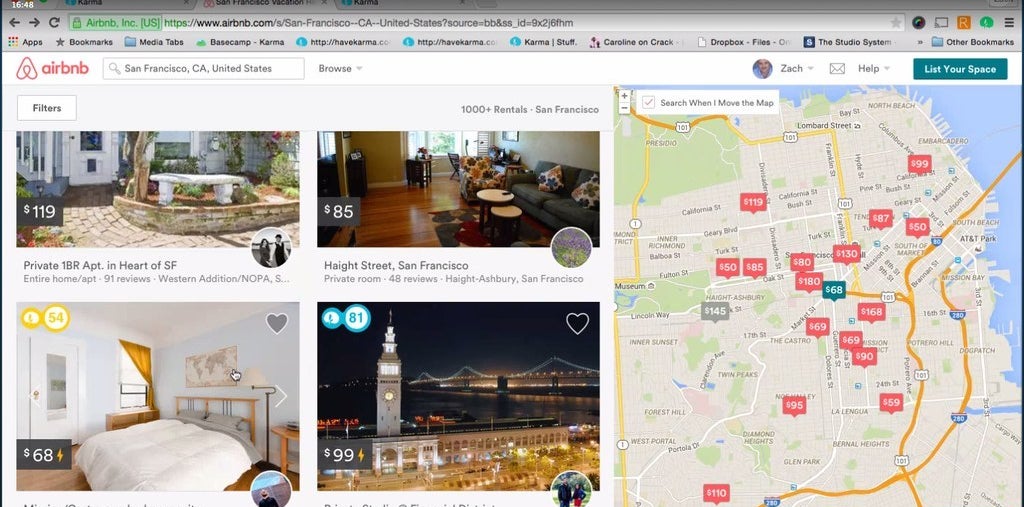 A demo of what Karma scores on Airbnb would look like as shown to BuzzFeed News
Good reviews and ratings on linked accounts contribute to better Karma scores, which range from 0 to 100. But not all positive reviews are weighted equally. Karma evaluates the quality of the review as well — so a positive review that says an Airbnb experience, for example, was "good or satisfactory" is not as valuable as one that is emphatically positive like, say, a review that describes an experience as "amazing" or "perfect."
Karma scores are also time sensitive. Because the company weighs newer reviews more heavily than older ones, accounts that aren't generating current reviews will see their scores decline over time.
Negative reviews also contribute to a lower Karma score. "Let's say you have connected an account with a couple of negative reviews; those will adversely affect your score," Schiff-Abrams said. "That's really important feedback. In our research 96% of all interactions online are positive. We want to make sure those 4% are properly represented."
Karma isn't the first company to attempt this sort of online reputation aggregation, but it is among the first to do it in a way that doesn't require the direct participation of companies like AirBnB and eBay. "All of [the other reputation startups] have tried enterprise solutions," Schiff-Abrams said. "They go to those sites and say let us incorporate your data. Of course Airbnb said, 'We are doing this for ourselves.' We decided on a completely different tack — building a system for the users. The technology that we built is really the only of its kind out there. We built a browser extension that plugs into the public API of these platforms and collects reviews. With one click users can start compiling data on Karma."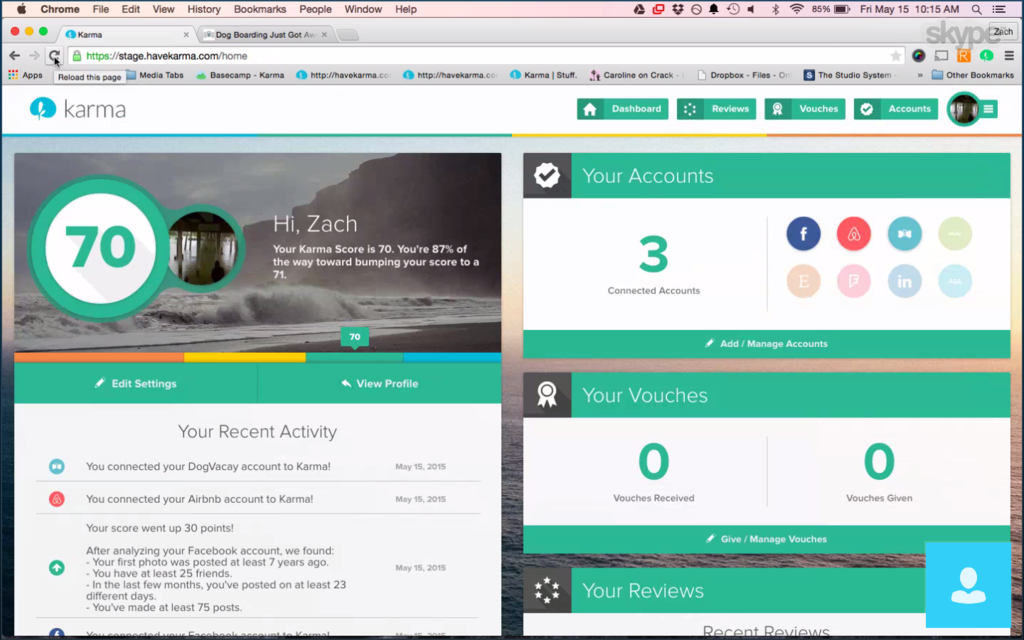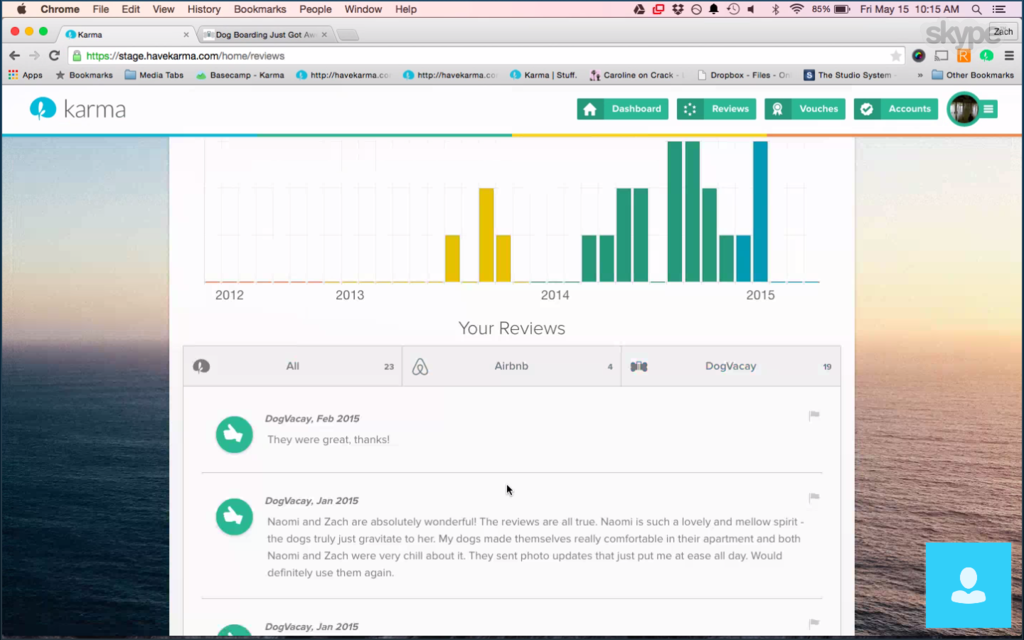 And that data could come in handy — assuming Karma's service ends up being widely used. Browse Airbnb for a short-term rental and you'll see the reputation scores of other Karma users alongside their listings. That's potentially helpful data — but only if there's enough of it to reasonably inform and direct a lodging search. In many ways, Karma's usability depends on the number of people using it.
Karma scores could, for example, make it easier to navigate sometimes unreliable online marketplaces like Craigslist. Adding a link to your Karma profile in a "for sale" listing on the site might conceivably add a bit more legitimacy to ads built around Craigslist's automated, anonymized email system. But again, that requires Karma to achieve a baseline usage large enough for people to recognize its value as a reputation system.
Schiff-Abrams seems confident that sort of usage isn't that far off. Indeed, he's already envisioned a day when Karma can be used not just for online transactions, but for off-line ones as well. "Think of a mobile app that allows you to go across the street and go to a café and get an amazing latte," he said. "How do you reward that? You can tip that person, but imagine a system that essentially gives them Karma and they can use that going forward both online and off."