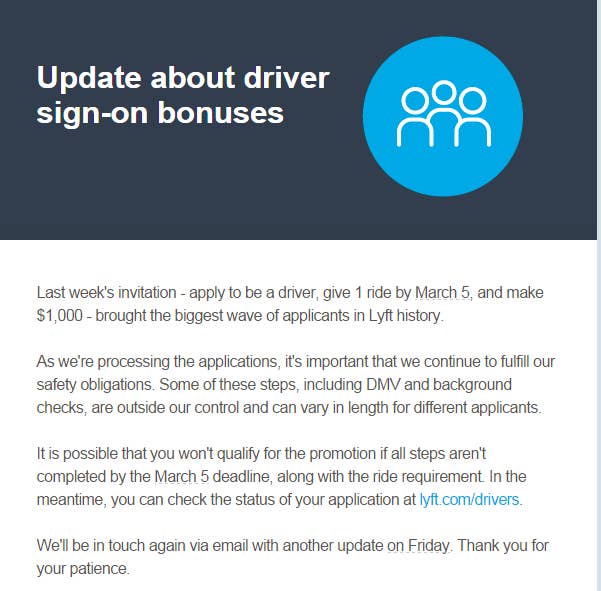 In an email to drivers today, Lyft said it saw the "biggest wave" of driver applications in its history after it offered a $1,000 bonus for signing up or referring another driver last week. Drivers were told that they had to apply by March 3.
But in the same email, the company said drivers whose background and DMV checks don't process by March 5, even if they applied well before the deadline, might not qualify for the promotion.
And drivers are upset.
Harry Campbell, author and host of The Rideshare Guy, told BuzzFeed News a Lyft representative reached out to him to promote the bonus to his followers, most of whom drive for Uber, Lyft, and other ride-hail companies. Generally a fan of driver-friendly (at least compared with Uber) Lyft, Campbell happily obliged.
"But now nobody has been approved out of tens of thousands or more," Campbell wrote to BuzzFeed News. "That is the part that makes me the most upset. They reached out and that gave me confidence to promote to friends/family/etc. There are a lot of people who trust me and I have been assuring them that Lyft would never do something like this and now I feel betrayed."
In a statement, Lyft told BuzzFeed News "This was a time-limited promotion and we're working hard to process applications before the promotion ends, while continuing to maintain our core safety standards. We expect that thousands of people will qualify for the promotion."
According to Campbell, just a day before the deadline, he knows of only one person who has been approved so far. Even though "many signed up and did their welcome ride on the first day of the promo," he added.
Many drivers have questioned the company's intentions, wondering out loud if the company intentionally used this promotion to bait drivers to apply without fulfilling its promise of $1,000 in sign-on and referral bonuses.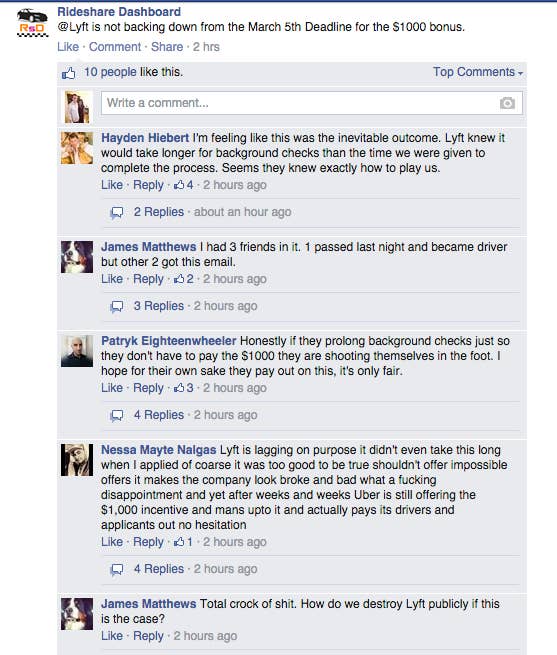 Lyft has been working hard to match its competitors' growth and success and was rather optimistic about accomplishing just that. Just a few weeks ago, John Zimmer, co-founder and president, told Katie Couric that the company will "absolutely" catch up with Uber. Most recently, the company rolled out a new marketing campaign that signaled an evolution in the company's aesthetic and brand. In an attempt to appeal to the more casual driver and beckon "the mom in the minivan," Lyft evolved its signature mustaches from fuzzy and pink to compact, glowing, and easily removable.
However, as BuzzFeed News reported, though some drivers enjoy the experience of Lyft, they choose to drive primarily for Uber because there are more passengers (and therefore more money) on Uber's platform. This promotion was seemingly a play at attracting those drivers who are on the fence about Lyft.
Lyft is extending the deadline for drivers to give their first ride, and thus qualify for the bonus, to March 12 so long as the background and DMV checks processed by March 5. Several drivers, some of whom reached out to BuzzFeed News while others posted on Facebook, said they called Sterling Background Check — which performs the background checks for Lyft — to check on the status of their checks, The majority of them said their background checks had been processed and sent back to Lyft.
"Lyft learned a lesson this week, and we're sorry for the frustration it caused you," the email Lyft sent to drivers read. "We vastly underestimated the volume of applications we would receive for our $1000 referral promotion, which was created to help us keep up with record-breaking passenger demand."