Geico is now offering a commercial insurance policy to Uber, Lyft, and Sidecar drivers in Virginia, BuzzFeed News has learned. A current Geico employee, who wished to remain anonymous, said the company began working on the product several months ago after one "of the big three [ride-hailing companies]" approached Geico regarding coverage for their drivers.
Since late last week, Geico has made requests for quotes for ride-hailing insurance as well as agents available to drivers on the site.
"It is a year-long commercial auto policy," the source told BuzzFeed News, "but like any of our commercial products, we've designed it to cover personal and commercial use of any vehicles on it — replacing the personal policy and thus creating the seamless insurance coverage that no one else can offer yet."
The new insurance policy — which may soon be available to drivers in Maryland — is a significant pivot for Geico. In November, leaked transcripts of an internal training document showed that the company was rejecting requests for coverage from ride-hail drivers and as a policy cancelled the existing coverage of drivers who drove for any of the e-hail companies.
However, as BuzzFeed News reported earlier this month, Uber has deactivated at least a dozen drivers who were registered as commercial vehicles and would thus require commercial insurance. (The California DMV has since retracted its statement that ride-hail drivers must be registered as commercial vehicles.) The cost of commercial insurance is significantly higher than personal insurance, and any requirement for ride-hail drivers to register as such could pose a threat to the business models of Uber and Lyft — which, in many states, depend on a pool of part-time or more casual drivers using their personal vehicles.
"One of the big three don't like the policy because they don't like that it's a commercial product (as opposed to a personal insurance one)," the source said, citing an earlier BuzzFeed News story that reported that Uber was advising its drivers in California to purchase personal insurance that left them uncovered.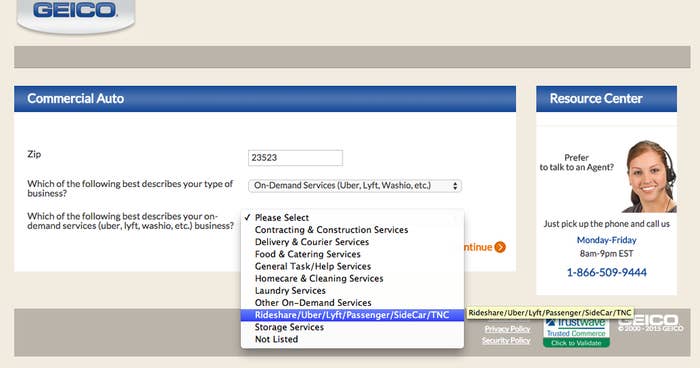 In a statement to BuzzFeed News, an Uber spokesperson seemed to welcome the new policy: "It's great to see more insurers recognizing the importance of ride-sharing by creating products that will directly serve this growing market."
Sidecar spokeswoman Margaret Ryan said that though the company was not aware of any such policy, it welcomes the opportunity to work with Geico.
To the benefit of both the ride-hail companies and their drivers, the costs of Geico's new policy will be much more affordable than existing commercial policies.
"I can tell you prices are decent, nowhere near as expensive as taxi coverage but a little pricier than personal auto — the trade-off is seamless coverage between Uber/Lyft work and personal use," the source said. "The downside is we'll probably never be filed in NY to be able to offer TNC/TLC insurance in NY — the filing is too stringent for the conservative company to want to go through."
But in Virginia, Uber and Lyft have seen their fair share of regulatory battles, some of which focused on insurance issues, making it an appropriate starting point for Geico's new insurance policy. In June, the Virginia DMV issued cease-and-desists to both companies but then granted the companies temporary legal status so long as they performed extensive background checks later that summer. That temporary legal status will expire on Feb. 6, according to the letters the DMV sent to both companies, making the launch of the new policy seemingly well-timed.