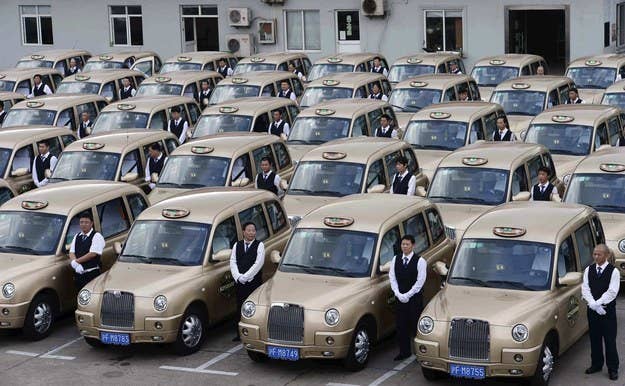 Ride-hailing apps around the world may soon work together to compete against Uber by forming a global alliance of regional players, according to two executives at companies involved.
The executives also suggested that the venture capital firm Softbank Capital has helped to create this potential global taxi alliance. Softbank recently invested in two of Uber's biggest competitors: It invested $250 million in funding to Southeast Asia's GrabTaxi in December and $210 million in India's OlaCabs in October.
GrabTaxi and OlaCabs operate in many of the same markets as Uber, though both tap into the existing supply of taxi drivers in their markets, but do not include operators of unregistered private vehicles, as Uber does.
When asked about the possible reasoning behind Softbank's interest in Uber's competitors, Brian Cu, the co-founder of the Philippines-based GrabTaxi, said that he has heard industry discussions of forming a global taxi alliance among like-minded apps.
"It would include knowledge sharing and maybe cross-booking," Cu told BuzzFeed News. "If you're in the Philippines, you can book a GrabTaxi using the OlaCabs app; it's in the realm of possibilities, so maybe Softbank is trying to do that."
Softbank Capital partner Ron Fisher told BuzzFeed News that he could not comment on the matter.
"Given that these are new investments, we'd prefer not to get into the rationale and plans," Fisher told BuzzFeed News via email. (Softbank is also an investor in BuzzFeed.)
Meanwhile, Flywheel, a San Francisco-based ride-hailing company that connects riders to existing taxi drivers, has also been privy to discussions of a possible alliance, according to Flywheel CFO Oneal Bhambani.
"You may see a global alliance to unify all these regional markets and unify taxis across the globe in other markets," Bhambani told BuzzFeed News.
"Uber works here with fleet operators," GrabTaxi's Cu told BuzzFeed News. "Now they started branching out to private vehicles. It's been a point of contention with the government since around October, November of last year. The government started looking into it. It's a very messy scene right now — technically they're illegal. The chairman of the Land Transportation Franchising and Regulatory Board [LTFRB] said they're illegal but they're being tolerated."
Although in October the LTFRB initially set up a sting operation targeting Uber drivers for operating private cars as for-hire vehicles, the board has since changed its tune. At a joint committee hearing with Congress in November, the LTFRB urged lawmakers to change the for-hire vehicle rules to allow private vehicles to operate. At this time, however, Uber partners driving private cars are still operating outside the limits of the law.
"How can you be illegal according to the letter of the law but still be tolerated by the government?" Cu asked.
Although the national government establishes standard taxi rates throughout Metro Manila, Uber has been offering private rides at prices below the mandated minimum taxi fares. (Uber X charges a 40 Philippine peso base fare plus 2 pesos per minute and 5.70 pesos per kilometer, while the standard taxi fare is also a 40 peso flag-down rate, but charges 3.50 pesos for every 0.5 kilometers and 3.50 pesos for every 2 minutes.) This has allowed it to undercut GrabTaxi and other companies like Rocket Internet-backed Easy Taxi.
"Our growth is hindered by the regulations that we follow," Cu said. "So we can't expand the way Uber expands their supply base because we only work with regulated fees."
Flywheel's Bhambani and CEO Rakesh Mathur have discussed specifics with Bhavish Aggarwal, the OlaCabs CEO.
"We are both very passionate about the very same things so we talk all the time and talk about our customers and our drivers and we share the same vision of the safety aspects of the industry," Bhambani said. "Going forward if anything happens [between our companies] it's more of a synergistic thing."
Flywheel currently operates in only five U.S. markets but plans to expand throughout the country early this year. Once Flywheel has opened in other major U.S. markets, Bhambani told BuzzFeed News the company will have its sights set on international expansion.
Founded in 2013, the company has already had success in its existing markets. Bhambani said Flywheel has 85% of taxi drivers in San Francisco on their platform. Soon, Flywheel will begin to apply that same model to markets outside of the U.S. in the hope of aggregating a large chunk of the supply of taxi drivers onto one platform.
When asked about the possibility of cross-booking occurring between apps, Bhambani said consumers may see something even more integrated.
"It's a possibility; I mean there's no product road map but on a high level it makes a lot of sense," he said. "As long as people are operating through the taxi industry in their own locales and have a captured supply of these taxi drivers, there's a unifying vision. I can't speak for GrabTaxi guys, but there's a high degree of certainty that all of the people who run on Android could conceivably be run on the same device."
"Successful taxi apps all have technology that aggregates taxi cab inventory to offer passengers the closest ride that is fast, safe and predictably priced," he elaborated. "Through a technology integration, it is certainly possible for passenger hails and taxi cab inventory to be shared by more than one taxi app."
Uber did not respond to a request for comment.
This story has been updated to note that Softbank Capital is also an investor in BuzzFeed.