Ford Is Chasing Tesla And Uber Into The Future
Ford CEO Mark Fields says the legacy car manufacturer is trying to think like a startup.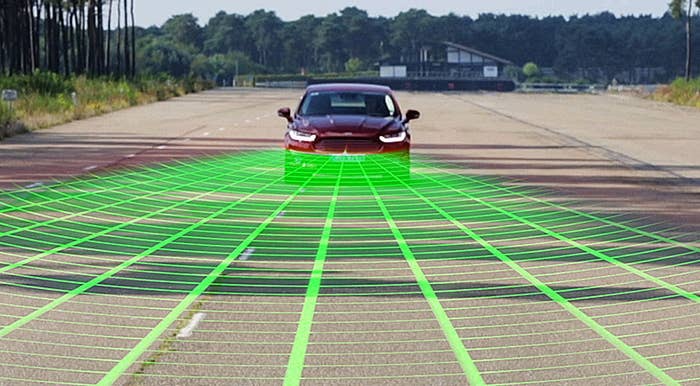 In the race to define the "future of transportation," legacy car manufacturers are increasingly facing off against new rivals birthed not by the automotive industry, but by the technology industry. The disruption brought by fresh-faced players like Tesla, Google, Uber, and Lyft is forcing them to think like startups and embrace new ideas like autonomous vehicles and ride-sharing. Among the old-school car companies grappling with that shift is Ford, which is looking to develop innovative and advanced vehicles that can be available to everyone.
"[Tesla] is endemic of how startups think," Ford CEO Mark Fields said Tuesday, ahead of the New York International Auto Show. "We're really encouraging everyone in our company to think like a startup. We want people to challenge custom and question tradition, we want them to not take anything for granted. We want them to ride the technology curb where it makes sense, we want them to think from a customer experience standpoint, we want them to move fast and test, and we want them to take appropriate risks."
Indeed, Ford has invested a "decent portion of capital" into a model of experimentation unlike anything the more than 100-year-old company has done before. At CES, earlier this year, Ford introduced a series of experiments that would explore the idea of "mobility" from a range of angles.
"Each experiment is different and luckily Mark is giving us the ability to experiment and fail fast," Erica Klampfl, Ford's global future mobility manager, said. "But in all of these we do have gateways where we have learnings around our products, around our technologies, around the business aspects, and around the better world. Out of these things we're identifying partnerships, how we want to play in the space."
Right now the tech industry pressure on traditional car manufacturers is coming largely from two directions. On one side, Google, Tesla and others are leading the race to produce commercially viable autonomous electric cars. On the other, Uber and Lyft are disrupting the personal transportation industry, looking to replace car ownership with ride-hailing and ride-sharing. For automakers like Ford, it's a lot to come to terms with. But Fields remains optimistic about the future of personal car ownership.
"I think [Uber and Lyft] have been very successful," Fields told BuzzFeed News. "But no, I don't think that world is all going to go to car sharing in a compact period of time. I'm very bullish about our traditional business and I'm very bullish about how we're thinking about mobility."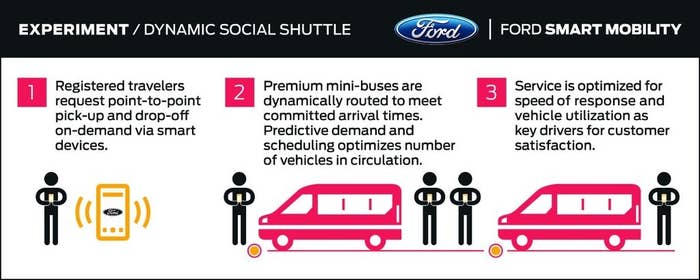 And there's good reason for that. Fields told BuzzFeed news that Ford is working on a ride-hailing service of its own and that it's nearing commercial viability. Called the Dynamic Shuttle experiment, it's an app-based service for which Ford would provide a fleet of vehicles that pick up and drop off passengers along a route that is dynamically determined based on the demand from users. "First off we have the vehicles," Fields said. "Secondly the app itself is pretty advanced and we're actually iterating as we go. And thirdly, there's inherent demand for it."
For Ford, the benefits of a program like Dynamic Shuttle are many. For one thing, it ties the company's traditional car manufacturing business to the rise of new modes of transportation like car-sharing. For another, it bolsters relationships with city planners and local legislators at a time when they're grappling with new trends and ideas around transportation. That could prove useful in the years ahead as new rules and regulations governing autonomous cars, ride-hailing services, and the like emerge.
As bullish as he professes to be on Ford's long-term viability as a manufacturer of affordable cars, Fields admits that the company's business is certain to change in the years ahead.
"I think the car is becoming the ultimate technology product, and we as a company are going to become more and more of an information company," Fields said. "I think we'll always be in the business of making cars, trucks, and utilities, even if you wanted to switch every vehicle to fully autonomous. But our business will pivot to a certain degree from just being a core hardware business to providing a service."