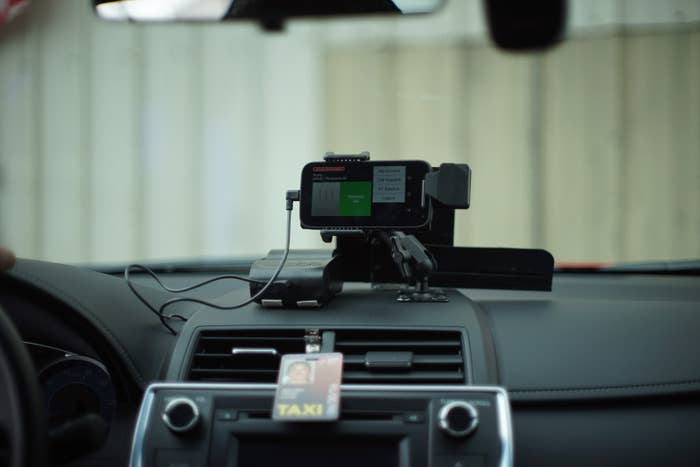 Flywheel wants to be known as the "non a-hole alternative" to Uber, as an email pitch the company recently sent to BuzzFeed News read. But with the launch of its latest product, TaxiOS, it won't just be Uber and its ilk that Flywheel is competing with — it'll be the companies that manufacture the meters that have dominated the taxi industry for so long.
Starting today, Flywheel — which started simply as yellow cab-hailing app and later came to include a digital payment service for cashless taxi transactions — is rolling out its newest product: an all-in-one taxi operating system. According to Flywheel CFO Oneal Bhambani, the idea is that TaxiOS, a driver-facing app, will effectively replace — and, ideally, improve upon — all the hardware in taxis. That includes the payment, navigation, and dispatch systems, in addition to the taxi meters, which determine fares by counting the number of times a taxi's tires revolves during the ride. The TaxiOS app will use GPS to determine the fare, which makes it more accurate than the existing and "antiquated" taxi meters, according to Bhambani; it will also allows riders to hail taxis, then pay for the rides on their phones or swipe their card through a Square-like credit card reader.
As of right now, Flywheel's TaxiOS is operating completely independently of taxi hardware in 70 San Francisco cabs as part of a pilot program with the city's Metro Transportation Authority; the company hopes to fully implement the system in all of the Flywheel-enabled fleets in San Francisco, Los Angeles, Seattle, San Diego, Sacramento, and Portland pending regulatory authority. In New York City, Flywheel is applying to be just one of the few companies participating in a Taxi and Limousine Commission program seeking to implement new and innovative payment and taxi systems. In the meantime, Flywheel has distributed TaxiOS to approximately 1,200 taxis, and according to Bhambani, there have been more than 1 million test rides of the product and the meter to ensure it works without a hitch. (Because the company has yet to receive regulatory approval, the app works in parallel with existing meters and hardware.)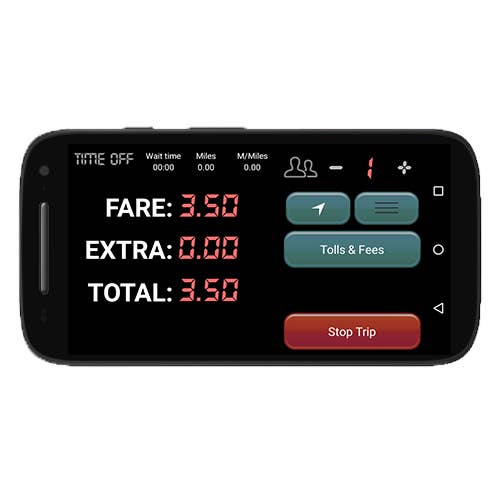 "We don't think anyone else has this technology," Bhambani said of the in-app GPS-enabled meter. "We are the only one to have to have a single device solution. The old meter was essentially invented in 1891 — it counts the revolution of the tire to determine the fare. That is a really big technological barrier to entry, that's why we believe we're pretty well positioned to be one of the first participants in the [TLC] pilot."

While a press release Flywheel circulated to announce the launch of TaxiOS goes as far as to call existing technology "dated" and "disparate," Jason Gross, the global head of product and marketing at Verifone — one of the first companies to offer credit card payment services in taxis — patently disagrees. In fact, Gross says, Flywheel is only just getting around to doing something Verifone has been working on for a while.
"We've actually already been developing and have a virtual meter ourselves," Gross told BuzzFeed News. "We've known about the TLC pilot and have our solution ready. We have 100,000 cars around the world, we have the same exact solution as they do. This is not disruption. This is not what Uber did to taxis."

And according to Gross, Verifone is no stranger to facing off (and ultimately winning out) against newer tech companies looking to get a piece of the yellow cab industry and several years ago that was Square.
"The TLC routinely tries out new technologies and give companies the opportunity to pilot and then they see what happens in the pilot," he said. "[The TLC accepts] any vendor that can meet the rules and qualify." In 2012, Verifone and Square both participated in a TLC pilot that aimed to test out new payment systems, but when the TLC drew up rules that Gross said became too "cumbersome" for Square, Square dropped out. Verifone ended up becoming an approved vendor, ultimately signing up more than half the taxis and 80 percent of the green cabs in New York.

While offering a single-device solution like TaxiOS may seem more convenient, having a credit card reader attached to a driver's phone has proven to be a problem, Gross said. "In the past, the drivers typically ask you to pass them your
card, but the TLC has said 'no, the reader in this case is going to have to be passed
to the passenger,'" he said. "In these new Nissans there's not even a way to pass anything, so we see a lot of reason to have a credit card reader in the backseat of a cab ... A virtual meter makes perfect sense, and we're willing to try out any new technology but we still think a device in the backseat of the cab is important."
Bhambani, however, contends that existing taxi technology has a high failure rate, forcing many drivers to get them fixed frequently — in some cases as often as once a month, he said. TaxiOS would help drivers avoid that issue, in addition to enabling drivers to accept e-hails, which ideally would increase the volume of rides. Eventually, taxi drivers will also be able to use the TaxiOS platform to provide a delivery service for businesses, not unlike UberRush. But Verifone is doing that too. With its acquisition of e-hail company Curb earlier this month, and its plan to combine it with the company's proprietary taxi-hailing app Way2Ride, Verifone may prove to be as formidable a competitor to Flywheel as Uber has been.
Flywheel's technology may prove to bring more business to taxi drivers in New York City, and improve upon both the driver and rider experiences in taxis in the west coast. But with TaxiOS Flywheel certainly has a lot more than just Uber and Lyft to worry about.