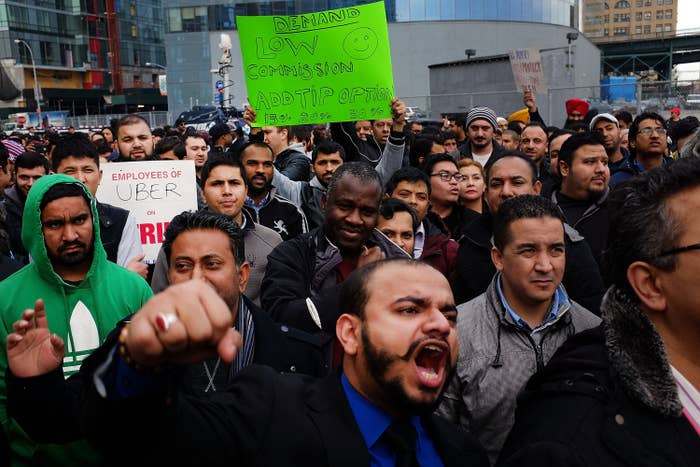 Following the largest driver protest in Uber's history — which was this Monday in New York, and which centered on the company's recent fare cuts — the Uber Drivers Network of New York has penned an open letter to both Uber CEO Travis Kalanick and New York general manager Josh Mohrer demanding that the minimum fare and all other rates be returned to what they were before a round of fare cuts in September 2014.
In the letter, the Uber Drivers Network (which organized this week's protests with a number of other individual drivers, as well as similar demonstrations the over fare cuts in 2014) asked that the company agree to meet with them by Monday, February 8 when the group has plans to protest the most recent fare cuts again, but this time in front of the company's Chelsea headquarters. If the company agrees to meet with them to discuss how to "jointly resolve the issues at hand", the letter reads, the drivers will not protest as planned.
But according to Uber, the company had reached out to offer to meet with these drivers prior to the letter being published and is willing to continue to meet with drivers on an individual basis to go over their earnings.
"At Uber we've worked hard to create a great service for partners, where they can earn money on their own terms," an Uber spokesperson told BuzzFeed News. "Drivers control where and when they work, and they are free to use other apps at the same time as they're on Uber. It's why tens of thousands of New Yorkers have partnered with us over the last four years. Of course there's always more we can do — and we are always happy to talk with drivers about what they'd like to see next."
Uber says internal date shows that in the first weekend after the cuts were implemented in New York, drivers spent 39% less time without a fare while on the app, and had a 20% increase in earnings per hour. In the letter, drivers also ask why, if Uber genuinely considers them partners, the company doesn't also reduce its commission every time Uber cuts its fares. The company contends that since the fares are cut by 15%, the commission is by definition cut by 15%. But regardless of what the gross fare for a ride is, the company has maintained, and in some markets increased, the percentage of the fare it takes. In New York, that's 20%. While it's true that if the fare is cheaper the commission Uber gets is less, the drivers are right in that Uber is taking the same portion of the fare.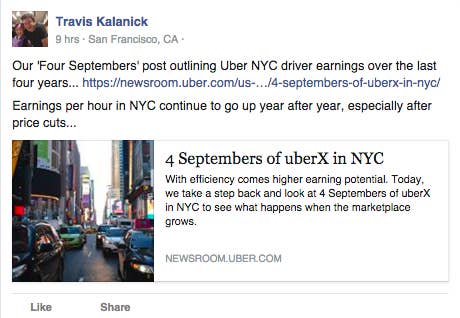 This familiar cycle of events has happened almost every year since Uber began cutting its fares in New York in 2013: Uber cuts its fares to increase demand. Drivers stage protests. They struggle to get the word out about the protests. Few drivers show up. Uber says fare cuts will be reversed only if data shows drivers are earning less. Drivers say that are earning less. Uber says the data says otherwise. The fare cuts become permanent until the next slow period, when fares go down again.
But this time, more than a few drivers showed up. After years of struggling with finding ways to organize the city's fragmented pool of now 35,000 active Uber drivers, drivers are working closely together to find new ways to get their message across. In addition to demonstrating in front of Uber's Long Island City office with upwards of 300 drivers — the largest organized driver effort to date — the Uber Drivers Network is now working with City Hall and the Amalgamated Transit Union to find a way for ride-hail drivers to unionize.
Uber's stance, however, remains the same. Though Kalanick hasn't responded to the letter in an official sense, just a few hours after the letter was published, Kalanick posted on his Facebook page a company blog post from October 2015 that uses data to illustrate how fare cuts in New York City increase earnings overall because of the increase in rides. Accompanying the post, Kalanick wrote, "Earnings per hour in NYC continue to go up year after year, especially after price cuts... "