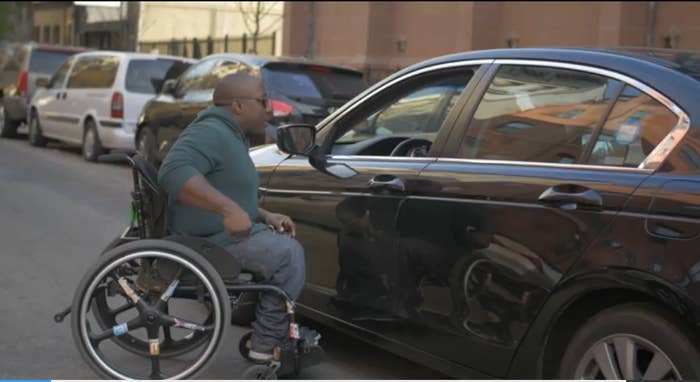 A vocal disability rights advocate filed a complaint Tuesday with the Commission on Human Rights in New York City alleging Uber discriminates against people with disabilities, BuzzFeed News has learned.
In the complaint, Dustin Jones — who has appeared in United Spinal Association ads critical of Uber's wheelchair accessibility — alleges the ride-hailing company has not done enough to enable wheelchair riders to use its service. He accuses Uber of discriminating against people with disabilities.
The complaint also includes video footage of Jones being rejected by an Uber driver who was unable to accommodate his wheelchair. The video was shot in an effort to prove Uber drivers discriminate against people with disabilities.
"Uber claims to accept wheelchair accessible vehicles in its service, but provides no requirements, guidelines, incentives, or encouragements to do so," the complaint reads. "Uber partners with local dealerships to rent or lease vehicles to potential drivers, but offer no option for wheelchair accessible vehicles."

The complaint goes on to say that UberWAV, the wheelchair accessible service the company offers by partnering with yellow and green cabs, is not sufficient and should not be considered "a reasonable accommodation."
The complaint argues UberWAV is difficult to find in the Uber app because it is essentially hidden inside its UberT option. Because the app defaults to the UberX pricing option, it is not explicitly obvious to a casual browser that there is an UberWAV option. "The user must first press the UberT option, and then the WAV button becomes available," the complaint alleges. "UberT is not widely advertised or understood by the public, so it is unlikely users would know to click on that option."
Jones goes on to say that riders are also charged a $2 booking fee when they use UberWAV because Uber does not receive payment for the fare through the app. However, Uber contends that while riders who choose to use the UberT option are charged such booking fees, UberWAV riders are not.

"That's silly, frankly," Brian O'Dwyer, Jones' attorney, told BuzzFeed News. "They're going over to the yellow cab industry [to solve] their inability to provide wheelchair accessible cars. First of all, a yellow cab is not an Uber car. Second of all, calling UberWAV is a call forwarding thing from Uber to someone else. Anybody can pick up the phone themselves and get an accessible taxi."
"They wanted an Uber, so they're entitled to an Uber," O'Dwyer said.
Uber disagrees and contends that UberWAV has made it easier to hail a yellow or green accessible cab. According to the company, Uber does almost 4,000 UberWAV rides per month throughout all boroughs with an average pickup time of 7 minutes.
"Uber has helped expand transportation options for New Yorkers with disabilities," Uber spokesperson Matt Wing told BuzzFeed News. "Uber's technology has helped make accessible rides a reality in New York because our app quickly and reliably connects the limited number of drivers in accessible vehicles to riders on the street who need them. Before Uber, these riders were too often left stranded waiting for one of the small number of accessible cabs to pull up."

As BuzzFeed News reported, Uber also contends that in addition to UberWAV, all cars are required to be big enough to stow foldable wheelchairs.
O'Dwyer says that's not enough. "It depends on which wheelchair you're talking about," he said. "If you're talking about a common wheelchair, maybe. But many people are using motorized wheelchairs. So not only is [the car] not big enough, the wheelchair is too heavy for a driver to carry."
That said, Wing says the company is looking into more ways to make it easier to provide rides to people with disabilities. Uber is also investigating incident Jones includes in the complaint. The company said it will remove the driver from its platform should Jones' allegations prove true.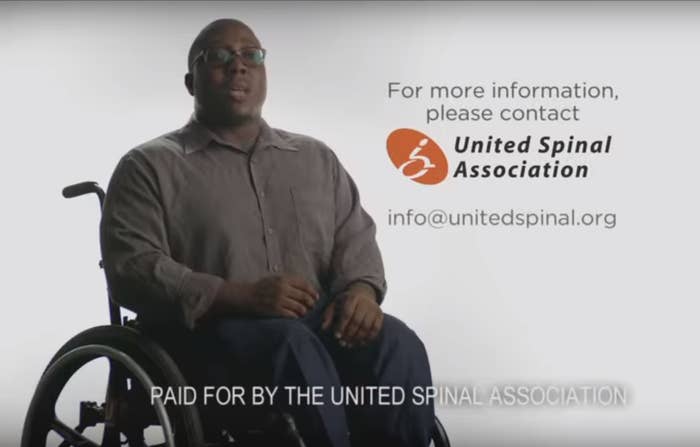 Jones, who O'Dwyer says unsuccessfully filed a complaint with Uber asking for redress after he was rejected by a driver, asks that Uber include wheelchair accessible cars on the list of acceptable Uber vehicles (Uber claims it already does this). "We'd ask that for every non-wheelchair accessible car there would be at least one wheelchair accessible car going forward," O'Dwyer said.

O'Dwyer — who once served on the Commission of Human Rights — said that after the complaint is filed, the agency will determine whether there is probable cause for an investigation. If it finds that there is, a hearing will he held to determine whether Uber does in fact discriminate against disabled riders, which would be a violation of New York City Human Rights Laws.
Should Uber be found to have violated those laws, the Commission can assess the company damages or even file a cease and desist order. The State Supreme Court then reviews the Commission's decision.

Uber argues that it is not a transportation provider and is therefore not subject to New York Human rights laws. But in his complaint, Jones questions that claim, writing that Uber bears all the markings of a transportation provider, since it "hires, manages, and dispatches drivers, holds itself out to the public as a way to obtain transportation through its smartphone app" and operates under city transportation regulations.
Jones goes on to say that even if Uber were not a true transportation provider, it would still be subject to anti-discrimination laws as a "manager, superintendent, [or] agent" of providers of public accommodation – its thousands of drivers."
Jones is expected to hold a rally on the steps of City Hall Tuesday along with members of the United Spinal Association and the Taxi for All campaign. They will ask City Council members to increase accessibility across the entire taxi and for-hire industry.